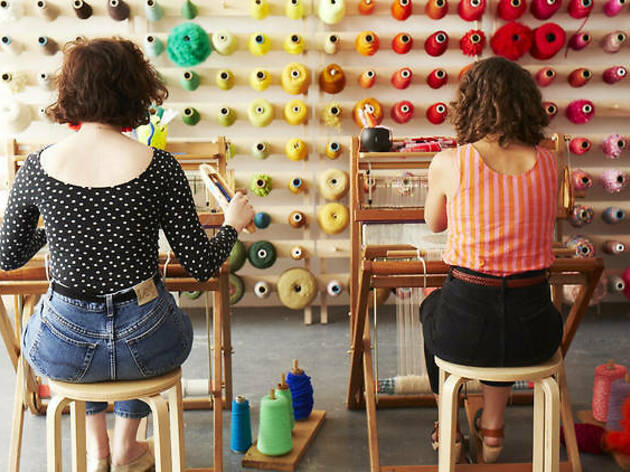 Time Out says
A weaving school from a duo who fell in love with freestyle weaving and decided to showcase why
I'm not going to lie, I didn't know what I had signed up for. I thought I was going 'looming'. In a 'sorry, can't come to the pub tonight, I'm going looming' kind of way – which, in hindsight, sounds pretty sinister. A trip to The London Loom in Hackney Downs Studios quickly corrected my hobbie-to-be. Turns out, I went weaving. On a loom. Gotcha.
I rock up on a rainy Wednesday evening. My mood is instantly lifted by the rainbow of multicoloured threads and psychedelic fabrics on display like a sweetshop. Francesca – one of the two founders – was just as colourful and welcoming, introducing us to the looms with an obvious love for all things weave.
Workshops vary in length and expertise, from freestyle weaving for beginners, to tapestry and warp measuring for more advanced loom-lovers. In our two hours, we're aiming to weave a small wall-hanging. Sure. Francesca explains how to prepare our yarns and pass them through open threads, switching to each new row with a wooden foot pedal. 'I will definitely break this', I think, as I settle in front of the delicate-looking contraption.
There are just three of us in the class and we're soon let loose on the wall of threads, free to experiment with whatever we fancy. The choice of colours is overwhelming. After my first couple of rows, I seem to get the knack of it. Francesca is on hand to help with more complex designs, but I find the real joy comes from the zoned-out moments of focus. It's incredibly relaxing. There's a definite rhythm to it and we spend the majority of the workshop in silence, peacefully lost in our own weaves.
My 'wall-hanging' ends up neon green, metallic gold and a ridiculous combination of other colours. The weaver on my right, however, opted for a beautiful range of muted tones: very tasteful, very Scandi. Why didn't I think about colour matching? How did that sparkly purple fluff sneak in? But, then again, I think it would be a complete waste to come here and not embrace the hundreds of amazing textiles on offer. I head home proud of my glittery, neon mess and stick it straight on the fridge.
Freestyle weaving workshops run regularly throughout the year. Two hours (£45) or five hours (£100) with all materials included. Children's classes are also available.
Details
Best selling Time Out Offers