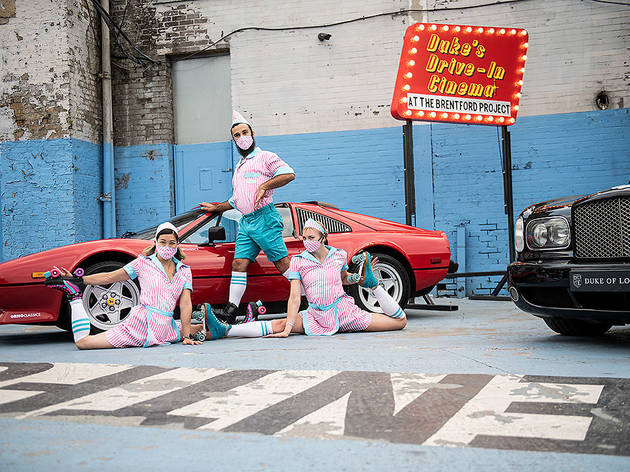 There's a new classic and supercar drive-in cinema in west London
Duke's Drive-In Cinema lets you bring (or, more realistically, rent) your own snazzy set of wheels.
Drive-in cinemas have made a triumphant return to popularity since lockdown stopped Londoners going to their favourite movie theatres. Even with cinemas reopening, the irresistible vintage coolness of watching a film in your car under the open-air has captured the hearts of London's denizens. That said, something about rocking up to see a Bond film or a screening of 'Layer Cake' in an 'Inbetweeners'-esque Ford Fiesta feels a bit wrong.
Fortunately, Duke's Drive-In Cinema at the Duke of London classic and supercar hub is here to take you from rust bucket to greased lightning. Based in west London's The Brentford Project, this motoring mecca is home to some seriously cool supercars including a Porsche 928, Lamborghini Murcielago, Jaguar E-Type, Ferrari 308 GTSi, MGB GT and even a Bugatti Veyron. And better yet, you'll have the option to rent some of them for your drive-in cinema experience. Pretty handy as it's strictly classic and supercars only – we doubt too many Londoner's have one of those in their garage (or even have a garage).
As you might have guessed by now, you can expect to see a lineup of classic automotive-themed motion pictures, with the likes of 'Layer Cake', 'The Italian Job', 'American Graffiti' and 'Ford v Ferrari' on the bill. But it's not all about the cars. The Duke has added to the '50s feel with an American diner-style food and drink service. Rolled-skating staff in pastel-pink uniforms are on hand to glide up to your window and take orders for Santa Maria pizza, The Brewery Tap beers and Vault Vermouth cocktails.
Better still for motorheads, there'll be cars from famous films on display for you to check out and, if you're really lucky, some celebrity faces. We know what you're thinking: this all sounds great, but how much? Well, prices start from just £70 per car and there's no limit on guests per vehicle (although unless you've got a clown car, we wouldn't recommend trying to squeeze 15 mates in). Plus, all the recommended health and safety precautions have been put in place so you can kick back and enjoy the film in style.
For more information and to purchase tickets please head to http://www.dukeoflondon.co.uk/.