Heads up! We're working hard to be accurate – but these are unusual times, so please always check before heading out.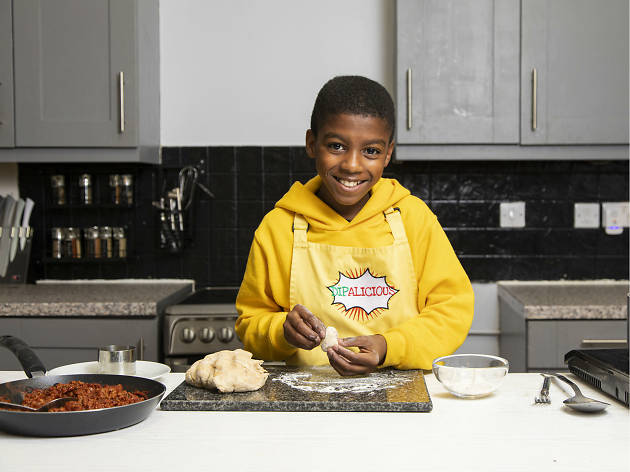 This Londoner is the world's youngest restaurateur
Omari McQueen started his own vegan food business, Dipalicious, when he was just eight years old
Peckham-born Omari McQueen was eight years old when he started his own business, Dipalicious, which sells vegan dips and snacks. Now aged 11, he's sold his food at a Boxpark pop-up, has a vegan cooking channel on YouTube, Omari Goes Wild, and teaches cookery classes for kids at his south London home.
I had my own pop-up restaurant at Boxpark Croydon last year and became the world's youngest restaurateur. I messaged [CEO of Boxpark] Roger [Wade] on LinkedIn and said that when I was older I wanted a restaurant there. He said: 'Why wait until you're older?'
I've got dyslexia so I find it difficult to read food labels. Sometimes I smell the ingredients before I know what they are. When I was learning to read, I used cookbooks to help me remember words.
I heard about veganism in a Peta video. I wanted to help animals and bring people together through food. I went vegan and never looked back.
When I first went vegan it wasn't difficult because I was cooking my own meals. My mum thought vegan food was expensive, but I showed her that it doesn't have to be. We go to Brixton market for our vegetables – all the shopkeepers know me there.
The worst thing about having my own business is that I'm small. When I was at Boxpark, I had to use a chair to stand on!
I was beaten up at school by a boy in year 8. He asked me why I thought I was so special. I thought: 'I'm not that special.' I didn't understand why he was beating me up. I started to feel sorry for him because stuff might be going on at home. He told me he was sorry. I wanted to help him and thought maybe I could teach him how to start a business.
I run cooking workshops for children in my home kitchen and three of my students are now completely vegan. They tell me they're going to teach their parents too. My mum and my aunt help with the classes, but I boss them around!
My favourite vegan junk food is fried cauliflower with jerk sauce. You deep-fry it and it tastes like chicken wings. Before I went vegan my favourite meal was a kebab wrap. Now I swap the meat for jackfruit – I put it in the oven and cover it with barbecue sauce. It's delicious!
My favourite London chefs are [brothers] Craig and Shaun McAnuff, who run Original Flava. I like them because they cook Caribbean food with their grandma.
My biggest dream is to turn a bus into a restaurant. Sometimes I wake up at 5am and run into my parents' bedroom to share my latest plan. My dad is a bus driver and he works nights so we don't see him much. If I had a bus restaurant, he could work on it and I could see him all day.
Now meet more incredible Londoners
If you've read our regular 'My London Story' feature in the free Time Out London magazine or online, you'll know that there's no end of fascinating, inspiring people in this city of ours. From activists to hairdressers, mermaids to hedge-trimmers and aviators to refugees, we've met some incredible Londoners this year. Here are a few of the best.