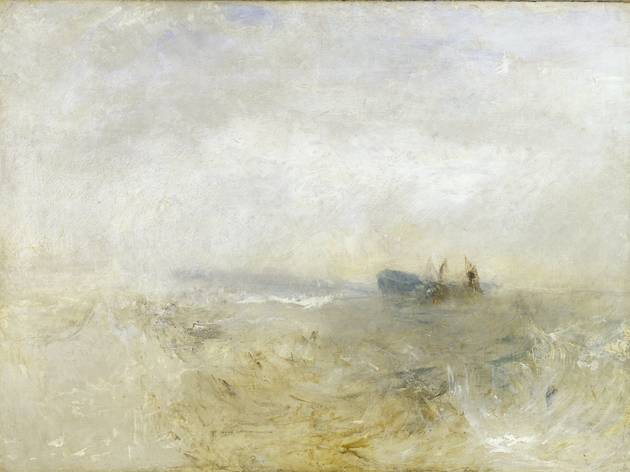 1/9
'A Wreck, with Fishing Boats', 1840
© Tate
2/9
'Calais Pier, with French Poissards Preparing for Sea: An English Packet arriving', exh 1803
© The National Gallery, London
3/9
'Keelmen heaving in Coal by Moonlight', 1835
© National Gallery of Art, Washington
4/9
'Now for the Painter' (Rope) – Passengers Going on Board', 1827
© Manchester City Galleries
5/9
'Off the Nore: Wind and Water', c1840-45
© Yale Center for British Art, Paul Mellon Collection
6/9
'Rockets and Blue Lights (close at Hand) to warn Steam-Boats of Shoal-Water', 1840
© Sterling and Francine Clark Art Institute, Williamstown, Massachusetts, USA (photo by Michael Agee)
7/9
'Snow Storm – Steam-boat off a Harbour's Mouth', 1842
© Tate
8/9
'Staffa, Fingal's Cave', 1832
© Yale Center for British Art, Paul Mellon Collection
9/9
'Study of Sea', c1820-30
© Tate
JMW Turner liked to go fishing on the Thames and is reputed to have lashed himself to the mast of a ship in order to paint a storm at sea. More than half his artistic output was of maritime subjects but this is the first comprehensive exhibition to explore the artist's lifelong lifelong fascination with the sea. Featuring work borrowed from galleries around the world and including some of Turner's most famous works, it encompasses oils, watercolours, prints and sketches.
The show charts a remarkable career that encompassed both the artist's transformative Royal Academy paintings of the late 1790s and early 1800s and the unfinished, experimental seascapes he produced towards the end of his life. Among the highlights are 'The Fighting Temeraire' (1839), 'Snow Storm – Steam-Boat off a Harbour's Mouth' (1842), Staffa and Turner's only royal commission, 'The Battle of Trafalgar' (1824).
Works by Turner's contemporaries and peers, such as Willem van de Velde, Thomas Gainsborough, Nicholas Pocock, John Constable and Richard Parkes Bonington, provide a wider context in a show certain to go down a storm.
Read our interview with the curator and see highlights from the show here