Undressed: A Brief History of Underwear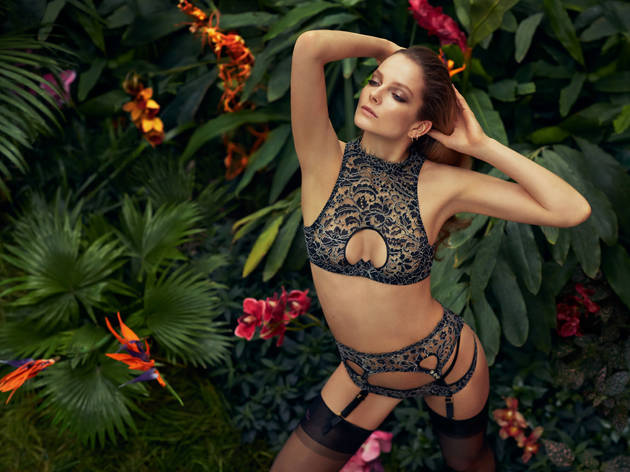 1/10
'Tamila' lingerie set from the Agent Provocateur Soirée collection, S/S 2015. Photographer: Sebastian Faena, Model: Eniko Mihalik
2/10
Silk satin, lace and whalebone corset, 1890-95 © Victoria and Albert Museum, London
3/10
'Brixton Boyz', 2001 © Jennie Baptise, Supported by the National Lottery through the Heritage Lottery Fund
4/10
5/10
Monday to Friday pants, 2015 © cheekfrills
6/10
Advertising poster designed by Hans Schleger for the Charnaux Patent Corset Co Ltd, c1936. Courtesy of the Hans Schleger Estate
7/10
Man's top and pants, designed by Sibling, S/S 2013 © Victoria and Albert Museum, London
8/10
Silk chiffon knickers, possibly Hitrovo, 1930s © The Royal Pavilion & Museums, Brighton & Hove
9/10
Cage crinoline, the 'Princess Louise Jupon Patent', c1871 © Victoria and Albert Museum, London
10/10
Display figure and advertising card for Y-front pants, 1950s © Victoria and Albert Museum, London
The V&A is a victim of its own success. Ever since the Alexander McQueen exhibition 'Savage Beauty', with its drama, tragedy and preposterous gorgeousness, the bar for their fashion exhibitions has been set impossibly high. While this is not another 'Savage Beauty', it is a thoughtful and interesting show.
'Undressed' tells the story of undies from the eighteenth century to more recent times. It reveals the ingenuity of underwear, from the missing bones at the back of crinolines which allowed women to sit, to corsets designed for horseriding – forerunners to the sports bra.
There are some incredible examples of underwear's influence on outerwear. Highlights include a transparent Givenchy haute couture dress by John Galliano and a Dolce & Gabbana sheer silk dress with wicker crinoline.
Despite the inclusion of Y-fronts and ruffs to represent the men, this story about underwear is also, by necessity, a story about the female form. For centuries, women have been contorting their bodies to meet the demands of fashion, from the hoops of the eighteenth century to contemporary Ann Cherry waist-trainers and bum-lifters.
This conversation is not new. Queen guitarist Brian May has donated a revealing selection of Victorian satiricial stereoscopic images. 'Crinoline Stories' demonstrate just how absurdly huge women's skirts could be, often keeping ladies from their beaus and causing all manner of accidents.
'Undressed' reveals more than just pants, it's an exploration of our relationship with fashion and our bodies.
Click here to view our eight favourite exhibits on display in the show.
Average User Rating
3.4 / 5
Rating Breakdown
5 star:

3

4 star:

5

3 star:

2

2 star:

3

1 star:

1
I loved it but my husband thought it was pants!
The only exhibition I ve felt I needed to write a review because in my opinion it is so disappointing. Very small, mix match of underwear. There's no follow through to the exhibition at all. Modern on its own. Modern with old, porno underwear with a mannequin dressed in pyjamas & dressing gown.
I think it would have worked better going through the ages in sequence, also to have put in less expensive underwear that poorer people would wear
Expensive for what was on offer
Iris
A disappointment. I really did care about underwear for recent times, which is half the exhibit and than some. Tons was from 2000 and on. Not worth the cost.
Back in January, I was pleasantly surprised when I visited the V&A's 'Shoes: Pleasure and Pain' exhibition. The way they'd advertised it, I was honestly expecting to see a really blah pair of Louboutins Sarah Jessica Parker wore in the Sex & The City movie. It was SO MUCH MORE than that. So you can imagine my excitement upon hearing that there would be an exhibition on underwear taking the exact same format.

As a womenswear designer, 'Undressed: A Brief History of Underwear' was an absolute must-see for me. Not only did the V&A do a great job with the pun in the name of it, they've also selected a fabulous, interesting and varied range of pieces. One of the themes within this exhibit explores the ways in which people have manipulated the shape of their bodies through foundation garments, drawing comparisons between tightly laced corsets and the more recent waist training, bum accentuating styles popularised by the Kardashians. (Also worth mentioning: a pair of men's bulge enhancing underwear.)

In contrast to these very technical, structured garments, there are some simply stunning items on display. Head upstairs and you will find pieces by the likes of East London based latex fashion pioneers, House of Harlot, and corset extraordinaire, Mr Pearl (whose clients include burlesque performer Dita Von Teese). Definitely stick around to watch the documentary featuring designers from lingerie brands such as Agent Provocateur.

At £12 for a ticket, I didn't feel it was badly priced at all. Some have mentioned this exhibition was a bit small compared to gargantuan blockbusters 'David Bowie Is...' and 'Alexander McQueen Savage Beauty'. You will really get the most out of it if you go with an open mind and a curiosity to learn new things. Underwear is something so functional and practical that we see everyday, yet so extraordinary and complex (I once took a course in bra making, so believe me when I say it's fiddly work!)
Interesting exhibition but with some drawbacks.
First the several generations of underwear are mixed up, meaning there is no apparent logic or red line to follow through the exhibition. So you are always going forward and back in history. Too bad there is no explicit logic. The only one I found is that most recent pieces are upstairs.
Second is the only video with lingerie company directors is more a commercial of their brand than a real interesting analysis of the subject. I had expected something better from V&A.
Third is for the price asked (12£ without donation) it is overpriced. For this price there should be more pieces, more explanations prided videos...
When I compare this exhibition with the one of Alexander Mc Queen at 17£ the difference is huge, so much that you may think Undressed one has been done by amateur. A fair price would be 7£ I think.
All in all, interesting but can do much better for the price asked.