Heads up! We're working hard to be accurate – but these are unusual times, so please always check before heading out.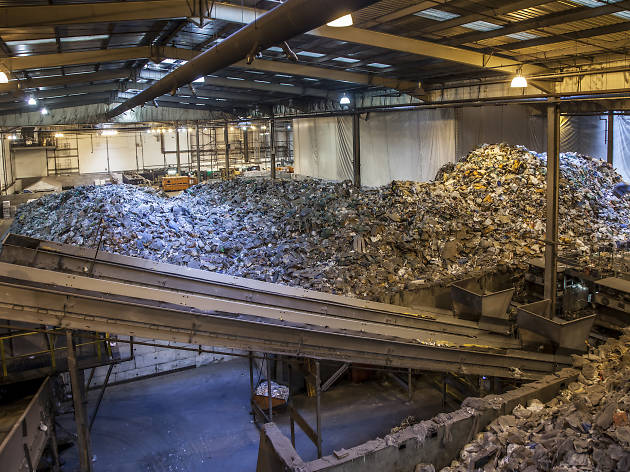 1/4
Bywaters in Bow, where much of north London's recycling goes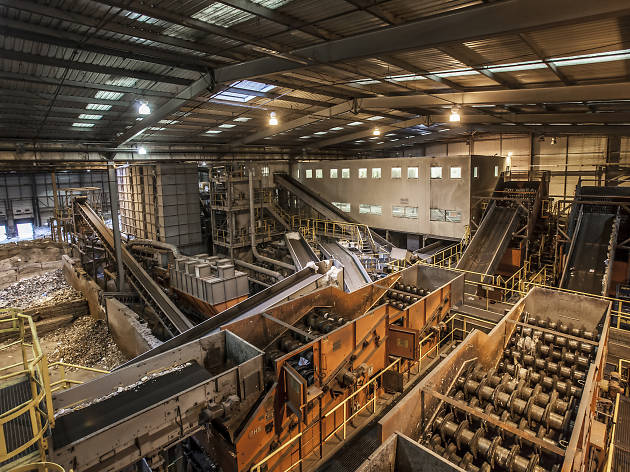 2/4
The 'mirf', which sorts through your recycling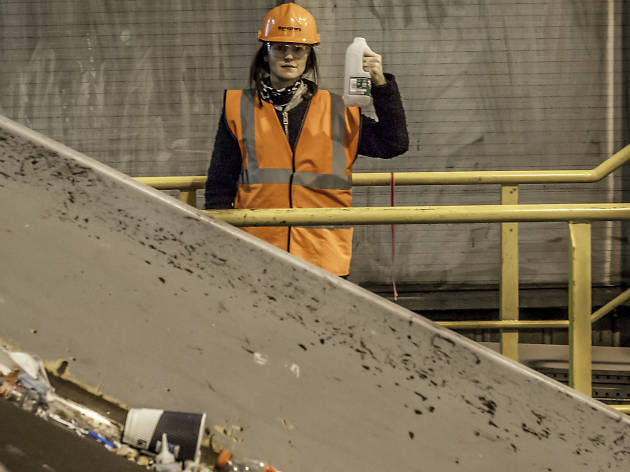 3/4
Time Out's Cath Clarke is reunited with her rubbish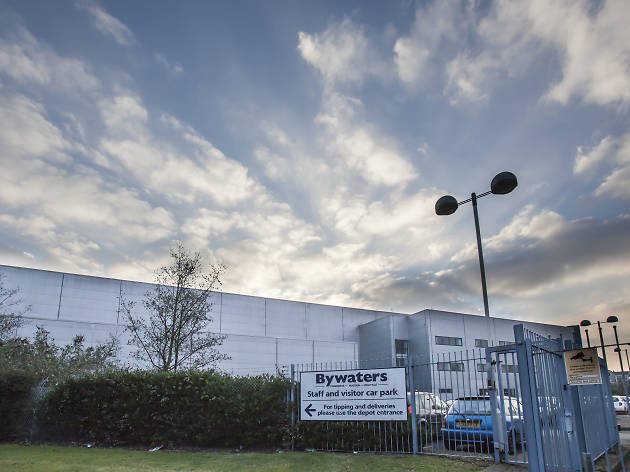 4/4
The huge Bywaters facility in E3
What really happens to London's recycling?
Is it sneakily tipped into landfill? Or sent overseas? Time Out visits a plant in Bow to find out
I'm semi-suspicious about recycling. Don't get me wrong. Herbal-tea-drinking, canvas-not-plastic-bag user that I am, I dutifully do it. But after scraping lumps of peanut butter out of the bottom of glass jars, I'm told by my council (Hackney) to chuck everything into one green sack. (They call them sacks, but really these are bin liners in a reassuring shade of eco green.) How on earth can this stuff be recycled if it's all in one bag? Come clean, Hackney. Don't you just ship it off to China? Or send it to landfill on the sly? No, says the man from the council, pointing me in the direction of the Bywaters material recovery facility in E3. This, he tells me, is where recycling goes to be separated, so we don't have to bother.
Usually we Londoners are no slouches when it comes to a trend. Give us a new restaurant concept or a gentleman's hair fad (beards, the man-bun) and we're all over it. But when it comes to recycling, London gets the wooden spoon. Around a third (34 percent) of the capital's household waste is recycled, well below the national average of 43 percent. The reason for that, according to one expert I speak to, is cramped housing: It's a fact that recycling rates in blocks of flats are the lowest. He's got a point: I've lived in studio flats. Who wants to wake up face-to-face with a reminder of last night's curry?
I find the Bywaters plant on an industrial estate in the bowels of east London, surrounded by skip-hire businesses and back alleys that look purpose-built for dumping bodies. If you live in one of seven north London boroughs (Barnet, Camden, Enfield, Hackney, Haringey, Islington or Waltham Forest), this is where your recycling sacks are brought to be sorted. I'm here for a tour with David Rumble, Bywaters's strategic development manager. 'It's not a con job. Your recycling is not going off to landfill,' he tells me as we get kitted up in hard hats and hi-vis jackets. Disappointingly, for someone who works in 'waste management', Rumble is nothing like Tony Soprano. He's a middle-aged man in a suit who takes recycling very seriously.
As we walk into the plant, the first thing that hits you in the face is the bin smell (the sort you come home to from a holiday if you've forgotten to take the rubbish out). Then it's the size: Bywaters is huge. In one corner is a mountain of recycling that makes the crane in front of it look tiny by comparison, like a kid's toy.
'Technically, vibrators are recyclable'
The mountain consists of recycling fresh off the councils' rubbish trucks. The crane grabs a clawful at a time and feeds it on to a conveyor belt, which drops the recycling into a metal mouth with a rotating cylinder to split the bags – spilling out bottles and bits of paper. Next the conveyor belt passes into a cabin where staff in Kevlar gloves pick out anything (including bits of food and black bin liners) that shouldn't be there.
Between 10 and 20 percent of what we put into our sacks can't be recycled, Rumble says. 'The main culprit is cellophane. It's not recyclable, but because it's plastic, people put it in.' When in doubt about whether something can be recycled, his advice is do chuck it in the sack. If it's not, they'll fish it out.
You would be surprised at what people put in their sacks: 'Dead pets. We've had a dog. How that person thought we'd recycle Fido I don't know. And there are things you wouldn't want to discuss in polite society.'
Like what? 'Let's just say we occasionally get items that you would buy in Ann Summers coming along the belt.'
Vibrators? 'I couldn't possibly say.'
Are vibrators recyclable? Rumble ponders this one. 'Technically, yes.'
After Bywaters staff have whipped out the dead dogs and the dildos, things get science-y with a machine called a MRF (material recovery facility; in the recycling biz they call it a 'mirf'). Like something Q would dream up if he didn't have to bale Bond out of so many scrapes, the MRF is so big it would fill a supermarket. First it sorts recycling into three groups by size. Then each pile goes through a dizzying number of processes – the smallest pile (everything under 40mm) passes under a magnet that picks up metal bottle tops and nails. Next, a cyclonic whizzes everything around – paper coming out of the top, bits of glass falling to the bottom. By weight, 70 percent of what comes to Bywaters is paper or cardboard.
There are endless facts about recycling. For example, did you know that the milk carton in our fridge has probably been a milk carton 15 or 20 times already? Which is gross but also pleasing in its efficiency. Surprisingly, a glass wine bottle won't become another wine bottle (unless you take it to a bottle bank). Separating glass is too expensive – one green bottle in a ton of clear glass ruins the lot. So glass is crushed up and used as building aggregate – mixed with cement to make concrete, for example.
The Bywaters plant is state of the art. People visit from all over the world for advice on sorting recycling. 'I've had the mayor of a Stockholm here viewing it with a mind to building similar facilities in Sweden,' says Rumble. Yes, you heard that right. Sweden, nation of muesli-eating happy recyclers comes here for recycling tips. That's at least a small thing Londoners can be proud of.
For more information about recycling in London go to recycleforlondon.com