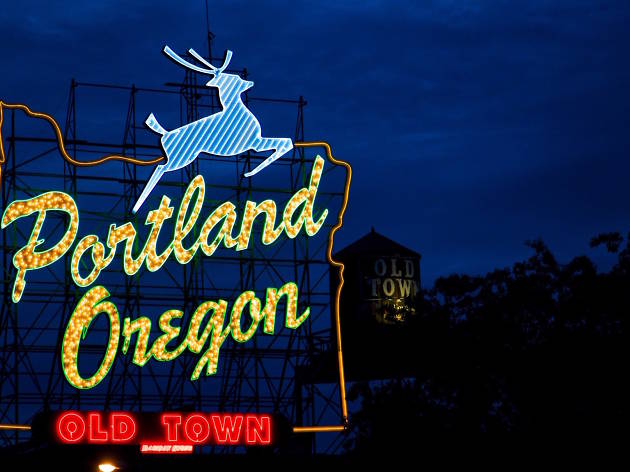 What's on at You Can, In Portland?
Find out more about the creative capital of the Pacific Northwest, as Portland's crafts – and the people who create them – land in east London for a multifaceted three-week takeover
From April 19 to May 7, Units 7 and 8 at the Old Truman Brewery in Shoreditch will be hosting the very best of Portland, with free tastings, talks, experiences – and vegan tattoos. Want to get involved? Click on the tabs to find out what's going on over the three weekends of the event (the launch, middle weekend and extended bank holiday weekend) and get ready to fall in love with Portland.
All events are free but you'll need to register for tickets through Eventbrite here.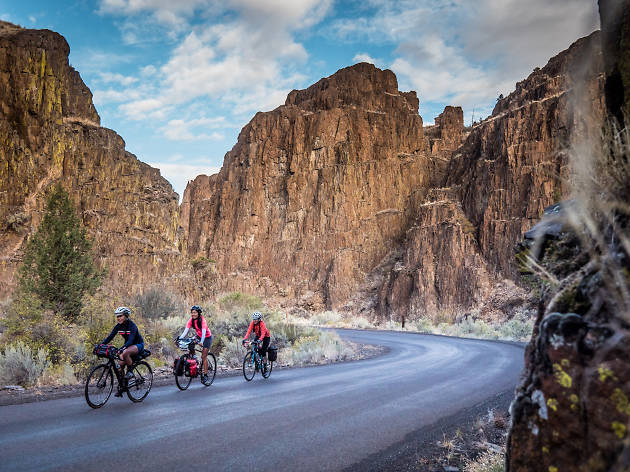 April 19-22: Pedal to Portland and WIN!
Hop on Portland-themed static bikes and pedal part of the 4,910-mile distance to America's bicycle capital to be in with a chance of winning on-the-spot prizes, as well as one of five pairs of round-trip tickets to Portland, courtesy of Delta Air Lines, Travel Oregon and Travel Portland.
Thu April 19-Sun April 22, Unit 7, Dray Walk (all day). No need to book, just turn up.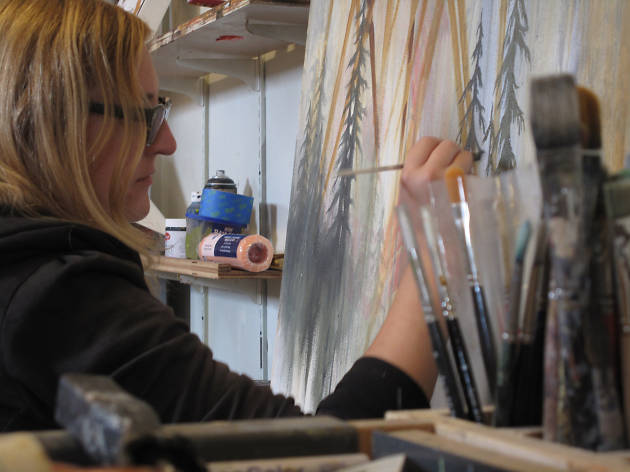 April 19, 20 and 26: Live mural-painting with Amy Ruppel
Murals are big in Portland – sometimes literally! Head over to You Can, In Portland and watch mural artist Amy Ruppel creating one-of-a-kind works inspired by the city.
Live mural painting from 11am, April 19, 20 and 26, Unit 7, Dray Walk.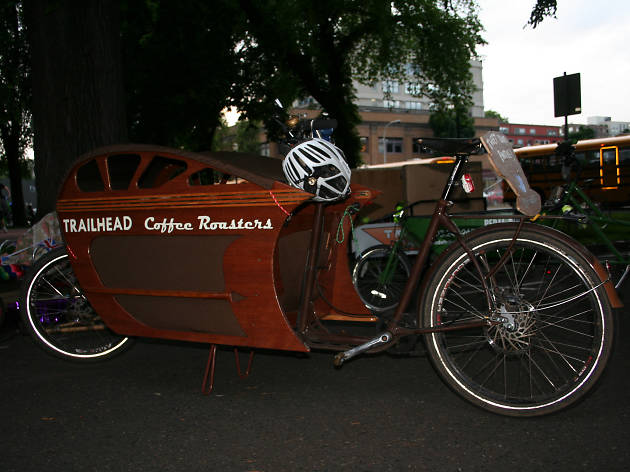 wittco.gmbh/Flickr
April 19-21: Free coffee with Charlie Wicker, founder of Trailhead Coffee Roasters
Trailhead's Charlie Wicker is a Portland legend, delivering across the city on his converted vintage bicycle. Come and meet him, check out the Brew Cycle and grab a free coffee while you're there.
Free coffee samples available Thu April 19-Sat April 21, 11am-7pm, outside Unit 7, Dray Walk.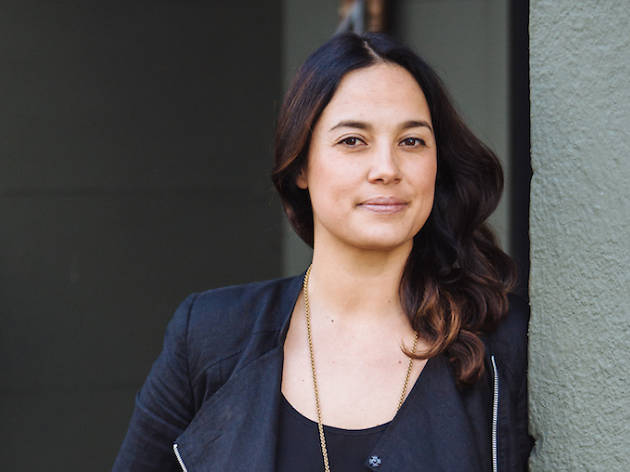 April 20: Portland wine and chocolate with Kate Norris, founder of Division Winemaking and Southeast Wine Collective
Portland is famous for its innovative urban wineries. Kate Norris, a pioneering urban winemaker, will be in town hosting a series of wine tasting and chocolate-pairing workshops throughout You Can, In Portland.
Fri April 20, 4-5pm, Unit 7, Dray Walk.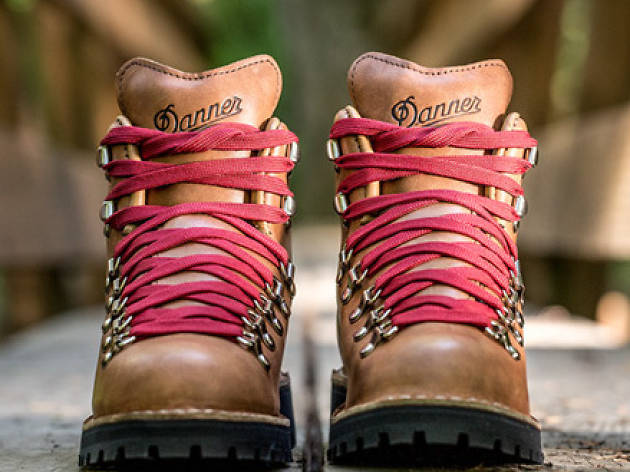 Renowned Portland bootmaker Danner will be showcasing their mighty fine footwear, as worn by one Reese Witherspoon in the film 'Wild'. Find out from a Danner expert which boots are the best pair for you and take home a copy of 'Wild' with every purchase of boots.
April 27 (11am-9pm) and 28 (11am-9pm), Unit 8, Dray Walk.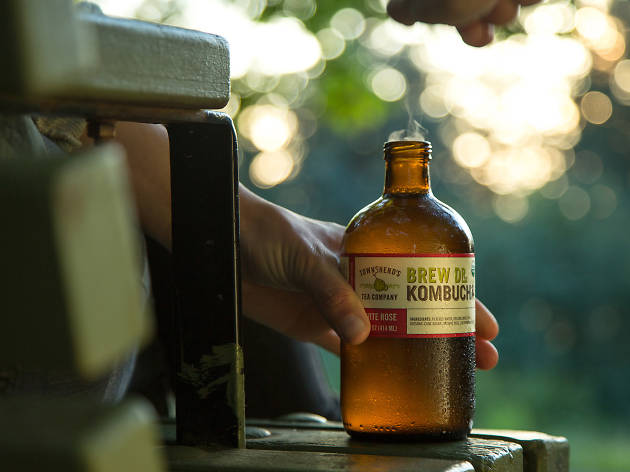 Dan Root
April 27-29: Tastings with Rob Nollenberger of Brew Dr. Kombucha and Townshend's Distillery
A devotee of everything made from tea, Rob Nollenberger will be hosting tastings of his Portland kombuchas and inventive tea-spirits.
Tea-spirit tastings on April 27 (7-8pm), 28 (7-8pm) and 29 (6-8pm).
Kombucha tastings on April 28 (11am-1pm) and 29 (11am-1pm). All tastings held at Unit 8, Dray Walk.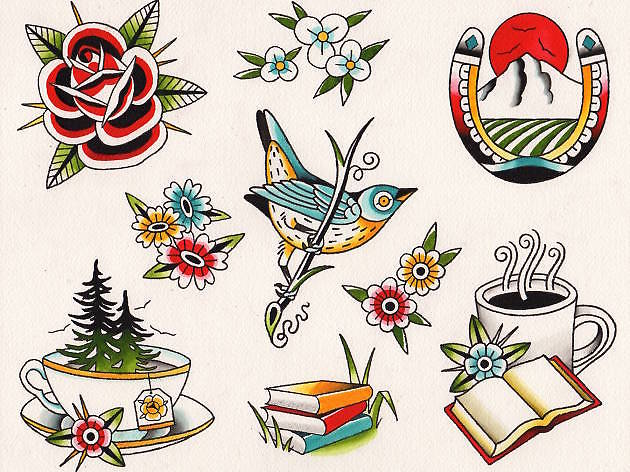 April 28-29: Free vegan tattoos from Silje Hagland of Scapegoat Tattoo
That's right – FREE, 100 percent vegan, real tattoos! Silje Hagland's designs have a huge cult following and she'll be taking walk-ins at You Can, In Portland. Don't miss out!
Free walk-in tattoo appointments available on April 28-29, 12-6pm. Unit 8, Dray Walk.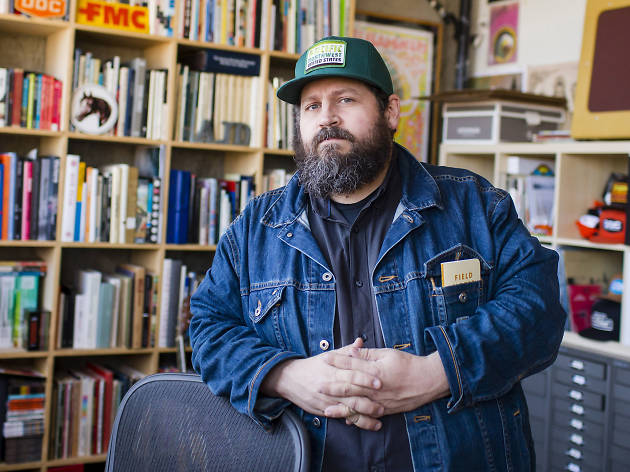 Photo: Leah Nash
May 4-6: Designing Portland with Aaron Draplin of DDC
Design guru and graphic designer of Aaron Draplin of DDC (Draplin Design Co) has worked with everyone from Esquire to Ford Motors and the Obama administration. Come and get an insider's view of the industry at one of his in-store talks.
Walk-in sessions available on May 4 (4pm, 5pm and 6pm), 5 (1pm and 2pm) and 6 (1pm and 2pm). Unit 8, Dray Walk.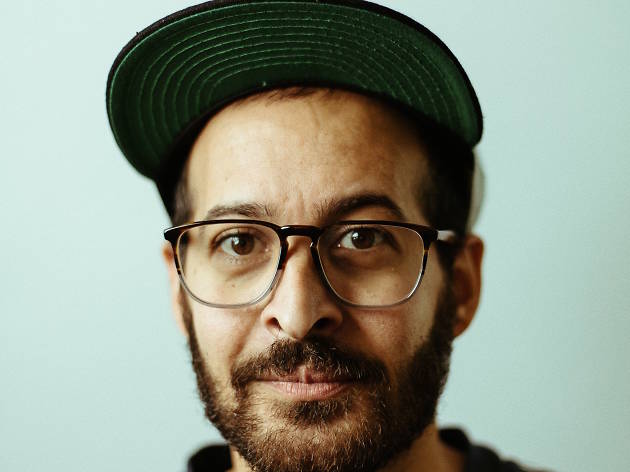 Photo: Jake Gee
May 5-7: Spoken word sets from Anis Mojgani
International World Cup Poetry Slam winner and author of 'In the Pockets of Small Gods' Anis Mojgani will be stepping-up to the mic in the Old Truman Brewery.

May 5 (7pm), 6 (5pm) and 7 (2pm), Unit 8, Dray Walk.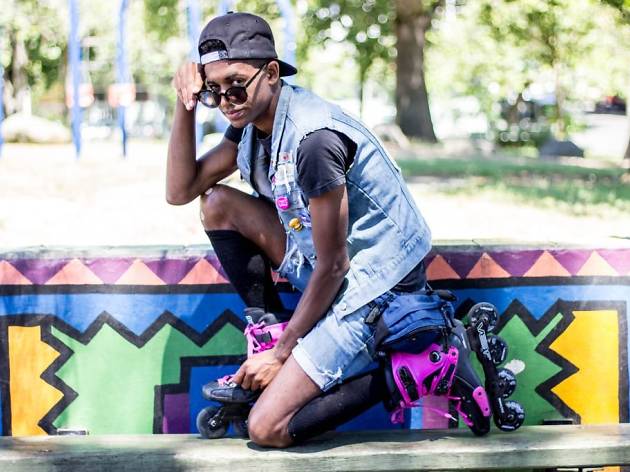 Photo: Lisa Pardo
May 4-7: Comedy on rollerblades with Carlos the Rollerblader
Come and get some tongue-in-cheek life advice from a rollerblading stand-up comedian. Carlos doesn't own a car and spends hours each day traversing Portland on rollerblades, so they know their stuff! Carlos will also be doing scheduled performances throughout the weekend.
Free-roaming life advice, May 4 (3-6pm), 5 (12-2pm and 7-9pm) and 6 (12-3pm and 8-9pm), Old Truman Brewery.
Comedy performance, May 4 (7pm), 5 (5pm) and 6 (6pm), Unit 8 Dray Walk.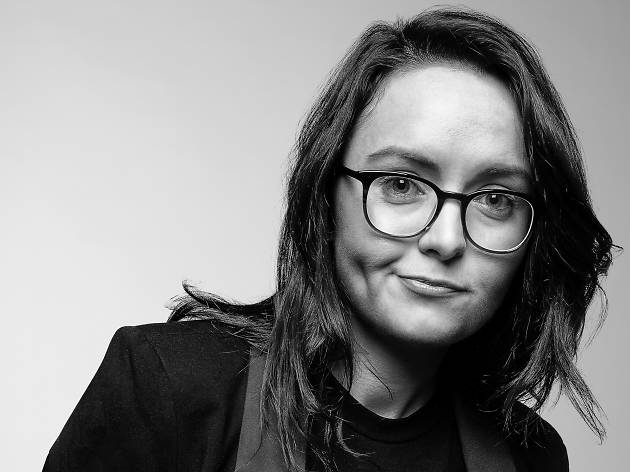 May 4-6: Feminist fashion with Emma Mcilroy of Wildfang
Entrepreneur Emma Mcilroy is co-creator of cult Portland label Wildfang (as worn by Janelle Monae). Come and discuss politics, feminism, fashion and building a truly inclusive brand.

Walk-in sessions available on May 4 (1-3pm), 5 (12-1pm) and 6 (11am, 12pm and 4pm), Unit 8, Dray Walk.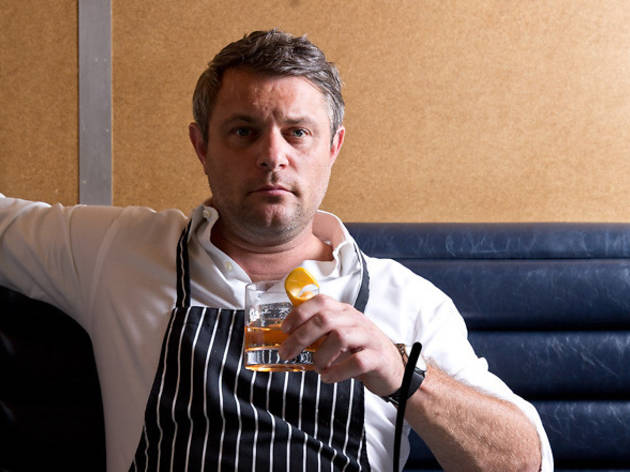 May 4-6: Mixology masterclasses with Jeffrey Morgenthaler
The man behind the barrel-aged cocktail and author of 'Drinking Distilled: A User's Manual', Jeffrey Morgenthaler of Portland cocktail hotspots Clyde Common and Pépé le Moko will be hosting cocktail-making masterclasses throughout the weekend.
Cocktail-making classes on May 4 (5-6pm, Juju's), 5 (4-5pm and 5.30-6.30pm, Bar 91) and 6 (4-5pm and 5.30-6.30pm, Juju's).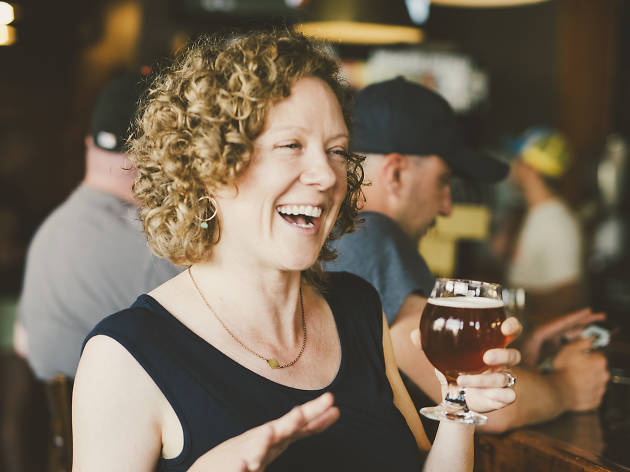 May 5-7: Craft-beer sampling with Lucy Burningham
Join the author of 'Hop in the Saddle' and 'My Beer Year' and taste your way around Portland's craft beer scene.
Beer sampling and Q&A, May 5 (3-4pm), 6 (3-4pm) and 7 (12-1pm), Unit 8, Dray Walk.

May 5-7: Zia McCabe – DJ Rescue
The Dandy Warhols' keyboardist will be on the decks at venues around east London. Expect a mix of alternative floor-fillers and rare gems.
DJ sets on May 5 (Bar 91, 10pm–2am), 6 (Juju's, 7-11pm) and 7 (Rough Trade, 1-3pm).

Explore more of Portland
Want to find out what makes Portland the creative capital of the Pacific Northwest? This spring, some of the city's most inspired products and people are coming to The Old Truman Brewery in Shoreditch for three weeks. Here's why you need to be there as well.
Support Time Out
We see you're using an ad-blocker. Ad revenue is Time Out's main source of income. The content you're reading is made by independent, expert local journalists.
Support Time Out directly today and help us champion the people and places which make the city tick. Cheers!
Donate now