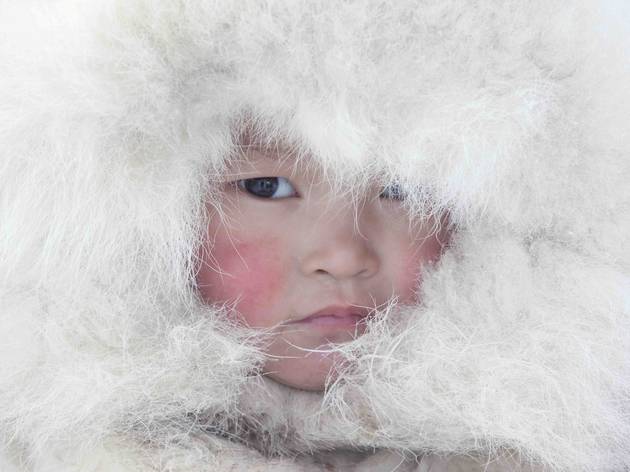 1/7
© Bryan Alexander
Nenya Vanuito, a young Nenets girl, wearing a traditional hat with fur trim at a winter camp near Tambey. Yamal Peninsula, Western Siberia, Russia.
2/7
© Bryan Alexander
Khanty women in traditional dress at a Spring festival in the village of Pitlyar. Yamal, Western Siberia, Russia
3/7
© Bryan Alexander
Grisha Rahtyn, a Chukchi reindeer herder, iced up at -30 C after working with his reindeer during the winter.Chukotskiy Peninsula, Chukotka, Siberia, Russia
4/7
© Bryan Alexander
Dark clouds gather behind a reindeer herder's tent as a Khanty woman hangs up her washing to dry at a camp in the Polar Ural Mountains. Yamal, Western Siberia, Russia.
5/7
© Bryan Alexander
Migrating Nenets sled reindeer graze on sedges & take a rest. Yamal Peninsula. Siberia. Russia
6/7
© Bryan Alexander
When thrown into cold air at minus 51 degrees Celsius boiling water explodes into vapour & ice. This is because boiling water is close to a gas and breaks into tiny droplets that can freeze at once. Siberia, Russia
7/7
© Bryan and Cherry Alexander
E'ven herders with their reindeer at their winter pastures near Verkhoyansk. Yakutia, Siberia, Russia.
Londoners love complaining about the weather but in Eastern Siberia it's so cold they have an expression for the whooshing sound that moisture in exhaled breath makes as it turns into crystals in the freezing air. The native Yakut people call this phenomenon 'the whisper of the stars'.
In 1971 British photographer Bryan Alexander used a Royal Society of Arts travel bursary to visit North West Greenland, where he lived in a small Inuit community. That experience led to a lifetime of documenting the life of the Arctic's indigenous people and the 40 images on display at the Horniman offer an insight into how these native communities have survived.
Photographs of traditional (super snuggly-looking) dress and a lifestyle that involves heading reindeer across the tundra certainly put our gripes about chilly commutes into perspective.