Win one of 200 pairs of tickets to The Startup Showcase
You could win tickets to the exclusive Time Out preview of The Startup Show at Somerset House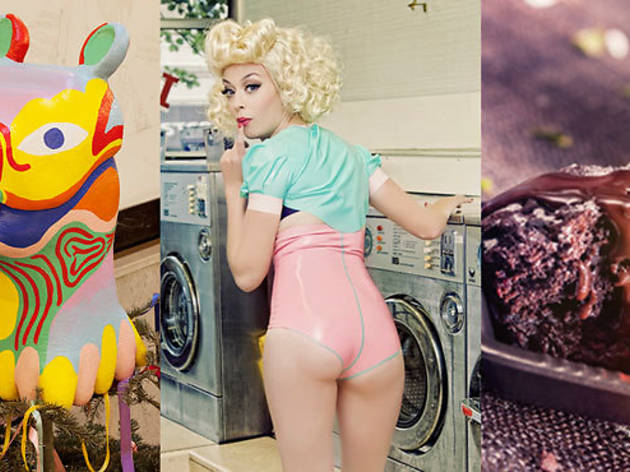 School for Creative Startups presents The Startup Showcase, a new festival providing a platform for some of the most exciting creative startups around. We're giving you the chance to win one of 200 pairs of tickets to an exclusive Time Out Reader preview on Friday March 22, 6pm - 8pm. You'll also be treated to plenty of free drinks from the new beer company 'Green & Pleasant' plus live music and Latin dancing from ¡VAMOS! Festival.

The main event takes place at Somerset House on March 23-24, but at our special preview you will be able to enjoy an annual pop-up event featuring a unique marketplace with over 100 creative startups and industry stalls, with the rising stars offering startup services and support. The showcase event will also include exciting talks and hands-on creative skills workshops, as well as the opportunity to live-pitch to business bigwigs and established entrepreneurs including Dale Murray, Oliver Peyton, Paula Reed and Sophie Cornish. Get tickets to the main event here.

For your chance to win one of 200 pairs of tickets to the preview, just answer the question below...
Terms and conditions apply. By entering this competition you agree to receive relevant communications from Time Out including news, events, offers and competitions. This competition will close at 10am on March 18 2013.
For all the latest news from School for Creative Startups and more information about the Startup Showcase follow them on Twitter.
Sponsored listing
Tongue and Brisket Farringdon
Located at the end of Leather Lane Market close to Holborn road, Tongue and Brisket offers an array of hearty lunchtime sandwiches and bagels including salt beef and tongue.  During World War II, Londoners complained about American GIs in Britain by saying they were 'oversexed, overpaid, and over here.' London has recently been swamped by another American horde: themed restaurants in the lower price brackets. You can hardly walk down any major thoroughfare without spotting a new burger/barbecue/pizza/chicken joint/deli. The problem? They're too often overhyped, overpriced, and overrated. The complaints don't apply to Tongue and Brisket, even though its menu bears a resemblance to New York deli food. It's a reminder that London has its own long-standing tradition of northern-European Jewish cooking, and that we don't need to ape the delis of Murray Hill or Williamsburg. Tongue and Brisket keeps its menu very short – a few sandwiches, a few soups, a few sides, a few puddings. I was raised on this kind of food, and I am delighted to report that T&B does everything just right. The brisket (aka salt beef) is brined with skill, cooked to melt-in-the-mouth tenderness, and sliced – as it should be – with its outer layer of fat intact. A sandwich costs £4.90, and it's of tasteful but filling size. But there's more here than salt beef. The tongue sandwich is just as good, also meltingly soft and supremely flavourful. Pickles are fine. Chicken noodle soup with a diminutive matzo bal
Venue says: "The home-cured, hand-carved meat at Tongue and Brisket is a tribute to salt beef sandwiches done simply and perfectly.."