Wood Street Indoor Market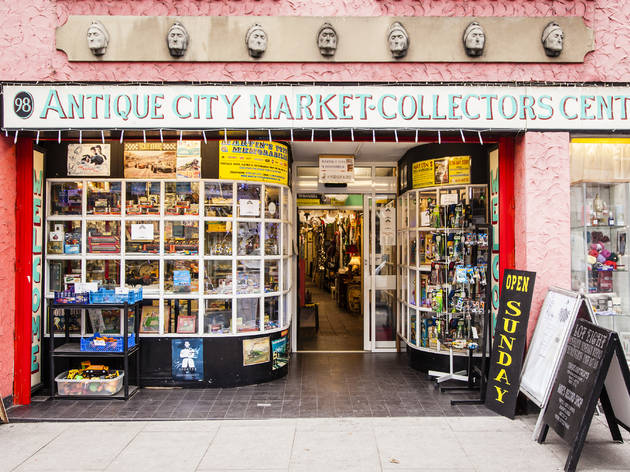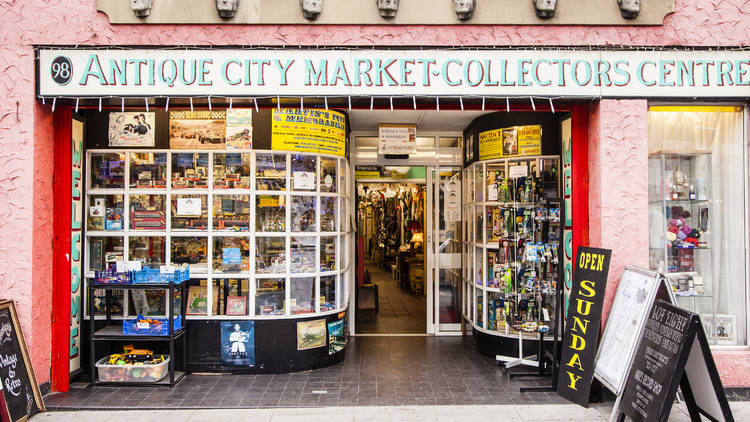 Time Out says
Built around a horseshoe corridor, this Walthamstow market packs a whole lot into its snug space. The 30 sellers offer a mix of vintage toys, alternative cabaret outfits and stacks of old records. It's a proper east end institution, filled with Wood Street locals and cockney accents. It's one of the few places in London where you can fill your shopping bag with old books and magazines without breaking a tenner.
Wood Street Indoor Market says
Welcome to the 'Gem of Wood Street'
Details
Address:
98-100 Wood St
London
E17 3HX

Transport:
Tube: Walthamstow Central; Rail: Wood St
Do you own this business?
Average User Rating
3.7 / 5
Rating Breakdown
5 star:

2

4 star:

0

3 star:

0

2 star:

0

1 star:

1
My girlfriend and I recently moved into the Walthamstow area and decided to take a walk to wood street market on the weekend as we saw it was open the first Sunday of each month. It's an absolute gem with lots of small quirky stores selling clothes to home-ware. We picked up two chandeliers for our new place to put up, but the best find was the Homies on Donkeys taco stand where the food was utterly amazing. Really recommend a visit and having a bite to eat
A little gem in the heart of Wood Street in Walthamstow, East London. Inside the market they serve up the most amazing tacos plus there is fabulous retro pieces, vintage clothing, antiques, a sweet shop, hand made bags and lots & lots of vinyl. Open Tuesday-Saturday.
Possibly you have never heard before of this little known indoor market and after a first experience one might be very much tempted to say...well, don't bother to go there. And here is why.
More accidentally we (me and my husband) found out about the existence of this market and decided to give it a try because we love markets. This is supposed to be open 6 days a week. But after we entered the rather uninviting looking main entrance of the market we had to realize very soon that the majority of the shops were either closed, a few were completely empty and in a lot of the shops which were open, nobody was to be seen. only glaring cold nepnlights everywhere. And that on a Thursday... Very few visitors were around anyway. In a shop window of a little antiques shop we spotted a small pocket watch. A sign on the door told us that we should go to the cake shop in unit 20 in case we have a question. So we went to that unit only to find another sign telling us 'I am in the garden' which sent us all the way back. There we asked for the owner of the antiques shop only to be asked (barked at would describe it better) 'what do you want'. No hello, no smile, nothing... Reluctantly the 'gentleman' followed us back to his shop. He opened it up but didn't even let us inside his shop to browse. Strange enough. So my husband pointed at two items which caught his interest. A watch and a British medal. The shop smelled rather mouldy and was an absolute mess (on a scale of chaos from one to ten I would say it was an eleven) with antiques and bric-a-brac flying around everywhere. It was very obvious that the owner did not care whatsoever. There was a variety of other militaria but unfortunately most of it obvious fakes. After taking a short look at medal and watch (my husband had the intention to buy) the shopowner became quite hostile for no obvious reason at all and barked in a rude and patronising manner 'What, is that to rich for you? How much money do you have on you?' ( The watch was 20, the medal 30 pounds.) Quite astonished but friendly my husband told him that he should not worry about that, only to be shown another item he was not interested in because it was a fake ( and a real bad one on top of that). After telling that to the impatient shopowner hell broke loose. He claimed to be an expert and that he would only sell genuine items (no, they are not, at least not all) and that he would bet 1000 pounds that they are genuine. My husband should take the bet there and now or piss off. So much for that. The gentleman simply wasn't a gentleman at all and he should put up a warning sign 'dear unappreciated customer beware: stay away'. We never encountered such hostility and unwillingness of a seller before. So far, this one topped our alltime list of grumpiness. At least so far... On our way out of the market - we had enough - we saw a few watches in another shopwindow and decided - once again - to give it a go. My husband entered the shop whereas I had to stand halfway in the door. The shop was crammed. And here too - what a surprise we encountered unwillingness and reluctance and hostility. After taking a short look ( 20 seconds maybe) at the first watch, my husband wanted to look at the rest of the watches only to be told ' don't waste my time, I am busy' and to be shoved out of the door. For a brief moment we thought we were in the wrong film. The type of western movie were a stranger enters a saloon and literally runs against a wall of hostility. In this case (and that I explained before) the wall was built of a nasty attitude and bad manners. The whole situation was more than surreal. I ask you fellow reader. A market is there to visit and browse, right? I see you are nodding enthusiastically. So far, so good. We agree. If someone has a sign on his shopdoor saying 'open', you enter, ask politely and take a look at the items on offer, right again? Of course! These are the holy market rules. But here in this market these eternal rules seem no longer valid! You, as potential customer are nothing than a mere nuisance. Please don't dare to bother his majesty the shopowner and given these nasty experiences we had, we might say... Well, I think you are getting the point here...
Snap up exclusive discounts in London
Time Out's handpicked deals — hurry, they won't be around for long...