World Press Photo Exhibition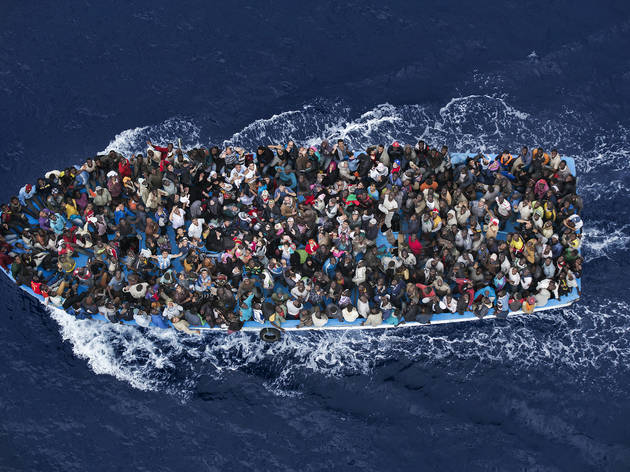 1/18
Massimo Sestini, Italy
Shipwrecked people are rescued aboard a boat 20 miles north of Libya by a frigate of the Italian navy. After hundreds of men, women and children had drowned in 2013 off the coast of Sicily and Malta, the Italian government put its navy to work under a campaign called "Mare Nostrum" rescuing refugees at sea. Only in 2014, 170,081 people were rescued and taken to Italy.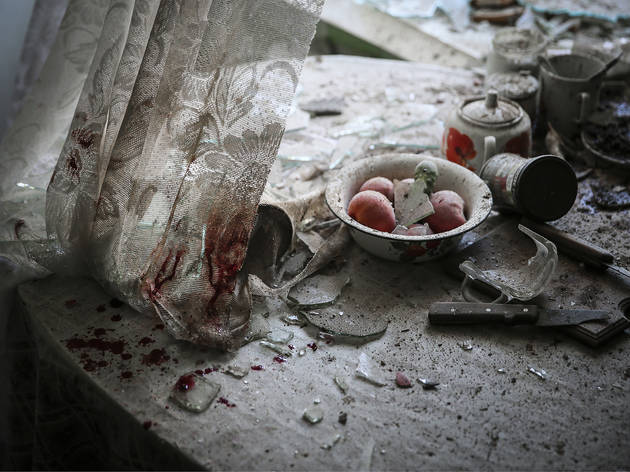 2/18
Sergei Ilnitsky, Russia, European Pressphoto Agency
Damaged goods lie in a kitchen in downtown Donetsk. Ordinary workers, miners, teachers, pensioners, children, and elderly women and men are in the midst of the conflict in eastern Ukraine. Artillery fire killed three people and wounded 10 on 26 August 2014.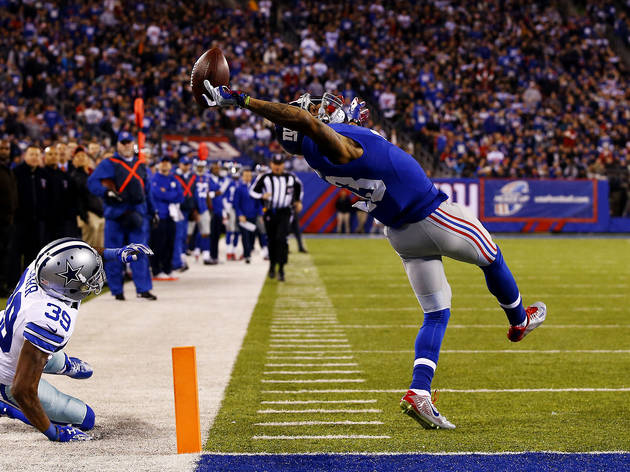 3/18
Al Bello, USA, Getty Images
Odell Beckham (#13) of the New York Giants makes a one-handed touchdown catch in the second quarter against the Dallas Cowboys at MetLife Stadium.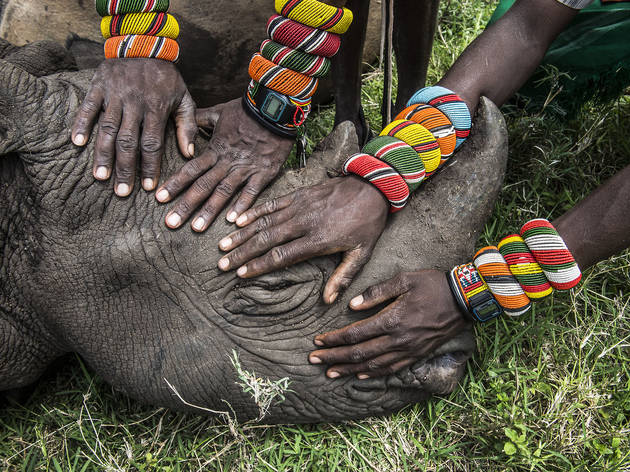 4/18
Ami Vitale, USA
A group of young Samburu warriors encounter a rhino for the first time in their lives. Most people in Kenya never get the opportunity to see the wildlife that exists literally in their own backyard.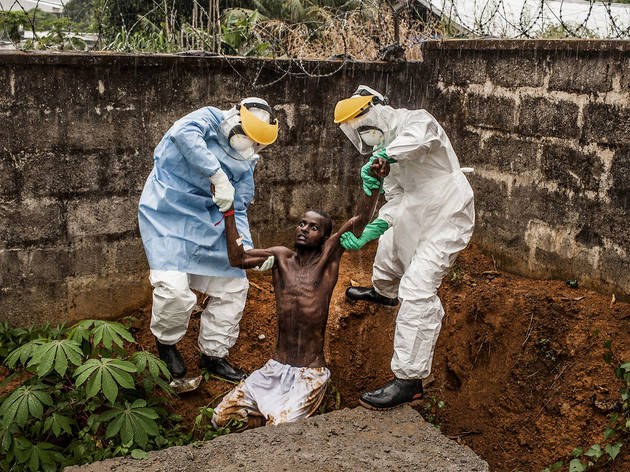 5/18
Pete Muller, USA, Prime for National Geographic / The Washington Post
Medical staff at the Hastings Ebola Treatment Center work to escort a man in the throes of Ebola-induced delirium back into the isolation ward from which he escaped. In a state of confusion, he emerged from the isolation ward and attempted to escape over the back wall of the complex before collapsing in a convulsive state. A complete breakdown of mental facilities is a common stage of advanced Ebola. The man pictured here died shortly after this picture was taken.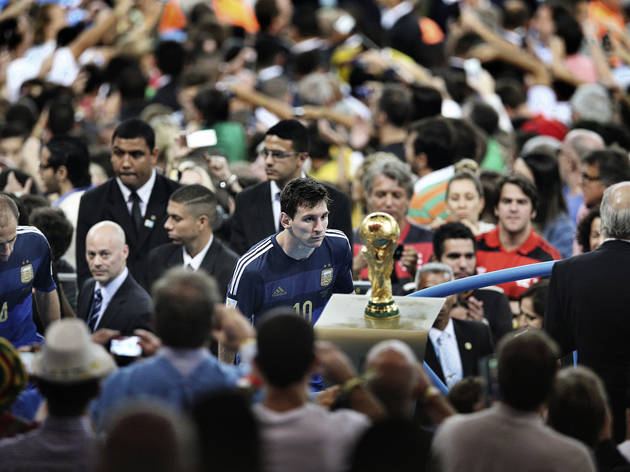 6/18
Bao Tailiang, China, Chengdu Economic Daily
Argentina player Lionel Messi comes to face the World Cup trophy during the final celebrations at Maracana Stadium. His team lost to Germany 1-0, after a goal by Mario Götze in extra time.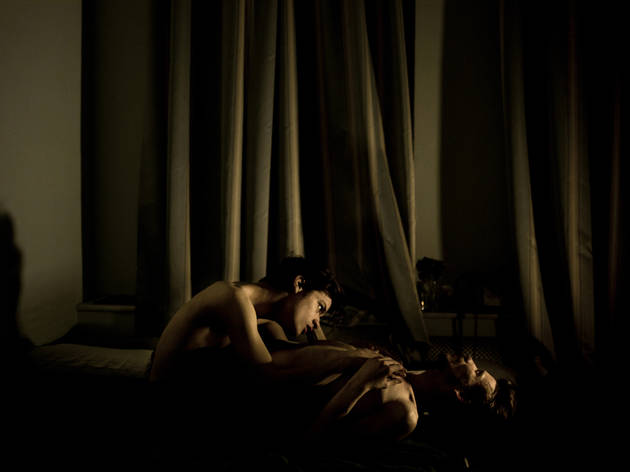 7/18
Mads Nissen, Denmark, Scanpix/Panos Pictures
Jon and Alex, a gay couple, during an intimate moment. Life for lesbian, gay, bisexual or transgender (LGBT) people is becoming increasingly difficult in Russia. Sexual minorities face legal and social discrimination, harassment, and even violent hate-crime attacks from conservative religious and nationalistic groups.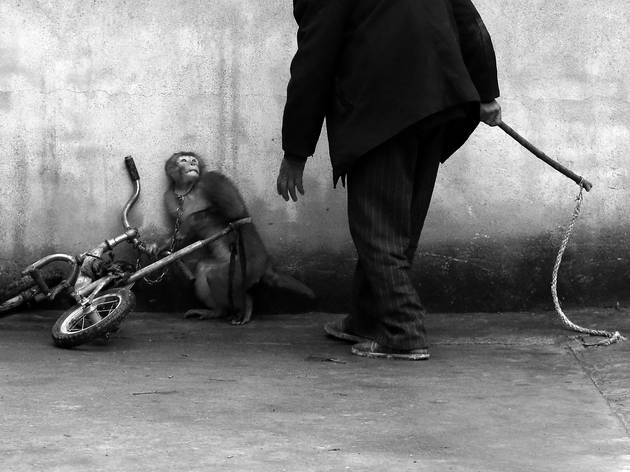 8/18
Yongzhi Chu, China
A monkey being trained for circus cowers as its trainer approaches. With more than 300 roupes, Suzhou is known as the home of the Chinese circus.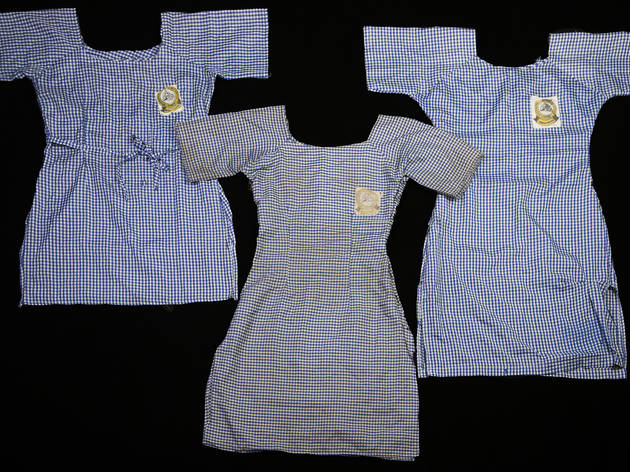 9/18
Glenna Gordon, USA, for Time / The Wall Street Journal
School uniforms belonging to three of the missing Nigerian schoolgirls.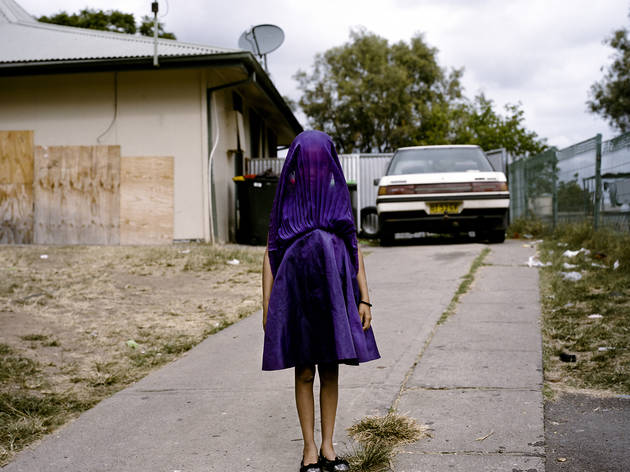 10/18
Raphaela Rosella, Australia, Oculi
Laurinda waits in her purple dress for the bus that will take her to Sunday School. She is among the many socially isolated young women in disadvantaged communities in Australia facing entrenched poverty, racism, trans-generational trauma, violence, addiction, and a range of other barriers to health and well-being.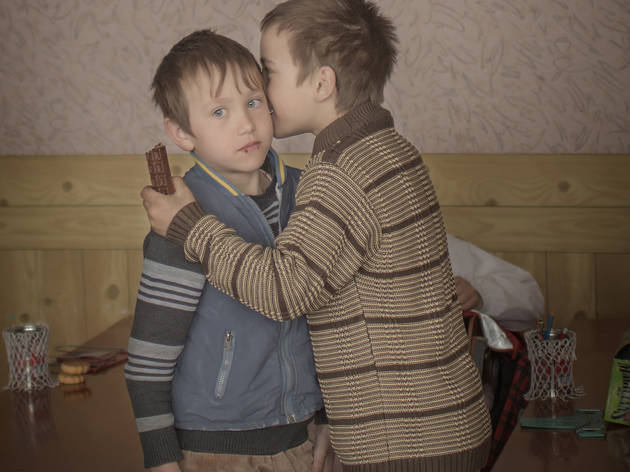 11/18
Åsa Sjöström, Sweden, Moment Agency / INSTITUTE for Socionomen / UNICEF
Igor hands out chocolates to a classmate to celebrate his ninth birthday. When he and his twin brother Arthur were two years old, their mother traveled to Moscow to work in the construction field and later died. They have no father. They are among thousands of children growing up without their parents in the Moldovan countryside. Young people have fled the country, leaving a dwindling elderly population and young children.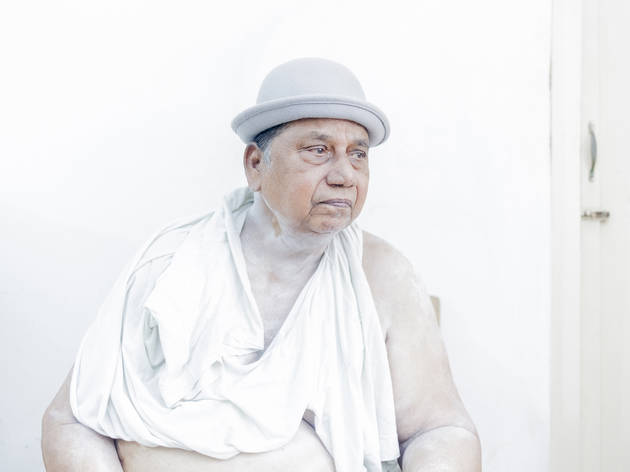 12/18
Sarker Protick, Bangladesh
John wears his grandson's bowler hat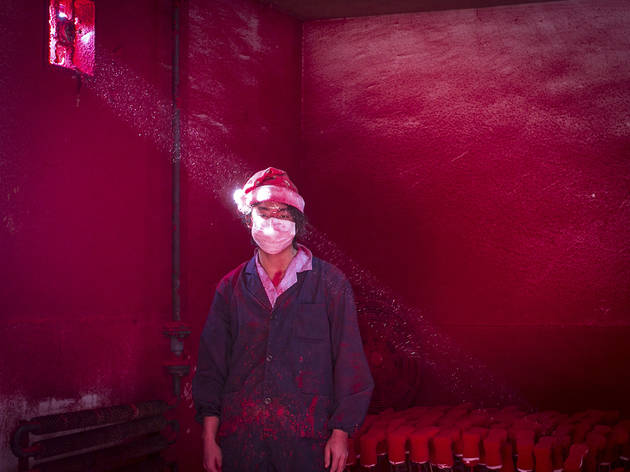 13/18
Ronghui Chen, China, City Express
Wei, a 19-year-old Chinese worker, wearing a face mask and a Santa hat, stands next to Christmas decorations being dried in a factory as red powder used for coloring hovers in the air. He wears six masks a day and the hat protects his hair from the red dust, which covers workers from head to toe like soot after several hours of work.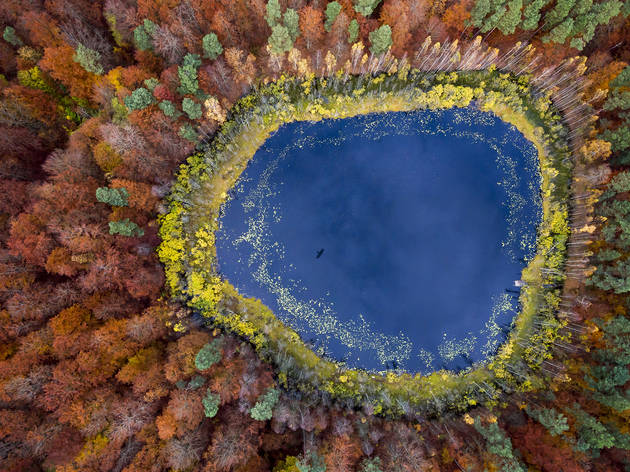 14/18
Kacper Kowalski, Poland, Panos Pictures
Kacper Kowalski is a pilot and a photographer. Side Effects is a documentary project about the complex relationship between humans and nature. The photos were shot either from a paraglider or a gyroplane, some 150 meters above the ground, mainly in the area around Gdynia, in Poland, where Kowalski lives. In this work, Kowalski explores answers to questions that deeply interest him: What is the natural environment for humans? Is it an untouched, virgin landscape? Or is it a landscape that has changed, adapted to human needs?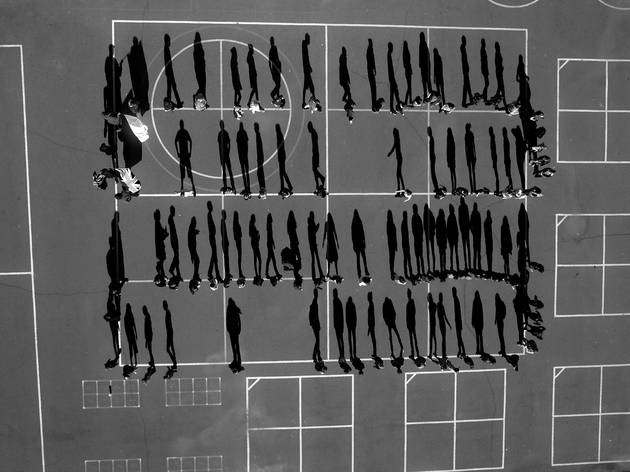 15/18
Tomas van Houtryve, Belgium, VII for Harper's Magazine
Students in a schoolyard.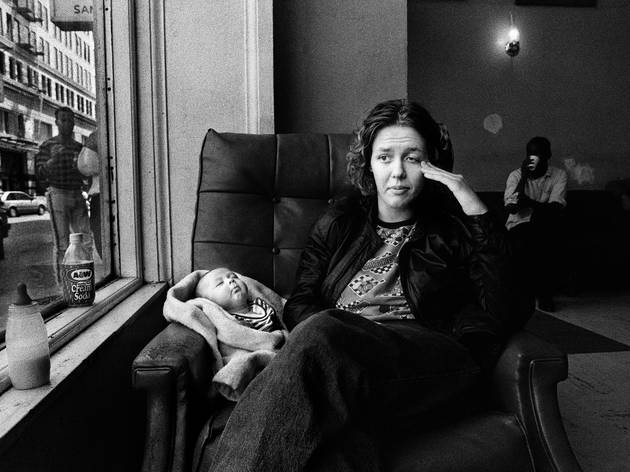 16/18
Darcy Padilla, USA, Agence Vu
Family Love 1993-2014 – The Julie Project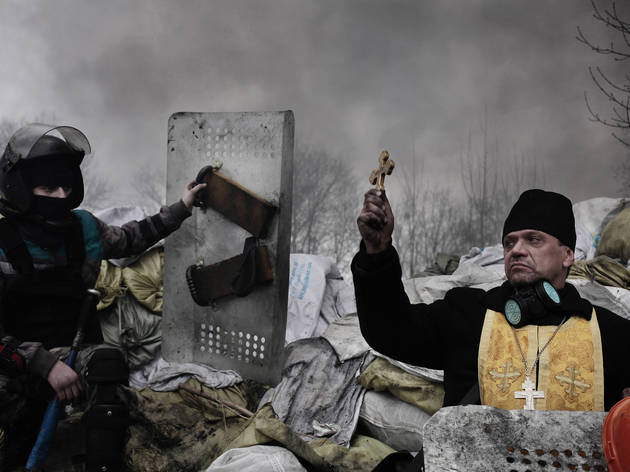 17/18
Jérôme Sessini, France, Magnum Photos for De Standaard
A protester calls for medical aid for a comrade shot dead.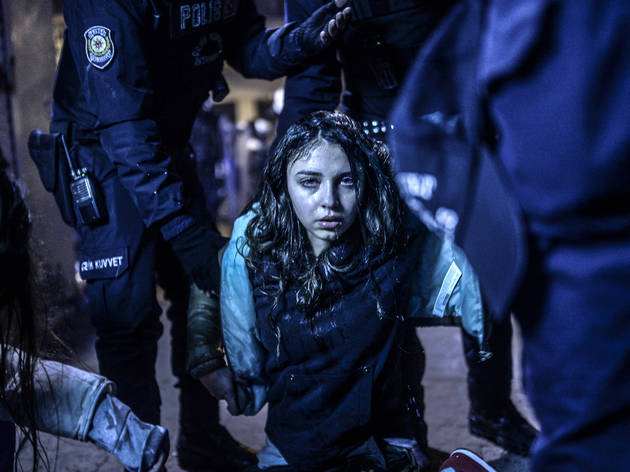 18/18
Bulent Kilic, Turkey, Agence France-Presse
A young girl is pictured after she was wounded during clashes between riot-police and protestors after the funeral of Berkin Elvan, the 15-year-old boy who died from injuries suffered during last year's anti-government protests.
Time Out says
Friendly warning! We're working hard to be accurate. But these are unusual times, so please check that events are still happening.
Celebrating powerful, moving and sometimes disturbing photojournalism, the annual World Press Photo competition draws entries from all over the world. This year 5,963 photographers representing more than 130 different nationalities submitted not far short of 100,000 images. The resulting exhibition of 140 winning and shortlisted shots is shown in 45 countries, with the London leg of the tour taking place at the Royal Festival Hall. The sumbmissions cover a kaleidoscopic subject matter; the often haunting images cover everything from homophobia in Russia to the ebola crisis. The focus and scope of this free show – from the political to the personal – makes it an essential snapshot of the moment we live in.
Details