Blandings
Sun Jan 27, 6.30-7pm, BBC1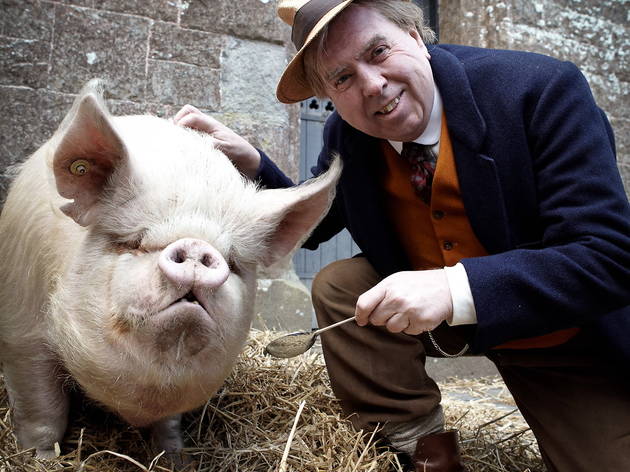 Series one, episode three
Mistaken identity. Funny foreigners. Sham marriages. Poorly domesticated animals. Class consciousness. Lashings of slapstick. To watch 'Blandings' is to realise that PG Wodehouse's knockabout tales, for better or worse, enshrined many of the rules for the British TV sitcom. And Guy Andrews's light comedy proves a perfectly charming diversion, bowled along by fine performances (Timothy Spall is superb as the perpetually bamboozled Clarence) and the potential for farce offered by the amorous entanglements of callow young Freddie and Gertrude, this week romancing a Portuguese dancer and oafish Reverend 'Beefy' Bingham respectively. Sometimes one does yearn for a character with an IQ over ten (Mark Williams's wry butler is a little too enigmatic to count), and it's undeniably slight, but it's carried off with real charm and craft.
Sponsored listing
Meraki
Meraki takes the sun-drenched flavours you might find on an island in the Aegean and serves them to businessmen in Fitzrovia. The transition is seamless. Solicitous Mediterranean staff welcomed me at the door of this smart spacious restaurant on Great Titchfield Street,  took my coat and sat me between two sets of suited Americans striking deals. From my little blondewood table I could spy into the gleaming open kitchen and anticipate all the light, Grecian flavours I would soon be consuming in luxury. It felt nice. I started with cold mezze – here, they bring you a platter of dips to choose from on a lovely wooden tray (it's a nice touch). Barrel-aged feta was insanely good, served with chilli pitta crispbreads and sprinkled with a little red 'secret' dust that tasted a bit like dukkah, but more seductively sour. A deconstructed spanakopita was less impressive: basically just creamed spinach with more crispbread. This was an example of a trad dish that shouldn't have been fiddled with. Of the larger plates, the absolute highlight was a salad of young samphire topped with warm manouri cheese and drizzled with lemony butter. Prawn ceviche, too, was wonderfully fresh, but over-salted (other disappointments included some wildly over-battered courgette fritters). Meraki is at its best when it keeps things simple. Like that aged feta dip. I can't stop thinking about that dip.
Venue says: "In Greece Sundays are for family, so honouring this tradition we're now open on Sunday. With special dishes and a kids' menu."