Girls
Mon Jan 28, 10-10.35pm, Sky Atlantic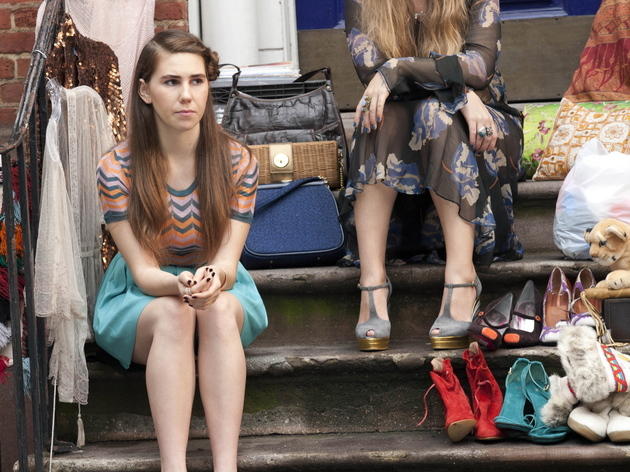 Series two, episode three
People getting high can spell certain doom for TV dramas, especially those as concerned with the zeitgeist as 'Girls'. So it's to the show's credit that Hannah and Elijah's big night out on coke is only excruciating in the best possible sense. Having inveigled drugs out of her ex-junkie neighbour in characteristically crass fashion, they talk shit in the flat before hitting the clubs and bumming each other's vibes during a rare moment of mutual emotional honesty. With Jessa and Shoshannah almost entirely sidelined tonight (Lena Dunham seems to be struggling to find anything interesting for the latter at all this series), Marnie is the unlucky girl dragged into their self-absorption and away from an ill-advised fling with bell-end artist Booth Jonathan (providing tonight's requisite dose of awkward sex). After an uncertain start to the second season, 'Girls' is finding its feet again – although a little more of the ensemble cast and a little less Hannah wouldn't go amiss.
Sponsored listing
Cafe Route
A popular cafe, deli and bistro in Dalston, serving breakfast, lunch and dinner every day. It certainly looks the part, with bunches of dried chillies and garlic bulbs hanging from high, shelves stacked with pantry produce and cute little hampers overflowing with canned olives, tinned sardines and dried pasta. A long counter showcases the colourful salads. Breakfasts prove popular, with Monmouth coffee and Kandula tea served alongside granola, traditional English breakfasts, veggie versions, eggs benedict, omelettes and shakshuka - a Middle Eastern skillet of eggs, tomatoes, peppers and onions. Mimosas and Red Snappers (Gin Mare, tomato juice, vegetable broth, celery salt, lemon juice and black pepper) sit under the 'hair of the dog' section - a sensible addition to the menu perhaps, given the locale.  Those pretty salads (fennel, pear, radicchio and pomegranate, or cauliflower, brussel sprouts, cranberries and almonds for example) prove popular at lunch and dinner, and are served on their own or as plates of three or four together. Lunchtimes also see sandwiches, burgers and mains such as lemon and tarragon chicken with shallots, or sweet-chilli glazed salmon served. The charcoal grill is fired up in the evening, with onglet steaks, lamb fillets and thyme chicken breasts given the smokey treatment. A short wine list concentrates on the old world, with plenty from France, Spain, Italy and Portugal. Keep an eye out for special additions to the drinks list, too. 
Venue says: "Inspired by the Middle East and Mediterranean, with a local spirit."
You might also like