Parks and Recreation
Wed Mar 6, 10-10.45pm, BBC4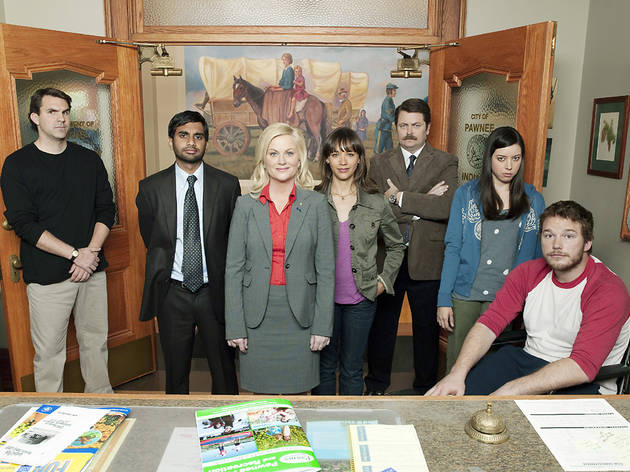 Series one, episode one
'It's a great time to be a woman in politics,' gushes mid-ranking local government official Leslie Knopes. 'Hillary Clinton. Sarah Palin. Me.' Leslie is a good-natured, annoying thirtysomething with ideas above her station. The first part of her masterplan involves the construction of a park. But can she deal with hopeless staff, disruptive superiors and her own foot-in-mouth tendency for long enough to make the dream real?

At this early stage, the flaws of 'Parks and Recreation' are as evident as the strengths. For a start, it couldn't be more indebted to the hubris, bathos and narrative devices of 'The Office' if it did a silly dance before spunking its severance pay on making a novelty pop record. The consensus from across the pond, however, is that the show has improved dramatically as it's developed and matured. It's just been commissioned for a fifth season and is now a well-loved cult concern.

We can just about see why: Amy Poelher's Knopes is tiresome and deluded but sweetly so. The supporting cast are less memorable but not without promise. Probably one to persevere with.
Sponsored listing
Café Miami
Will Smith's 'Welcome to Miami' is playing as I enter this north Hackney café. It's no coincidence: everything at Clapton's latest Instagram paradise is achingly stylised. From heart-shaped sugar cubes to strategically plated food, Café Miami is one big brunch-based photo-op. It's incredibly well curated. The retro furnishings and hand-picked condiments are all guaranteed to look great on social media. There's nothing wrong with that; but for me, substance well and truly trumps style. Alas, this place flew off on a golden-winged emoji and left behind an average menu of underwhelming toasted sandwiches. Elsewhere, a weekend 'special' of coconut pancakes was nothing special at all: flavourless and pedestrian. A waffle burger (heart-shaped, of course) was much more exciting, with chorizo, avocado and bright orange hot sauce, but too small for £9.50. Homemade strawberry pop-tarts completed the Americana party and, yes, they looked extremely clickable. So ask yourself: What does brunch mean to me? If it's all aesthetics and uploading your waffles on the house wifi, then Café Miami is an ideal pastel-toned canvas. But if you like catching up with friends and eating tasty and cheap – albeit perhaps less photogenic – food, then go elsewhere. Actually, Miami #IRL is lovely this time of year.
Venue says: "Now serving milkshakes and ice cream sundaes!"
You might also like