The Incredible Mr Goodwin
Thu Mar 7, 9-10pm, Watch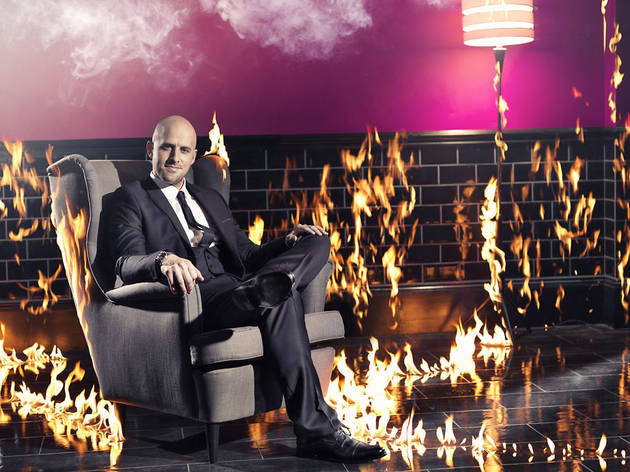 Series one, episode one
'Take care,' says one man. 'See you in a bit,' says another. The first man is about to push a button to fire a car off a cliff. The second has to unpick a padlock in 30 seconds, or else be dragged after the car to his death. This deliciously British exchange explains part of the appeal of Jonathan Goodwin's show: he's an escapologist, stunt expert and 'danger man', but no ego-fuelled David Blaine-esque imbecile.

His relative normality ensures that his stunts look even more outlandish by comparison: setting off a bear trap, performing a William Tell-style target shot by sound alone, crossing from one side of the car to the other in a move described by his driver as having 'a great chance for maximum danger'. 'The Incredible Mr Goodwin' is daft and over-familiar at times, but done with pizazz and enough back-story (his wife is no mute witness) to engage on a human as well as visceral level. But why perform so many stunts at mealtimes? BBQs, picnics, light lunches… Never accept a dinner invitation chez Goodwin.
Sponsored listing
Aya Cuisine
This Lebanese restaurant is just round the corner from South Wimbledon station, off Merton Road. There's an extensive menu of all things Middle Eastern, with starters including al-rahib (grilled aubergine), chilli hummus, falafel and lamb sambusek (deep fried pastry filled with minced lamb), followed up with a selection of meat cooked on a charcoal grill, hearty stews and fish dishes. The restaurant is pretty spacious with exposed brickwork and long oak tables. If you don't want to sit in, however, there's a takeaway service available so you can chow down on dishes in the comfort of your own home.
Venue says: "We are offering a 20% food Ala-card discount Monday to Friday, noon-5pm, excluding bank holidays. Bring your own booze (no corkage fee)!"