The Spa
Thu Feb 7, 9-9.30pm, Sky Living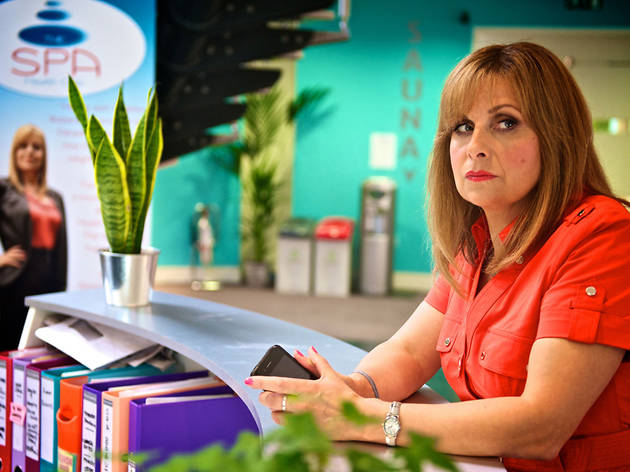 Series one, episode one
We can imagine the pitch: 'Benidorm' meets 'The Brittas Empire'. And if that was indeed the goal, 'The Spa' (created by 'Benidorm' mastermind Derren Litten) succeeds admirably. Rebecca Front does a professional job as the spa manager Alison, keeping the show on the road while her staff, ranging from Nadine Marshall's tyrannical fitness instructor to Tim Healey's well-endowed handyman, threaten to derail it at every turn.

Highlights include the dippy receptionist confusing 'obese' with 'a beast', and an extended sequence in which a cleaner threatens suicide from the roof to a soundtrack so predictable that, if nothing else, makes the art of sitcom-writing look very easy indeed. Cheerful enough, then, but very short on laughs. 'Benidorm' meets 'The Brittas Empire' it is.
Sponsored listing
Drink, Shop & Do
This café, open daytimes through evenings, is decked out in a girly nostalgia chic with retro furniture that's for sale. It is a popular venue for private parties, hen do's and the like. The café menu's simple, and limited: sandwiches, tarts, salads, cheese and charcuterie boards. Much effort is made with the pastries, which are displayed on the counter. The selection of teas is excellent, presented in pretty teacups. In the evenings alcoholic drinks (some with punning names) come into their own: the 'Corrrr… what a pear' consists of spiced rum, lime and apple juice muddled with fresh pear. There are many events held here, mostly crafts- and dance-oriented. Some are unusual to say the least, such as 'play with clay Scream': the opportunity to recreate Munch's famous painting in ceramic. 
Venue says: "Drop in for a coffee by day, stay for drinks and party vibes by night, then return for a chilled bottomless brunch at the weekends!"