The Village
Sun Mar 31, 9-10pm, BBC1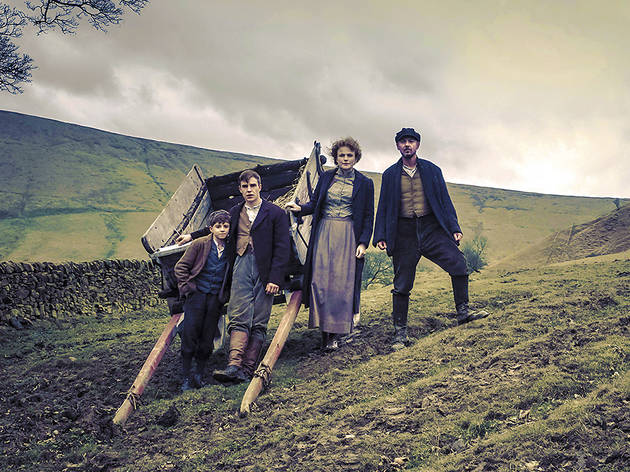 Series one, episode one
Seen through the eyes of charming centenarian Bert Middleton, 1914 was 'the year the bus came'. It doesn't sound like much but previously, the harsh Peak District village of the title had been an insular place. With the bus, comes a beautiful stranger who recalibrates the horizons of the local men. But will she be swayed by the charms of the poshos at The Big House?

The likeliest comparison for this epic new BBC series is 'Downton Abbey'. But on the basis of this first episode, 'The Village' will be a tougher but much more sentient beast. As we meet the pre-pubescent Bert, he and his family are poverty-stricken and miserable. John Simm is his usual gloweringly intense self as young Bert's bitter, boozy, bully of a father. Meanwhile, mother Grace (Maxine Peake) holds the family together and Bert looks up adoringly to his big brother Joe.

But check the date. The outside world is about to impose itself on rural England in a devastatingly insistent way. Simultaneously dreamily evocative and brutally earthy, 'The Village' could become a Sunday night fixture with all the finesse of 'Downton…' and none of the distracting gloss.
Sponsored listing
Briciole
This Marylebone spot is as close to a proper Italian trattoria as you're likely to find in London. Effusive waiting staff greeted us like long-lost relatives as they ushered us past the deli and café-bar area to the airy, informal dining area of this former pub. A wide-ranging selection of small plates, first-class salumi, cheeses, pastas, grills and other mains drawn from all over Italy made ordering fiendishly difficult. We tried to sample some of everything, and soon our table looked pleasingly crowded and varied, as a proper Italian meal should. Some dishes are downright peculiar, some disappointing – a plate of meatballs with peas looked like little mounds smothered in a bright green smoothie, and our cannoli was too thick and unwieldy. But gnocchi with pork cheeks, red onion and peas was spot-on, and a sausage served with polenta flew us straight back to Italy, the fennel singing out from the sausage's dense porky flavours. This is rustic Italian cuisine at its most honest and inviting – the real deal in a crowded, often disappointing market.