The Walking Dead
Fri Feb 15, 10-11pm, Fox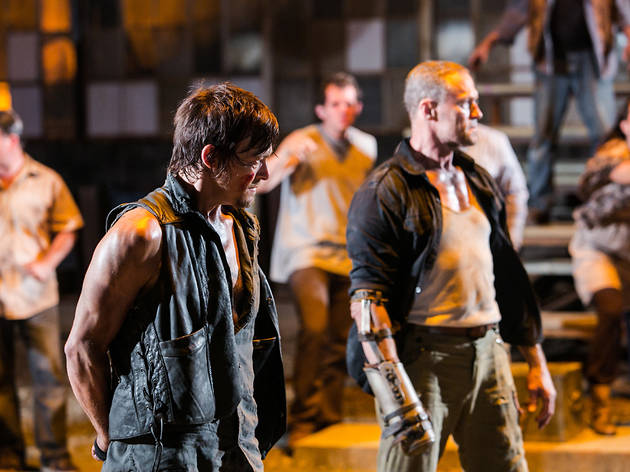 Series three, episode nine
A mildly disappointing return for Egg and the gang, as the nerve-shredding pre-Christmas cliffhanger is dispatched in mere minutes courtesy of a few gunshots and a lot of shouting. The rest of the episode is all about consolidation: Rick (Andrew Lincoln) has a samurai sword-wielding road warrior, one very mouthy Michael Rooker and three shattered newcomers to contend with – handy, because they'd literally just run out of muscular but essentially good-natured black guys.

Meanwhile, Andrea (Laurie Holden) has to hold the town of Woodbury together while the Governor (David Morrissey) attends to some important drinking and brooding duties. It all wraps up rather laughably, with a hallucinatory sequence which pushes Lincoln's acting abilities right to (and perhaps beyond) their limits. Still, at least they're not still sat in that cornfield.
Sponsored listing
Burger & Lobster Mayfair
Don't be put off by the gimmicky concept or swanky addresses of the nine branches of this chain; this sleek eatery represents remarkably good value for money… if you order the lobster. As you walk through the door in the Mayfair branch (an attractively converted pub), a blackboard tells you all you need to know about the menu: you may order a lobster (boiled, grilled or in a brioche roll with mayonnaise), or you may have a burger, all served with a substantial and tasty salad and french fries, for £16. The simplicity of the pricing – while absurd for what is a fairly average burger – cuts neatly past the usual 'market price' for lobster, which can easily work out to over £30 elsewhere in town. The grilled version got top marks on our visit: the lobster was a fresh, quality specimen, perfectly cooked – and tasted divine dipped in drawn butter. For dessert, there's either an entirely average chocolate brownie or a delicious lime mousse that offers a tart finishing touch to a satisfying meal. If you'd like to make an evening of it, do: the bar has a range of fine cocktails and a decent selection of beers on tap.  
Venue says: "Simply the best burger and lobster in town. See our Facebook page for the latest news and updates."
You might also like