The Walking Dead
Fri Feb 15, 10-11pm, Fox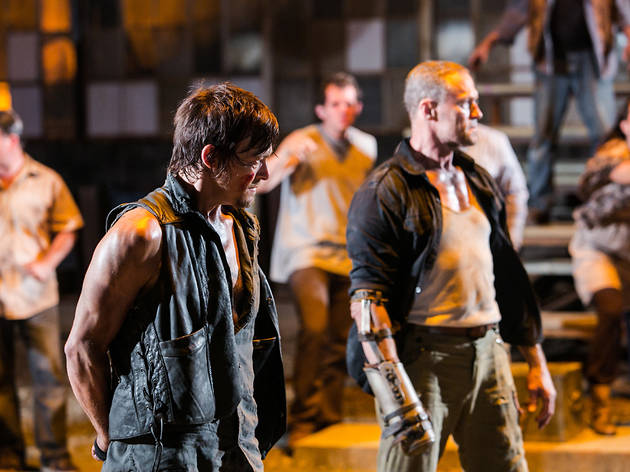 Series three, episode nine
A mildly disappointing return for Egg and the gang, as the nerve-shredding pre-Christmas cliffhanger is dispatched in mere minutes courtesy of a few gunshots and a lot of shouting. The rest of the episode is all about consolidation: Rick (Andrew Lincoln) has a samurai sword-wielding road warrior, one very mouthy Michael Rooker and three shattered newcomers to contend with – handy, because they'd literally just run out of muscular but essentially good-natured black guys.

Meanwhile, Andrea (Laurie Holden) has to hold the town of Woodbury together while the Governor (David Morrissey) attends to some important drinking and brooding duties. It all wraps up rather laughably, with a hallucinatory sequence which pushes Lincoln's acting abilities right to (and perhaps beyond) their limits. Still, at least they're not still sat in that cornfield.
Sponsored listing
Nagoya
When it comes to Japanese culture, some things get lost in translation. Appreciating the art and grace of outsized men wrestling near-naked is one such mystery, and plastic models of food is another. Cascades of noodles falling from floating forks, dusty bowls of ramen and platters of intricately crafted sushi are intended to lure diners into Japan's restaurants. These plastic replicas of their dishes are unlikely to get you salivating, but there's no denying the fun. This Japanese spot in Marylebone is decidedly old-school in its looks - slatted wooden façade, monochrome interior and plenty of plastic food, both in the window display and on show inside. The extensive menu has a range of Japanese classics: sushi, tempura and deep-fried breaded pork (tonkatsu), plus ramen and other noodle dishes. All of which are undoubtedly done well - our sushi selection contained faultlessly fresh fish, while a selection of grilled skewers were pleasantly smoky. But there are also a few less common options, which definitely shouldn't be ignored. A rich and meaty miso stew came packed with pieces of tender braised tripe and tofu. And a Japanese pub classic of rice in a green tea broth with salt-pickled plum (ochazuke) made the perfect conclusion to our meal. Though it was way too chilly on the table by the door (make sure you sit further in), the lesser seen dishes warmed our cockles.
Venue says: "A free sushi roll selected by the chef for tables of four or more (evening only). Show this page when ordering to claim. T&Cs apply."
You might also like