Atlantis
Sat Oct 5, 8.25-9.10pm, BBC1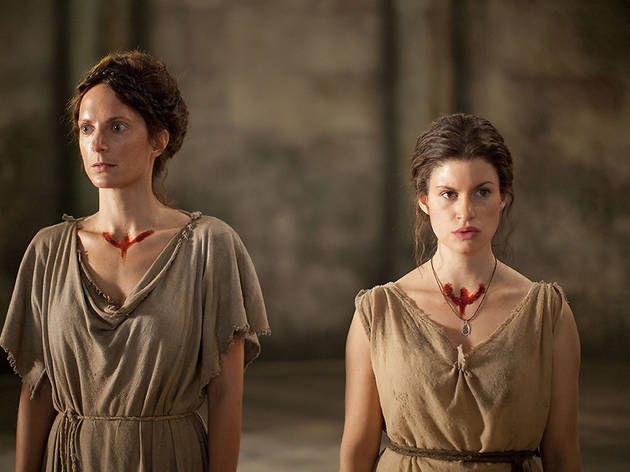 Series one, episode one
His heroic status established after conquering the minotaur last week, Jason's already getting itchy feet. 'I don't understand my place in this world!' he yells, helpfully, while his chums Hercules (lazy braggart) and Pythagoras (brainy prig) bumble around trying to make a living as funds dry up.

Handily, a new quest arrives in the nick of time when a young woman is abducted by followers of Dionysus. But, this being a pre-watershed fun-for-all-the-family affair, we're talking about an unusually chaste band of satyrs and maenads. 'Atlantis' means well, but it's hard to overlook its many shortcomings. In this post-HBO world, any series striving for an epic, mythical feel needs an awful lot more money behind it than 'Atlantis' has, with its sparsely populated streets and ropey effects. The dialogue is camp without being knowing enough to carry off the dafter exchanges ('I'm surprised at you, Pythagoras!') and few of the performances leave much of an impression.

Both 'Robin Hood' and 'Merlin' survived rocky beginnings, but 'Atlantis' is already sinking fast.
Sponsored listing
Makè hai
What's in a name? Quite a bit, actually. Stoke Newington's new Italian tapas place Makè hai takes its title from southern Italian slang for 'what do you want?', but still sounds suspiciously like a sushi restaurant. This confusion may account for the fact that, when we went along, the place was almost entirely empty. It certainly wasn't because of the food. The layout is clean and sparse, the tables spaced so that you'd still have plenty of elbow room, even with a full house. Cocktails, a near-perfect negroni and a white-rum daiquiri with a fat black cherry at the bottom of it, were spiky and delicious. The menu was a tad confusing: there are starters, there are tapas and there are big plates too, so it's hard to know exactly what to order. We opted for a smattering of tapas and a single main dish between two, which worked out fairly well. First up, a rich and creamy burrata – but that's a dish you can't really get wrong. More tricky, potentially, was peperone con 'nduja, half a baked red pepper stuffed with a bready, meaty filling that had the colour and consistency of crumbly Christmas cake. Weirdly, it worked. Gattò di patate was a thick potato cake packed with provolone cheese and chunks of ham – looking and tasting like something from a '70s wedding buffet, it was weighty but delicious. The retro theme extended to the crocchette di baccala: three deep-fried cod and potato croquettes that were crispy and pleasant, albeit in a Bird's Eye kind of way. A main of tuna ste
Venue says: "Make'hai is a new concept of southern-Italian tapas which recently has joint Stoke Newington. Just check out our venue and our great offers."
You might also like