Badults
Tue Jul 23, 10-10.30pm, BBC3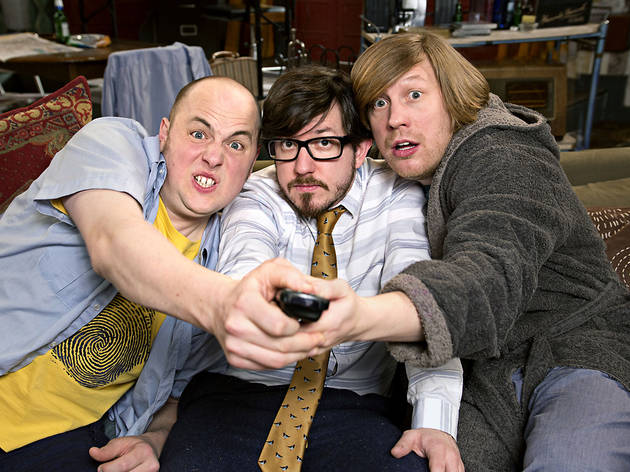 Series one, episode one
Oh, men – sometimes you can be such silly-billies! From 'Whatever Happened to the Likely Lads?' through to 'Bottom' and 'Men Behaving Badly', TV has a recurring soft spot for men old enough to know better.

The latest addition to this infantile strand is 'Badults'. The name does most of the work here but, just to clarify, it's about three male flatmates in their late twenties getting into scrapes. The only sensible character is their lady friend Rachel, who pops in from time-to-time to make the boys look even more puerile. Pappy's, the sketch-comedy trio who are the creator-stars of 'Badults', are beloved of many for their live work, but this first episode – which sees them accidentally withdraw £5,000 from their joint account – misses the mark.

There's no faulting the imagination at work (at one point, they re-enact the French Revolution), but their linking gags and repartee are twee, cloying and weaker than your nan's squash. What made 'The Inbetweeners' such a rare gem was that the weekly antics were appropriate for the character's ages. 'Badults' is just another slightly cringey example of men behaving badly.
Sponsored listing
Michael Nadra Chiswick
It's hard to know why this Chiswick high-flyer, a hop and a skip from the chi-chi shops of Turnham Green Terrace, isn't better known. The food, cooked by Craig Best (ex La Trompette), dabbles in the Orient (chilli, daikon, ginger, soy), while showcasing the best of European ingredients (foie gras, burrata, English asparagus, serrano ham). Our set lunch – superb value at £24 for three courses – delivered on every level: presentation, originality, flavour, va-va-voom. Fish is a particular strength. Soft-shell crab (crisply tempura-ed) with daikon and sweet chilli was vibrant and zingily fresh, as was an unusual salmon ceviche with piquillo peppers and noisettes of sweet potato. Mains showed similar verve. Sautéed king prawns served with playfully criss-crossed fillets of sea bass and herby tagliatelle had great depth of flavour; tender, flavoursome rabbit came with a sweet-sour caponata. A chocolate fondant could have done with more salted caramel, but this is a tiny quibble. Service was friendly and informed, the wine list a global affair with plenty of affordable options. The spartan room (monochrome photos, white walls, black chairs) lacks atmosphere, but the superb cooking made for a memorable meal. Get a boothed window table if you can.  
You might also like