Defiance
Tue Apr 16, 9-11pm, Syfy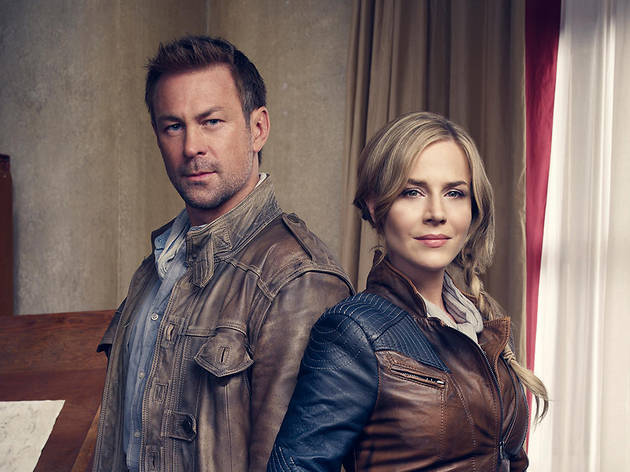 Series one, episode one
Perhaps the most revolutionary thing about this new dystopian-future fantasy is that its narrative will also be depicted in – and can apparently be manipulated by players of – a new open-world game available for Xbox, PS3 and PC. How that will work in reality remains to be seen but, in TV drama terms, it's just as well that it begins with a feature-length episode; even beginning to get a handle on the dramatis personae is a hefty job in itself. It's 2046 and inevitably, Earth has been invaded by aliens. Not just one lot though, with the swollen heads, skinny bodies and massive eyes we've become used to.

In 'Defiance', there's loads of different types. And they all have their weird internal political beefs. The Irathients get on fine with the Sensoth and Liberata. But they don't like the Castithan who don't like the Indogene. The Indogene hate them back but do get on with the Gulanee. But no one likes the Volge. Got it? No, nor have we.

Happily, there are still a few humans hanging around to help us out – as a species, we're chiefly represented by transient bounty hunter Nolan (Grant Bowler), who lands in the town of Defiance where some sort of uneasy peace between the factions is just about sustained. Worth a look for fans of 'Game of Thrones' and 'The Walking Dead'. It's pretty daft but played out with appropriate levels of earnestness.
Sponsored listing
Bone Daddies
This popular ramen joint group continues the expansion with its fifth Bone Daddies in the capital (not counting Flesh & Buns in Covent Garden and Shackfuyu in Soho, which are run by the same folk). Giving a New York edge to Japanese cuisine, Bone Daddies is known for its rock 'n' roll soundtrack and street-vendor aesthetic. This branch, which is walk-in only, is split over two floors, with an open kitchen downstairs and lots of timber and metal materials.  Food comes in the form of wok-fried noodles, or tonkotsu broth. They also specialise in skewers robata-grilled (slow grilled over charcoal) here, featuring chicken, ox cheek, prawns and shiitake mushrooms in such marinades as kimchee butter and sweet chilli ponzu.
Venue says: "Bone Daddies Marylebone is now open from noon until late, serving new wok and robata dishes alongside Bone Daddies favourites. See website"
You might also like