Game of Thrones
Mon Apr 15, 9-10.15pm, Sky Atlantic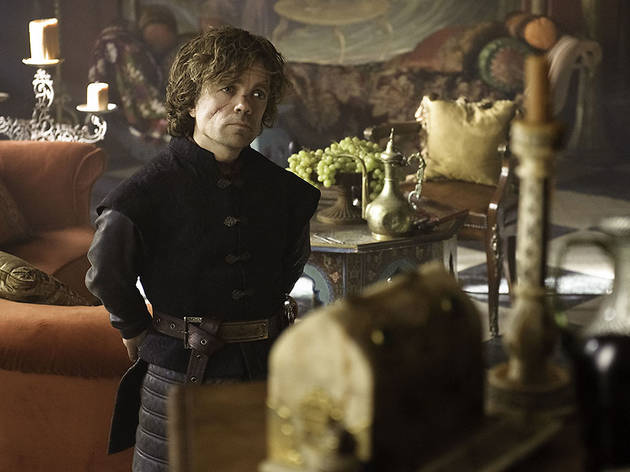 Series three, episode three
George RR Martin's source work has left the producers of 'Game of Thrones' in a minor quandary. There are so many characters to wrangle that the first few episodes of each season can feel like a confusing cavalcade of unfamiliar faces, each of whom has to be given a clear motivation and a handful of (generally unpleasant) personality traits before the plot can really start to move forward.

This week it's the turn of the Tully boys – snivelly Edmure (Tobias Menzies) and proud Blackfish (Clive Russell) – Noah Taylor's magnificently weaselly bandit Locke, and Daenerys's sidekick-to-be Missandei (Nathalie Emmanuel, a decade older than her character in the novels, perhaps because the producers felt there was a shortage of lithe and foxy twentysomethings thus far). Elsewhere, Tyrion makes a spectacle of himself at a meeting of the small council, the vile and incestuous Craster makes an unwelcome return, and poor Theon learns that his troubles are far from over.

It's mostly business as usual, but there are two distinct highlights: Podrick's visit to the brothel has a surprisingly happy (ahem) climax, and it all ends with one of those bite-your-tongue shock moments for which the show has become justifiably famous.
Sponsored listing
The George
Opening its doors for the first time in 1865 and following a rebuild in 1932, The George is a prominent pub in the Isle of Dogs. Standing tall after all these years, there's a sense of community and familiarity about the place that sits just opposite Crossharbour DLR station. However, it's not all old school East End pie and mash - which is on the menu – The George offers up bottomless brunches every Saturday with a choice of prosecco, Bloody Mary's and a range of eggs. Sunday roasts are also a staple here, followed by classic desserts including sticky toffee pudding and apple crumble. Overall, a worthy pub survivor from times gone by that's been lovingly restored. 
Venue says: "Now serving Maureen's award winning pie and mash. Classic East End food in your favourite boozer on the island!"
You might also like