Greggs: More than Meats the Pie
Mon Apr 29, 9-10pm, Sky1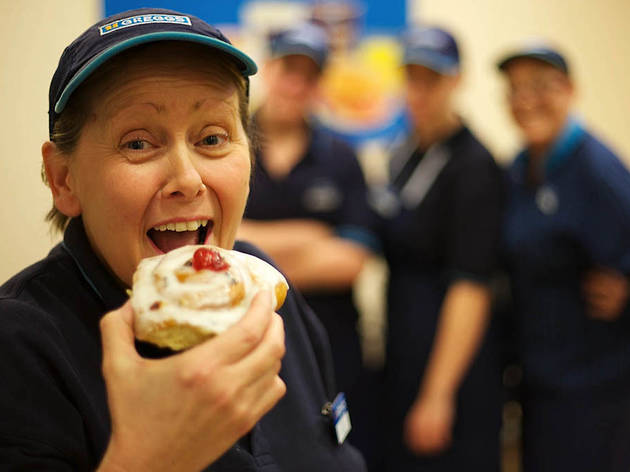 Series one, episode one
Less than the bun of its tarts, more like. This amiable but limited eight-part (!) docusoap follows the early stages of a company-wide rebranding exercise at high-street bakery Greggs. Which means wraps, focaccia and bicycles hanging on the walls.

Focusing on a couple of stores in north-east England, it finds excited staff, sceptical customers and, remarkably, senior managers on at least nodding terms with the real world. Each person gets their own clunkily obvious soundtrack ('Daddy Cool' for the trendy architect, 'The Sopranos' theme for the big boss) and very gentle narrative arc.

It's all pretty underwhelming. Product quality manager John does raise a few smiles as he talks fondly of his rejected chicken-and-egg sandwich or opines that Paul Hollywood's name is 'like saying I'm John Essex', but 'More than Meats the Pie' lacks both the characters to make it work as comedy and the insight to adequately illustrate a business in transition.
Sponsored listing
Pho & Bun
Who says London isn't friendly? The couple sitting next to us at this trendy Vietnamese newcomer were nice as pie when we asked to borrow some space from them. We had little choice. The tables at Pho & Bun are tiny enough to make dining out feel like a game of Jenga, with dishes precariously placed and nimble hands needed. But outside that gnawing grumble? Mostly pretty good, with props going to their signature dish: a burger served not in bread, or even brioche, but in a bao (steamed bun). We enjoyed the patty, its charcoal-cooked smokiness dialled up a notch by a punchy smoky mayo. A bao might not offer the depth of a traditional burger bap (your teeth meet the meat too quickly) but the sweetness and soft chew makes it an intriguing, memorable combo. Elsewhere it was perfectly decent Vietnamese fare: summer rolls with plump tiger prawns, beef pho with a reassuringly clear broth. The main disappointment was from woefully underseasoned chilli salt-and-pepper squid. The fact that it was delivered by mistake (we'd ordered a different rib dish) didn't help, or the fact that the waiter returned to insinuate we were in the wrong. Sweet potato fries were okay, though the chilli mayo lacked clout. We didn't stay for dessert, but as we left, our friendly neighbours seemed to be cooing over a pandan-and-coconut panna cotta. Or perhaps they were just happy to have their table back.
You might also like