Playhouse Presents: Psychobitches
Thu May 30, 9-9.30pm, Sky Arts 1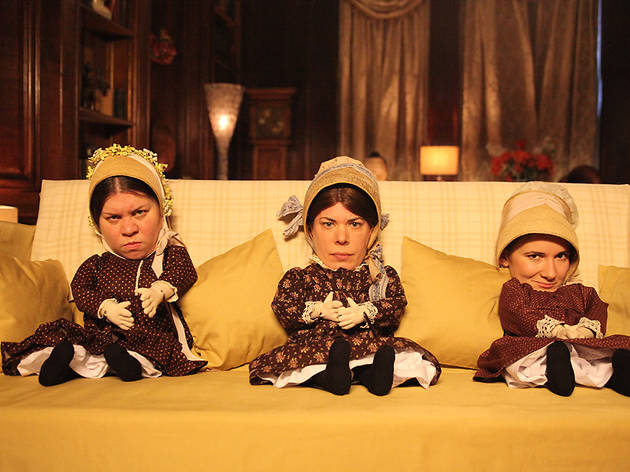 Series one, episode one
This 'Playhouse Presents…' production from last year returns for a series, boasting the same strengths and weaknesses as its pilot. It's undeniably pretty slight – the single, running gag is seeing absurdly exaggerated caricatures of famous historical women visit Rebecca Front's modern shrink and flaunt their entertaining neuroses. But the joke is carried through with enough conviction and élan to make it pretty entertaining.

Tonight's highlight is Julia Davis's turn as Sylvia Plath – but a Sylvia Plath who, concerned that her creativity might be compromising her mental health, is considering adopting the poetry stylings of Pam Ayres. Elsewhere, there are foul-mouthed Brontë sisters, an infuriating Audrey Hepburn and the endless bitching of Bette Davis and Joan Crawford. The cast is excellent – Davis, Front and Sharon Horgan are now augmented by Frances Barber and Mark Gatiss – and they're clearly enjoying themselves too. Good fun.
Sponsored listing
Aida Shoreditch
If you like your clothes stores to offer more than just rails of apparel, Aida is the Shoreditch outlet for you. Marketing itself as a neighbourhood hangout, it invites you to pull up a flea-market pew in its in-store café. Those just interested in clothes won't be disappointed either: Aida is bursting at the seams with chic indie labels, from Minimum for girls to Knowledge Cotton for boys. It also covers the gamut of wardrobe needs, with T-shirts and beachwear among city-friendly daywear and occasion pieces. The merchandising (clothes spilling artily out of Scandi furniture and super-sleek industrial design) gives the place an exclusive boutique air, but prices are varied: ladies can bag a dress for £75, or splash out on one for £255, while gents can go for a basic shirt for £45, or go all out on a sharp, off-the-rack blazer.