Ripper Street
Mon Nov 25, 9-10pm, BBC1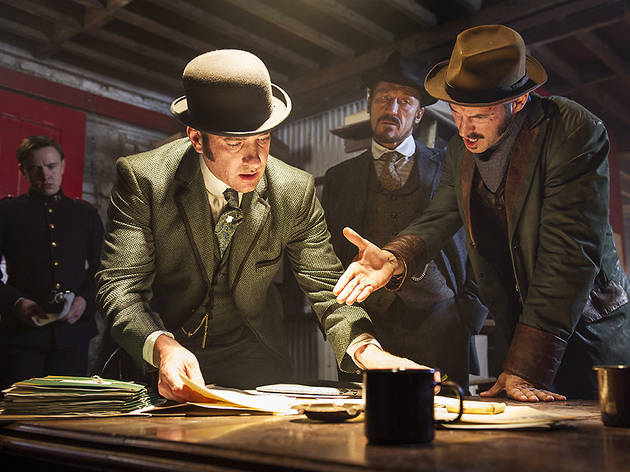 Series two, episode five
This week's dose of Victorian filth comes direct from a molly house (or gay bar, to you and me). Two young telegraph boys with a sideline in illicit favours are hoping to blackmail a banker. But are they simply looking to exploit his sexual preferences? Or might they possess information with even more explosive implications? And who is this muck-raking hack hanging around the station?

This feels like a reasonably convincing insight into the desperate world surrounding the 'sodomites' of bygone London. It's poignant, pointed and brutal in all the right places. Furthermore, it gives Matthew Macfadyen's perpetually anguished copper Edmund Reid the opportunity to expound various liberal theories to his more sceptical colleague Bennet (Jerome Flynn) in an impossibly deep voice. Good stuff.
Sponsored listing
Flavour Garden
This lofty café/bar, situated down a side street near Fenchurch Street station, may have a wholesome 'Good Life' look – planky bits of wood, watering cans, salvaged herb growers mounted on the wall – but the food is more school canteen than 'River Cottage'. There are big bowls of salad, a few bagels, a smattering of hot dishes and a large bowl of houmous laid out on the counter. A detox salad of raw kale, apple, date (date!) and avocado was a cloying jumble of ingredients that would probably have been better whizzed into a smoothie – it might have tasted better than an actual cold-pressed combo of celery, lemon, romaine and spinach, which was tart and refreshing, but hardly what you'd call delicious. Purple sprouting broccoli slathered in a creamy dressing and dotted with raisins and almond slivers was, on our early spring visit, super-seasonal, at least. A larger dish of chicken curry and rice – that was the full description – was an imposing pile, heavy on grain and potato, warming and subtly sweet with mango. But refined it was not. Aesthetic aside, the school dinners vibe is overwhelming, even nostalgia-inducing. It could be rather charming if it weren't for the prices – nearly £9 for the curry, around a fiver for the salads and juices – which are punchy enough to snap you out of your Proustian daydream, and straight back into the traffic-packed tumult of the Square Mile.
You might also like