Sweat the Small Stuff
Tue Oct 15, 10-10.30pm, BBC3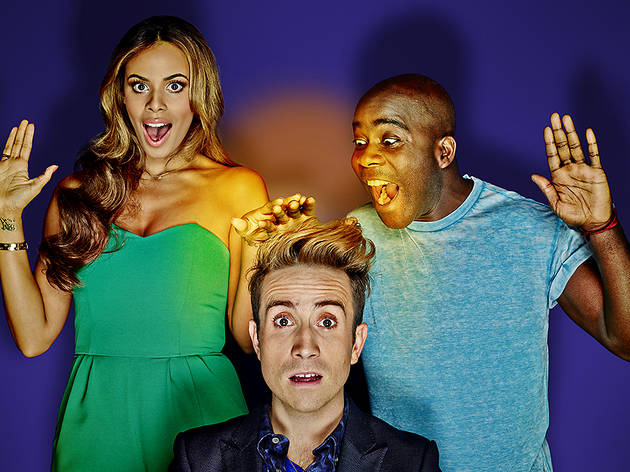 Series two, episode one
Its first run earlier this year performed relatively sluggishly. But the BBC have a lot invested in Nick Grimshaw – they'll be hoping for slightly more from this returning panel show. But maybe the format is the problem. There are just so many panel show and so little distinguishing them from each other. Maybe commissioners need to think about an altogether new delivery mechanism for their talent.

Grimshaw's a likeable enough character and he'll be rejoined by Rochell Humes and Melvin O'Doom for this survey of life's small irritations. But much like the subject matter, there's just something inessential about this scenario.
Sponsored listing
Gay Hussar
Mercifully for its devotees, the modern 'GH Soho' sign outside the time-honoured red frontage doesn't signal a flashy rebranding. Inside, all is as it should be at the Gay Hussar: dark wooden panelling bedecked with political portraits or Martin Rowson caricatures; nicotine-brown ceiling; polite, prompt Hungarian staff; and shelves of political biographies. Gladstone stared bleakly down at our wooden settle, having perhaps eaten one too many dumplings. Since the restaurant's 1953 inception, the powerbrokers of the political left have dined here. Despite the odd tourist party, they were still in evidence during our good-value lunch. More than a dozen traditional Hungarian dishes are offered for starters and mains. On a sweltering July afternoon we should have ordered the chilled wild cherry soup, or even the fish terrine with beetroot sauce and cucumber. Nevertheless, bean soup, a hearty, salty, wintery 'soup of the day', was lifted by slices of intensely smoky sausage. Intense flavours also characterised a main course of paprika-rich venison goulash, served with splayed out gherkin, tangy red cabbage and couscous-like tarhonya. A glass of Bull's Blood (just £4.50) made a satisfying match. For afters? The fruity, jelly-like mixed berry pudding provides needed refreshment; were he still active during the Gay Hussar's 60-year lifetime, it might even have cheered up Gladstone.  
Venue says: "Enjoy a free bottle of house wine when you dine between 5.30-7pm Monday - Saturday"
You might also like