The Choir: Sing While You Work
Mon Nov 4, 9-10pm, BBC2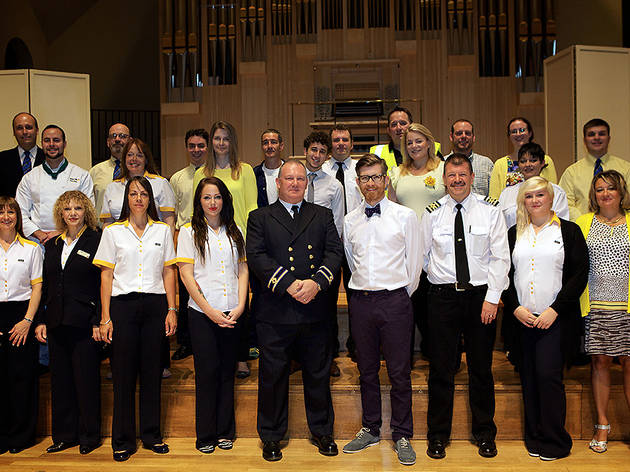 Series two, episode one
More of the same from Gareth Malone – but when that constitutes such effortlessly cheerful fare, repetition isn't really a problem. As this new series begins, Gareth's trying to give the gift of song to the staff of P&O ferries. This is a more divided company than most – the demarcations between land and sea and British and French seem to be guarded fairly jealously.

Remarkably, certain of Les Rosbifs have never ventured into Calais despite spending years doing the Channel crossing. Gareth's got this covered though – we always suspect a certain amount of smoke and mirrors underpinning the apparent ease with which he transmutes tone-deaf mumblers into confidently vigorous belters. But when he's making so many good points about community, mutual support and the importance of trying new things along the way, who really cares?
Sponsored listing
Kickslove
Deptford is looking pretty plush these days: even its railway arches, which were once air raid shelters – now cute cocktail bar Little Nan's and pleasantly rustic restaurant Dirty Apron – are the actual bomb (apologies). But while Deptford's belly is well catered for, its feet have been neglected – something that new girls-only sneaker store Kickslove aims to remedy. This is the fully realised dream of committed sneakerhead Lisa Barlow (who earned her stripes at Size? and Nike). She had a clear aim: to set up a sneaker destination for likeminded girls to nerd out in. Mission accomplished. The space is slick, with a brilliant gilded floor courtesy of Deptford graffiti artist Insa and a dedicated trainer literature corner complete with back copies of Sneaker Freaker. Yet despite being aimed squarely at sneakerheads, it's a welcoming little spot, even in-store rottweiler Rocky is incredibly friendly, so you won't feel intimidated even if you've only just dipped a toe in the trainer world. With a select yet comprehensive stock and plenty of exclusives coming this year, this is a shop that could run and run.
Venue says: "Early spring sale now on – 50% off everything!"