The Security Men
Fri Apr 12, 9-10pm, ITV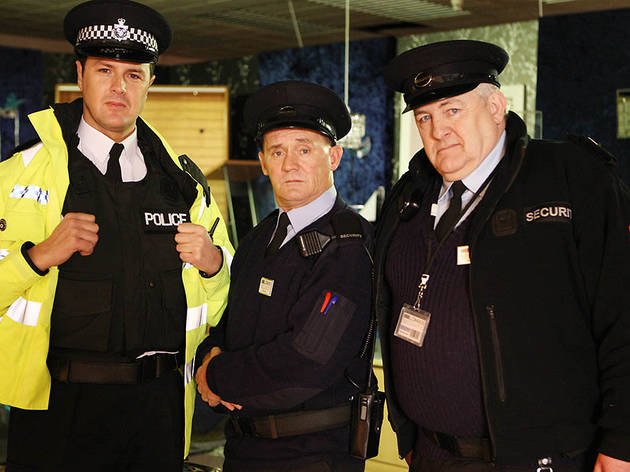 Bobby Ball and Brendan 'Mrs Brown's Boys' O'Carroll cast their star-wattage over a tale of four slack-arsed shopping-centre security bumblers who, after getting caught napping on the job, decide to rewind the CCTV tapes and recreate a daring jewel theft to make themselves look like have-a-go heroes. If the plot is rickety, the dialogue should rightly be condemned. The rootsy, conversationalist northern humour that made Aherne's 'The Royle Family' so bizarrely sublime has entirely deserted her here. In its place are a barrage of unwarranted F-bombs and endless, charmless references to the range and variety of Ball's wife's vaginal piercings.

The odd moment of seemingly unintentional Lynch-ian weirdness occasionally snags your attention – such as the foursome watching an Amir Khan fight on the TV while the soundtrack swells to the strains of 'Strangers in the Night' and Ball moonwalks across the floor of Dixons – but otherwise, it's a lazy, messy hour of Chuckle Brother pratfalling and needless swears.

Sponsored listing
The Exhibit
A large hub of entertainment in south London that is a bar, restaurant, cinema, gallery, live music and comedy club, and yoga studio rolled into one. The focus, though, is on the food and drink. Expect an all day menu ranging from the 'full Exhibit' (avocado on toast, chorizo, tiger prawns, black beans and eggs) to buttermilk-fried chicken burgers, linguine vongole and pan-fried sea bass with garlic and coriander prawns, samphire and lemon.  The drinks list is strong on cocktails, with elderflower martinis (gin, elderflower and cucumber) alongside a rum dog millionaire (rum, mango, lime, blackberry liqueur and ginger beer) and a watermelon cooler (tequila, watermelon, blueberries and lime). A short wine list and craft beers by the bottle and can also feature. 
Venue says: "Elevate every Sunday from 3pm. Live DJs, garden party, £5 cocktails."
You might also like