The Wright Way
Tue Apr 23, 10.35-11.05pm, BBC1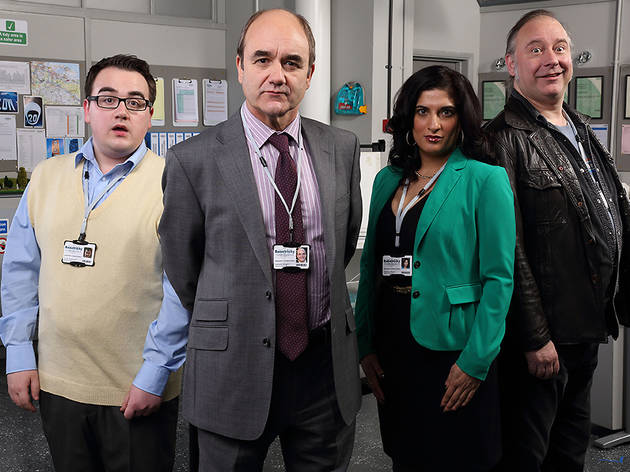 Series one, episode one
Maybe it's too easy to knock Ben Elton these days but God, this is diabolical. Making 'The Thin Blue Line' and 'Blessed' look like comic masterpieces by comparison, Elton's latest foray into sitcom stars David Haig (doing his level best against impossible odds) as Baselricky council's health-and-safety manager, Gerald Wright. Default mode: exasperation. Bugbears: women in bathrooms, poor dishwasher etiquette, faulty faucets. Catchphrase: 'don't get me started'. You know the type.

Fortunately, there's a clap-happy studio audience to disguise the absence of a single good joke – wordplay around 'erection' and 'knob' is about as creative as it gets. And, in case you think all that sounds hopelessly out of step with the modern world, the girlfriend of Gerald's lesbian daughter drops a couple of references to hashtags and 'YouTube moments'. Never have 'Blackadder' and 'The Young Ones' seemed so long ago. Wrong, wrong, wrong.

Sponsored listing
House of Vans
Taking over what used to be the Old Vic Tunnels, the House of Vans has turned the space below Waterloo station into a hot new destination for skateboarders, and promises a variety of diversions that will also appeal to those with no particular ambition to execute a credible 360 flip. The underground venue is sister to House of Vans Brooklyn where tickets for the free, all-ages summer concerts go like hot baked goods. The London branch also boasts a live music stage, as well as two tunnels' worth of purpose-built skate park and an art gallery that will open with 'Scissors & Glue', an exhibition documenting the brief history of zines (till September 20). There's a café, bars and cinema space and a regular programme of talks and workshops is planned. Skate sessions are free and open to all ages (there are lessons with The Skateboad School on Saturday mornings) but to be sure of entry book in advance on the House of Vans website where you'll also find updates on upcoming gigs.   
You might also like