The Wright Way
Tue Apr 23, 10.35-11.05pm, BBC1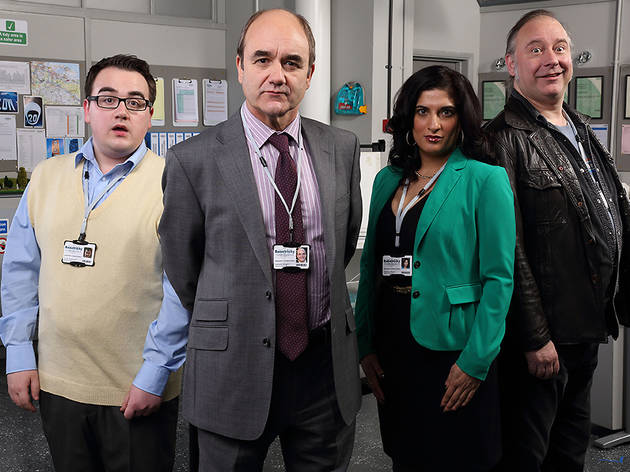 Series one, episode one
Maybe it's too easy to knock Ben Elton these days but God, this is diabolical. Making 'The Thin Blue Line' and 'Blessed' look like comic masterpieces by comparison, Elton's latest foray into sitcom stars David Haig (doing his level best against impossible odds) as Baselricky council's health-and-safety manager, Gerald Wright. Default mode: exasperation. Bugbears: women in bathrooms, poor dishwasher etiquette, faulty faucets. Catchphrase: 'don't get me started'. You know the type.

Fortunately, there's a clap-happy studio audience to disguise the absence of a single good joke – wordplay around 'erection' and 'knob' is about as creative as it gets. And, in case you think all that sounds hopelessly out of step with the modern world, the girlfriend of Gerald's lesbian daughter drops a couple of references to hashtags and 'YouTube moments'. Never have 'Blackadder' and 'The Young Ones' seemed so long ago. Wrong, wrong, wrong.

Sponsored listing
Pomona's
Walking into Pomona's is like pushing through the wardrobe into Narnia. But instead of a snow-covered forest, you find a slice of sunny California on the other side. Formerly dark, leather-bedecked gastropub The Commander, it's seen an impressive transformation. There's a casual SoCal vibe: whitewashed walls, trailing greenery, botanical prints and David Hockney-esque pops of zesty colour. Ingredients are resoundingly British but the menu is all-American. Buttermilk waffles and soft scrambled eggs for all-day brunchers, sharing plates and bigger dishes in the evenings. There's a fun cocktail menu and a Californian-heavy wine list too. The sea bass with saffron pearl couscous was perfectly cooked, well seasoned and delicately flavoured. The Pomona's cheeseburger with fries and daikon slaw was a little disappointing, and felt overpriced at £16 when you can get a seriously tasty burger and still have change from a tenner lots of places in London. The highlight was smoked mackerel rillettes. Intensely smoky fish, drizzled with jalapeño, ginger and mint pesto, it was punchy, peppery and laced with just the right amount of heat. Pomona's is on the pricy side, but it's a buzzy and unpretentious place to spend an evening in the Notting Hill area. Staff are as smily as they are in California – you'll definitely leave feeling like you've spent a few hours in the sunshine.
Venue says: "Celebrate all things David Hockney with California-inspired cocktails at Pomona's London until May 29."