Toast of London
Sun Oct 20, 10.40-11.10pm, C4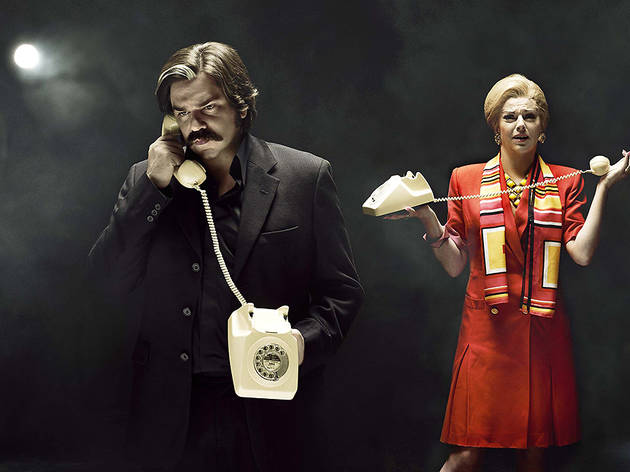 Episode one
'I thought you said you were a bee keeper?' 'No, a beak keeper. I collect beaks.' That's the opening exchange of this six-part sitcom by 'Father Ted' co-creator Arthur Mathews and Matt Berry, in which Berry plays hapless middle-aged actor Steven Toast, surrounded by a cast of oddball friends and colleagues.

Fans of last August's pilot – shown during the Funny Fortnight season – will remember the utterly bizarre situations Toast finds himself in, and there's no change here, from that opening encounter with a beak-loving psychopath, to a houseguest who's been made to look like 'Generation Game'-era Bruce Forsyth by a rival actor-turned-plastic surgeon.

Berry – complete with a Mallard streak, bushy 'tache and permanently puzzled expression – is perfect, and if the whole feels like a series of sketches knitted together to form an utterly ridiculous narrative, that's no bad thing; years after its demise, we all still have favourite 'Father Ted' scenes, and this warm-hearted series promises to give us lots more.
Sponsored listing
Rileys Sports Bar Haymarket
This Haymarket spot used to be known as the Sports Café, and continues to be a one-stop-shop for pretty much all things sport. There are 34 screens showing more than 70 sports channels from around the world, with big games getting near-blanket coverage. Plus there are ping pong and pool tables, should you get the urge to get active.  The food menu is inspired by America, so expect burgers, hot dogs, chicken wings, racks of ribs, potato skins, pulled pork wraps and US-style pizzas. Milkshakes, chocolate brownies, ice cream sundaes and slices of apple pie also feature. Drinks include continental lagers, cocktails, shooters and mocktails. Keep an eye out for seasonal events and special offers. 
Venue says: "Watch the Lions Tour 2017 at Rileys. We are open early for every game so reserve your seat with a boozy breakfast!"
You might also like