Trauma: Level One
Tue Sep 3, 9-10pm, ITV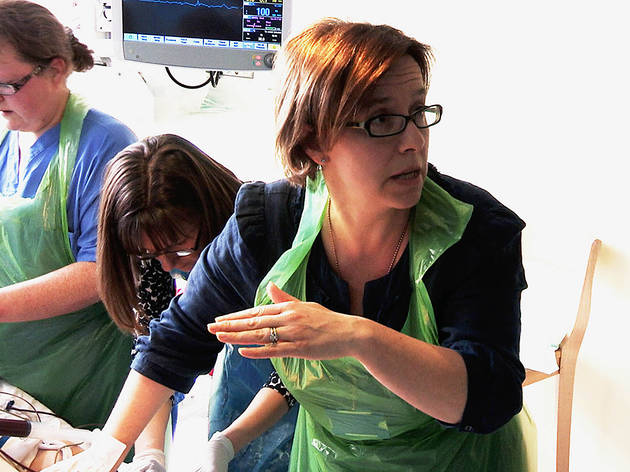 Series one, episode two
ITV's new two-part documentary takes a look behind the scenes at the Major Trauma Centre at Southampton General Hospital – one of twelve institutions in the country set up to treat potentially life-changing injuries.Tonight, we meet three victims of road accidents, the biggest provider of patients to these centres. We also watch the team at work in situations where – as clichéd as it sounds – every decision really could mean the difference between life and death.

While there are the prerequisite gory scenes that may prove difficult for those with weak stomachs, the real punch in this documentary comes from interviews with families and victims who realise their lives have been changed in a split second. Not always easy to watch, but a fitting testament to the people who keep these centres running.
Sponsored listing
Galley
A smart fish restaurant for a smart neighbourhood: you can't fault the concept. But though a recent meal set sail beautifully, it wasn't all entirely shipshape. First up, the best bits. The cocktails are great. I mean, truly brilliant. A bubbling prosecco-based Volcano was not only laced with peach bitters, but had a sphere of blood orange sorbet bobbing on its surface: it's the poshest ice-cream float in London. A Wuyi old fashioned, made with lapsang infused bourbon, was not only deliciously smoky, but had a precision-crimped orange peel garnish fixed to the glass with – of course – a doll's house-sized clothes peg. As for the food, it started just as well. There was a crispy tempura oyster 'snack', served prettily on its shell, ahead of tender octopus and moreish chorizo over a white bean puree. An unexpected highlight was the Galley fish stew: a far cry from its humble origins, it had depth, piquancy and generous chunks of both fish and shellfish. Not to mention croutons and a silky served-on-the-side garlic aioli. Fish stew: take a bow. But then things then started going off-course. Lobster pappardelle and pan-fried seabass with gnocchi were pleasant enough, but their thin sauces lacked oomph. A side of broccoli was overcooked. A salted caramel tart featured thick, lifeless pastry and a filling that was neither sweet nor salty, just heavy. Meanwhile, as the stylish space started filling up, it became clear how cramped the tables are: one couple visibly flinched when be
You might also like