Your Style in His Hands; Breaking Amish
Tue Apr 30, 8-10pm, TLC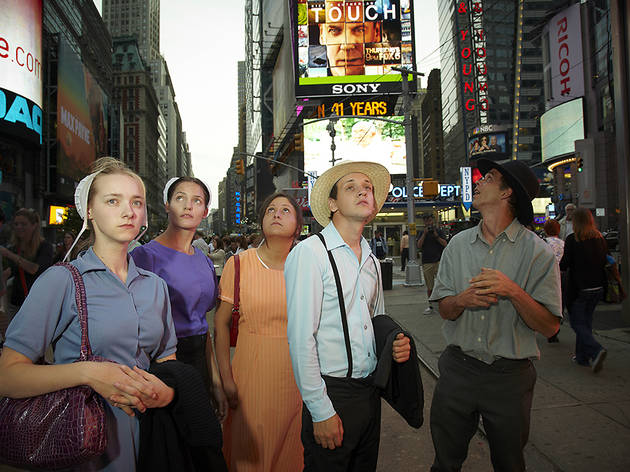 'Your Style in His Hands' brings the concept of 'Don't Tell the Bride' to bear on wardrobes. In other words, a bloke slags off their partner's shabby dress sense, before fumbling around the lingerie section and having host Lisa Snowdon wail, 'Do you realise now how hard it is to shop?'. Tonight's guinea pig is Tom, boldly shredding his fiancée Lou's clothes and spending £5,000 on some new ones. It's guff, but harmless guff.

More contentious is 'Breaking Amish'. Sadly, it's not about an isolated religious community getting into the crystal meth trade. Instead, it's the usual annoyingly irresistible, hysterically overproduced affair from the States in which four Amish youths and one Mennonite decide, for undisclosed reasons (we suspect the involvement of a TV production company had something to do with it), to experience the real world – oh, all right, New York – before deciding whether to settle down for good.

Tonight is all set-up, introducing the kids and their bucolic upbringings, before they drop the bombshell on unimpressed family and friends. Still, it's not often you can watch a docusoap where the stakes are so high that people's souls are on the line.
Sponsored listing
Pera Restaurant
This informal Mediterranean restaurant and café sits toward the Highbury & Islington end of Upper Street, almost opposite Islington Town Hall. There's even a small area outside so you can have a coffee taking in the sights, if that's your thing. Most, though, head inside for classic east-Med dishes such as spinach and feta borek, houmous, couscous salad and smoked aubergine alongside charcoal-grilled meats and fish, oven-baked garlic mussels and a variety of iskenders. Meze platters also feature. Set menus, group menus and 'business lunches' offer further variety.    
Venue says: "Pera specials. Set sharing platters: three-courses £13.95, all day, every day. Pre-theatre menu: two courses £12.95, noon-7pm every day."