Your Style in His Hands; Breaking Amish
Tue Apr 30, 8-10pm, TLC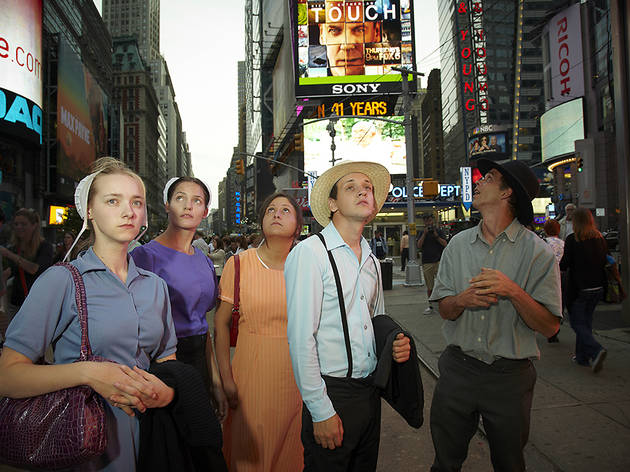 'Your Style in His Hands' brings the concept of 'Don't Tell the Bride' to bear on wardrobes. In other words, a bloke slags off their partner's shabby dress sense, before fumbling around the lingerie section and having host Lisa Snowdon wail, 'Do you realise now how hard it is to shop?'. Tonight's guinea pig is Tom, boldly shredding his fiancée Lou's clothes and spending £5,000 on some new ones. It's guff, but harmless guff.

More contentious is 'Breaking Amish'. Sadly, it's not about an isolated religious community getting into the crystal meth trade. Instead, it's the usual annoyingly irresistible, hysterically overproduced affair from the States in which four Amish youths and one Mennonite decide, for undisclosed reasons (we suspect the involvement of a TV production company had something to do with it), to experience the real world – oh, all right, New York – before deciding whether to settle down for good.

Tonight is all set-up, introducing the kids and their bucolic upbringings, before they drop the bombshell on unimpressed family and friends. Still, it's not often you can watch a docusoap where the stakes are so high that people's souls are on the line.
Sponsored listing
Hatchetts
I haven't seen somewhere look this much like an untouched '80s wine bar since, well, the '80s. And while I'm as partial to a trip down memory lane as the next man, the dining room at Hatchetts, a Mayfair restaurant and bar, just looks a bit shabby and dated. But what do I know? Maybe this is the start of a glorious post-Brexit return to the kind of venues we had before mass immigration took hold. Let's hope not. Thankfully the food is less stuck in the past. My buttery, beautifully al dente celeriac risotto was a doozy, helped in no small part by excellent earthy depth from four plump snails and a drizzle of their braising jus. Lightly pickled red mullet – sharpness balanced brilliantly by punchy salt cod foam – was almost as good, as was a rich but nicely balanced dish of partridge with rainbow chard, bacon and a plum sauce. The only slight dud? My main of chicken-glazed cod, which was wonderfully cooked but then let down by aggressive seasoning. Service was excellent, and tactile to the point of flirty, which is fine by me. Unlike the £2 per person cover charge, which is of course an absolute piss-take.
Venue says: "Fresh British food with the finest, locally sourced produce. Cocktails made with house-infused spirits and an extensive, exciting wine list."