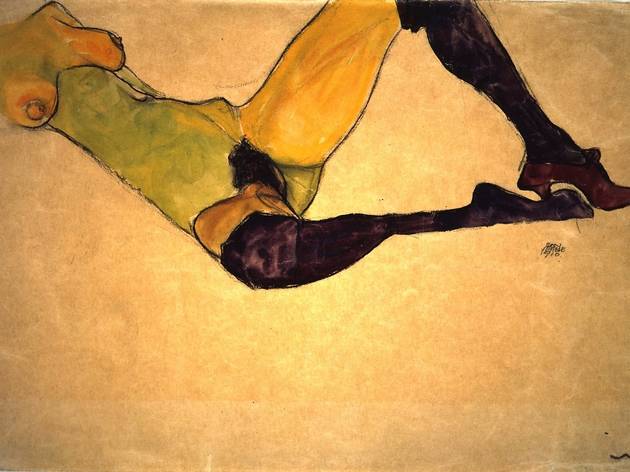 This rare selection of 45 of Egon Schiele's works on paper is billed as the best of his mature work. But maturity's a relative concept. When the Austrian recalcitrant died from influenza in 1918, he was only 28. And, if anything, his art has always seemed marked by a kind of perpetual adolescence – both in terms of the women he depicted, with their idealised, pubescent lankiness and androgynous faces; and also for his predominant style of angular, angsty eroticism, so that his images have often become stereotypes of alienation and disaffection for generations of moody teenagers.
Of course, not all great art need be particularly profound or insightful. What this exhibition does spectacularly well is remind us how greatness can sometimes be more a matter of pure intensity of vision – in Schiele's case, a restless, mesmerising, almost monomaniacal obsession with corporeality, with the fleshy, sexy stuff of existence. Sure, his perception of women is generally pretty voyeuristic – all those fragmented figures, coy glances, and brazenly exposed pudenda. But the sense of sheer, infatuated concentration, and the variety of depiction, is simply thrilling – from deft, barely suggested outline sketches, to frantic, almost sickly colourisations; from gnarled, Klimt-inspired, skeletal bodies to more stridently modernist, Picasso-like forms.
Also, despite the exhibition's subtitle, it's not an exclusively female club. Some of the male members, as it were, on display include the notorious 'Eros', a tumultuous self-portrait of the artist as seamy, priapic masturbator; and perhaps the most libidinous, certainly the most weird work of all, 'Woman with Homunculus', in which the 'little man' in question, lasciviously caressing the woman's body, bears a grotesquely misshapen, eyeless head that resembles nothing so much as an enormous glans.