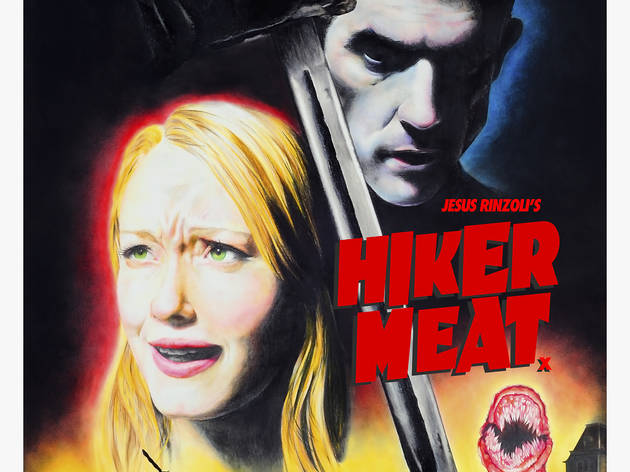 From presenting hoaxed sketches by a purportedly missing schoolgirl to creating memorabilia for a fabricated group of German glam rockers, Jamie Shovlin has become well known for his conceptual trickery. His latest deluge of pop-culture fakery channels the lurid aggression of 1970s exploitation films, littering 60 monitors with over 1,000 clips of found footage.
Complimented by screeds of related ephemera, scripts, scores and posters, these cuts comprise a riotously hyperbolic whole. Collaboratively wound together by made-up director Jesus Rinzoli, possibly pretend writer Mike Harte and perhaps fictitious composer Euan Rodger, this installation represents the spurious production and distribution of a fake film entitled 'Hiker Meat Project'.
The excess of this invention delivers Shovlin the freedom to examine further his interest in archives. Unhindered from the need for a ruse, he takes the opportunity to attempt a filmic typology of scenes for grindhouses and drive-ins. From among a mess of sub-genres – sexploitation, slasher, splatter, nazisploitation, rape/revenge, soft core and cannibal – categories of scenes begin to emerge. Looped in groups, clustered monitors churn out multiple stagings of neck-slashings, orgies, masked attacks, women running through woods, uniformed officers inspecting naked prisoners, ominous stair descents and so on – a lovably ludicrous depository is born. 
Simultaneously deconstructing the narrative make-ups of the genre whilst proving the strange futility of such a task, Shovlin's sickening spectacle reveals a darkly humorous perspective on the fallibility of classification systems. Having denounced the need for subtlety, this installation cleverly revels in the absurdity of its own fiction; an interesting departure for this master fraudster.