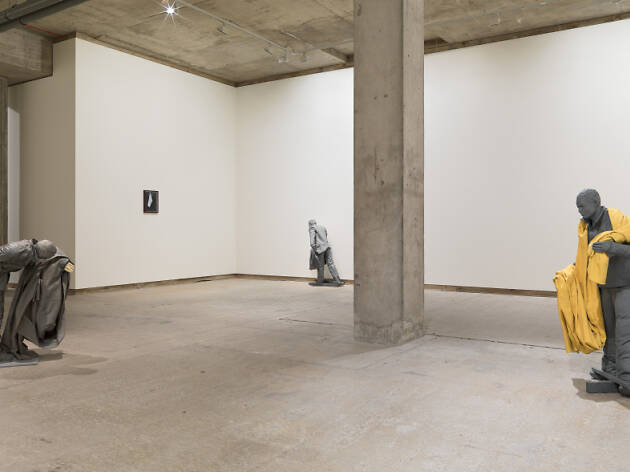 You see a small, bent figure in your periphery when descending into the lower gallery of this exhibition. He has the presence of an attendant, and demands a slight glance, a nod or faint murmur of acknowledgement. And between the first and second take comes a jolt. For, of course, this is no real person, but one of Juan Muñoz's near-life-size grey sculptures (often self-portraits or else casts taken from the face of his brother Vicente), the likes of which you've already encountered upstairs.
Holding a strip light, the man illuminates large-scale prints on the walls, but in doing so, blinds himself. His brow is thick and his eyes tightly screwed shut, mimicking the pained expression found on his doppelgangers elsewhere in the gallery. Lurking, as if off-stage, this theatrical placement of the late Spanish artist's purgatorial man-in-waiting is perfectly poised.
This show comprises a selection of works on paper and sculptures originally destined for the artist's 2001 Tate Turbine Hall installation, 'Double Bind'. Downstairs, the lone figure's light falls on prints from the 1996 'Mobilario' series by Muñoz featuring chairs, fireplaces, and other furnishings suspended on dark, flat backgrounds. The objects are cast in shadow, appearing as if moonlit. Comprising surreal arrangements – chairs atop fireplaces or standing lamps resting at impossible angles – they are dreamlike pictures of the world that sit at a slight remove from the ordinary. Coupled with the insertion of an ashen, light-bearing watchman, these empty interiors provoke thoughts of loss. Like thinned memories of a scene recalled, the prints are suggestive of mortality.
A black and white oil-stick drawing of a man peering under a heavy curtain sits at the heart of this exhibition. Taking a position of prominence within the first gallery, this is like a 'note to self' for the artist. Embodying ideas of performance and storytelling, and evoking the curtain as a concealing, or dividing device, it acts as a touchstone for Muñoz's practice. It's both emblematic of his fictionalising approach, and the manner in which the artist choreographed his works, compelling us to build our own narratives from them.
It's suggested here that drawing was foundational to Muñoz. In a series of seemingly instinctive figure studies made between 1991 and 1996, forms with bulbous bodies gather and group, as if caught in strange, unknown communication. These endearing bottom-heavy figures look like Weeble toys, and one feels great empathy towards them. This is in contrast to the anxious concern more usually felt towards Muñoz's alienated men. More often, his studies of singular figures focus on physiognomy. They depict faces aghast, strained and enduring.
Seamlessly melding his sketches and his sculptures, the drapes of Muñoz's drawings are lifted from the page, then repeated in the arms and on the bodies of his figures. Seen wrangling with these curtains, there is great symmetry between the figures on paper, and those standing before you. The attention paid to such relationships, a result of a remarkably sensitive handling of these works, rightly emphasises the interdependence of Muñoz's multi-faceted practice.