Sara Barker: Woman at a Window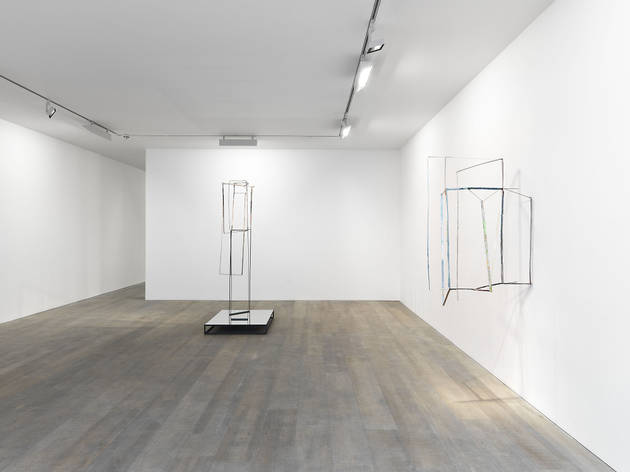 It's possible to theorise wildly about the spatial properties of Sara Barker's sculptures. To marvel at how their fragile, rectilinear frames carve through space, or how their forms appear to alter rapidly and unendingly as one tiptoes around each delicate construction. But sculptural abstraction aside, there is something immediate and affecting about Barker's works: they are incredibly romantic and wistful. The spindly, exceedingly narrow structures are actually dense with watercolours and oils. Their hues recall Turner seascapes, while their secretive little surfaces delicately reference light, poetry, and a very private act of creation.
The exhibition's title alludes to a small 1822 oil painting by Caspar David Friedrich. In it, a single female figure gazes through a small window. Friedrich's painting of this restricted environment subtly resonates in the sense of effort and longing contained in each of Barker's pieces. With thin lengths of aluminium and steel meticulously marked with tiny, repetitively painted strokes, each sculpture appears to be the result of both contingent happenings and endless re-workings.
Although these seven new sculptures (all 2012) – among them 'Love Letter', 'Adolescent', and 'Aquaria' – have been manipulated in the same distinct style, it becomes apparent that each is the result of a prolonged period of making and individual consideration. Beyond any complex conceptual allusions, Barker's beguiling sculptures offer a vivid realignment with Romanticism.