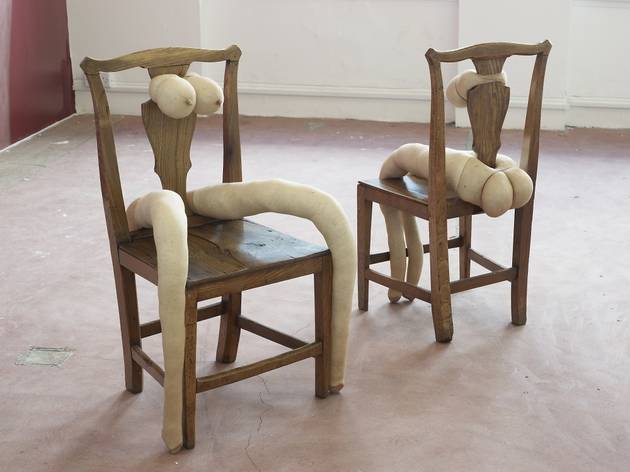 There's something potentially uneasy about Situation, the one-year-lease gallery that Sadie Coles has given Sarah Lucas for five consecutive shows. How, as we're told the artist intends, do you recreate the shoestring energy of early YBA – and by extension, of your own early work – in such a secure, um, situation? Lucas is evidently trying, though it's a moot point whether that's a good thing.
A ceiling-hung sculpture of a human figure features a coat-hanger for head and shoulders, lightbulbs for breasts, a rust-rotted bucket containing a coil-shaped red bulb for a groin, all suspended over a Middle Eastern rug. It's from this year, though Lucas templated this stuff decades ago.
Yet mostly she isn't aiming for back-to-basics rejuvenation. Despite occasional recidivism, Lucas's pointedly base sculptural language has increasingly dialled down rough immediacy. The stuffed-tights figures she's fashioned in recent years (and the tumbling sausage-like bronzes that relate to them) run dank and slow-burning variations on early modernist abstractions of the body: an indefinable soft animal riding a wooden ironing board swings close to the surrealist tableaux of early Giacometti.
Most arresting, though, are two walls of breezeblocks, squashy and squirmy stuffed-hosiery body parts emerging from and re-entering one, a white vest gripped between the bricks of another. Entitled 'Enjoy God', this work suggests an abject, religion-underpinned relationship, but crookedly so. If Lucas long ago mastered gleefully acrid one-liners, hundred-liners like this represent her artistic maturity.