Win the ultimate commuter pack
Everything you need to make your daily journey to work more exciting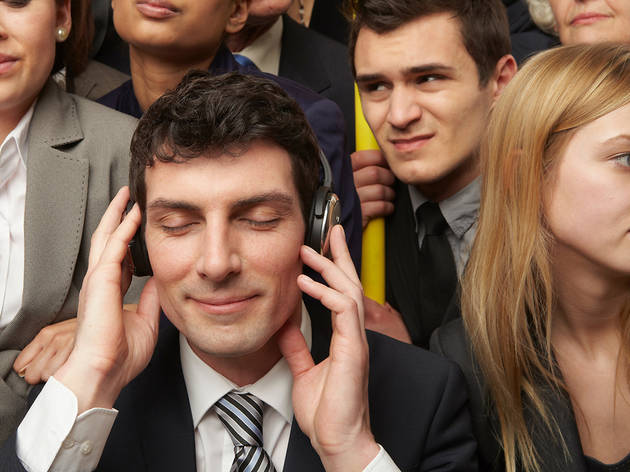 Are you bored of the same old trek into work? Do you need a bit of inspiration? Go to Time Out's
commuter computer
and you'll be positively looking forward to your commute. Whatever your mood, whether you walk, cycle or take the bus, train or tube, this handy online tool will come up with something good to watch, play, read or listen to every day.
Low energy in the morning? A blast of garage or jazz-punk should do the trick. Need to relax on the way home? Try meditation videos, beautiful travel photography or gazing dreamily at Ryan Gosling. Crave some mental stimulation? Lectures from futurologists the TED Foundation will blow your mind in 18 minutes or less. Just want a laugh? Try Alan Partridge's autobiography, one-liners from Milton Jones or a quick game of 'Ow My Balls!'
Enter our competition and you can have it all, with our ultimate commuter pack:
- iPad Mini Wi-Fi 16GB
- Sennheiser Momentum on-ear headphones
- Six-month Zone 1 & 2 Travelcard
- Annual subscriptions to Spotify Premium, Netflix and The Times Digital Pack
Just enter your e-mail address below and you could soon be so engrossed you'll sail past your stop every day…
Sponsored listing
Lady Chastity's Reserve, Hackney
This marvellously silly immersive team puzzle (a sort of cross between an escape game and the 'Mumsy' challenge in 'The Crystal Maze') has already spooked and amused many a team at its original venue in Battersea, but will now be challenging the people of Hackney from a dark corner of the People's Park Tavern.  It's from the Handmade Mysteries team that does this kind of thing at venues across London. They know what they're doing. Expect plenty of surreal slants to challenges that can be pretty, well, challenging, and don't be surprised to be surprised either - we're told the immersive elements can be pretty interesting.  They promise to let you out - or help you out - if you get really stuck but still, it might be best to bring some brains and leave your dumbass friends out of it. 
Venue says: "Venture through an hour of hilarious clue-solving as you and your team attempt to win Chastity's fabled aphrodisiac wine."