Holiday gift guide: Creative gift ideas for art and culture lovers
She loves the LA Phil, he's hooked on the Museum of Jurassic Technology, their kid is a budding Chris Burden fan—we've got your perfect holiday gift guide.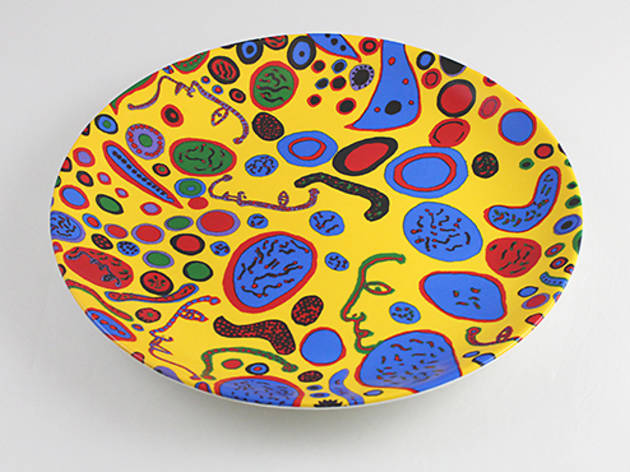 1/10
Holiday gift guide: Yayoi Kusama's Love Was Infinitely Shining platesCeramic plate, $45. Available online and at the MOCA gift shop. Inspired by the brilliant Japanese artist's acrylic painting, Love Was Infinitely Shining, 2009-10, these ceramic plates are made exclusively for the Whitney Museum and available at MOCA. Dishwasher-safe, dinner-party friendly, infinitely enchanting.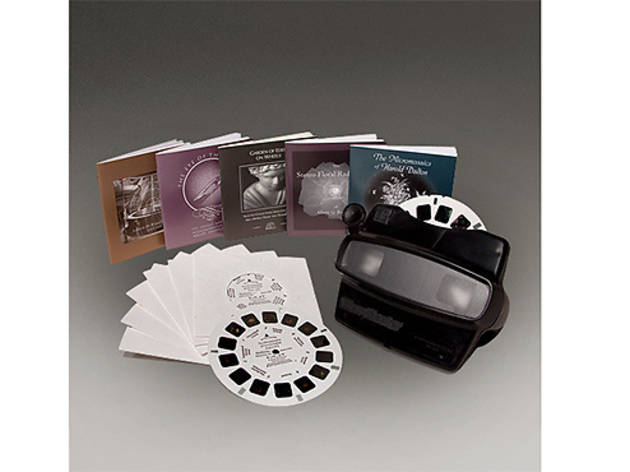 2/10
Holiday gift guide: Original 3-D View-Master setIncludes 1 View-Master device, 7 original titles, reels and booklets; $65. Available online and at the Museum of Jurassic Technology gift shop. We love this nostalgic, unique gift made exclusively for the Museum of Jurassic Technology and featuring items from the museum's quirky collection. The boxed set contains every View-Master reel produced by the Museum, attractively packaged in a tissue-padded gift box. Titles include The Lives of Perfect Creatures: Dogs of the Soviet Space Program (single reel); The Eye of the Needle: The Unique World of Microminiatures of Hagop Sandaldjian (single reel); The Stereo Floral Radiography of Albert G. Richards (two reels); The Micromosaics of Henry "Harold" Dalton (two reels); No One May Ever Have the Same Knowledge Again: Letters to Mt. Wilson Observatory / Stereo Views from the Main Astronomical Observatory of the Academy of Sciences at Pulkovo (double-sided booklet, two reels); and The Garden of Eden on Wheels (single reel).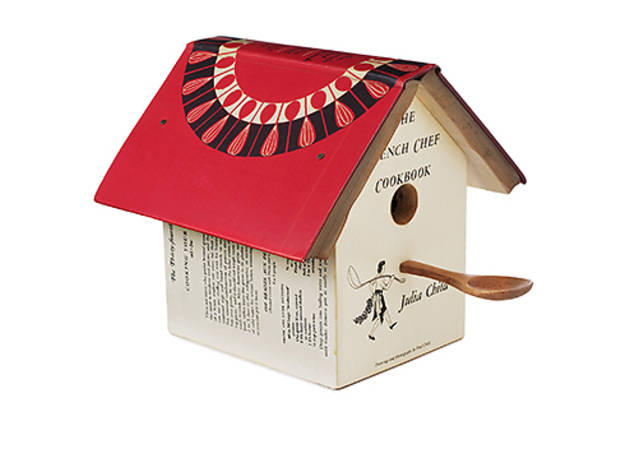 3/10
Holiday gift guide: Julia Child birdhouseMade of paper and wood, 8.5" W x 8.25"H x 8"D, $134. Available online and at the Santa Monica Museum of Art's Gracie gift shop. This ornamental, handmade birdhouse is a fitting ode to The French Chef Cookbook by Julia Child. The house is covered by the title page, two recipe pages and a picture of Child, while the rest of the book serves as a pitched roof. The perch is made from a mini wooden mixing spoon.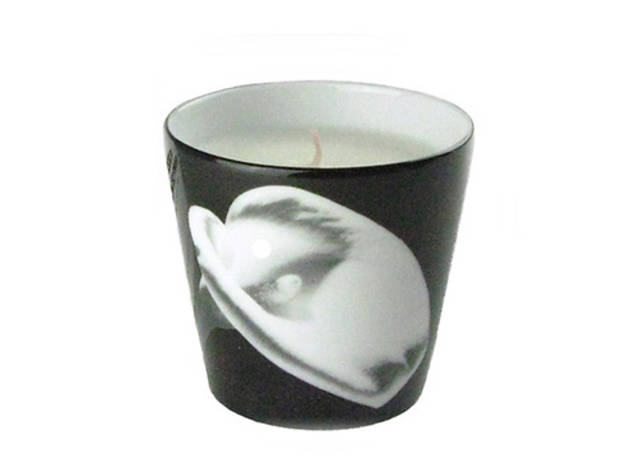 4/10
Holiday gift guide: Robert Mapplethorpe calla lily perfumed candlePorcelain cup, candle fragranced by Givaudan; $49. Available online and at the LACMA gift shop. This beautiful candle marries Mapplethorpe's delicate flower still life with its complementary bouquet—a fragrance specially created by Givaudan perfumers Shyamala Maisondieu and Olivier Pescheux. It's a winning—and subtly erotic—gift created in honor of the current joint exhibitions on Mapplethorpe's works: Robert Mapplethorpe: XYZ at LACMA and In Focus: Robert Mapplethorpe at the Getty.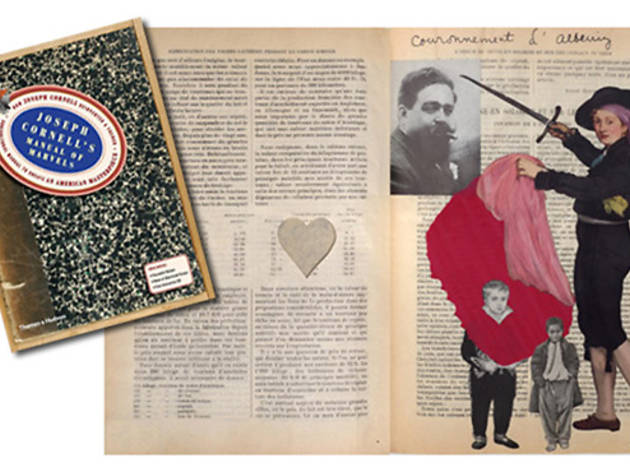 5/10
Holiday gift guide: Joseph Cornell's Manual of Marvels, by Analisa Leppanen-Guerra and Dickran TashjianTwo volumes in a presentation box, with a CD. 160pps. Thames & Hudson. Available online and at Hennessy + Ingalls. This is such a special gift for Joseph Cornell fans (which we are!). Cornell loved to meander through the used bookstalls of lower Manhattan, finding ephemera to inspire his enchanting boxes. As the story goes, in the 1930s he came upon the 1911 Journal d'Agriculture Practique, a handbook of farming advice. Cornell slowly altered and reinvented the journal, inserting collages and lift-ups and crossing out words and creating French puns. The book was discovered in his basement studio after his death in 1972 and is in the collection of the Philadelphia Museum of Art. This is a replica of his scrapbook: 60 of the most extraordinary pages have been re-created in virtual facsimile, with cutouts, glue-ons and handmade details. The gift includes a specially designed box, a DVD of the entire work, including pop-up commentaries, and a volume of illustrated essays on the journal and Cornell's artistic practice.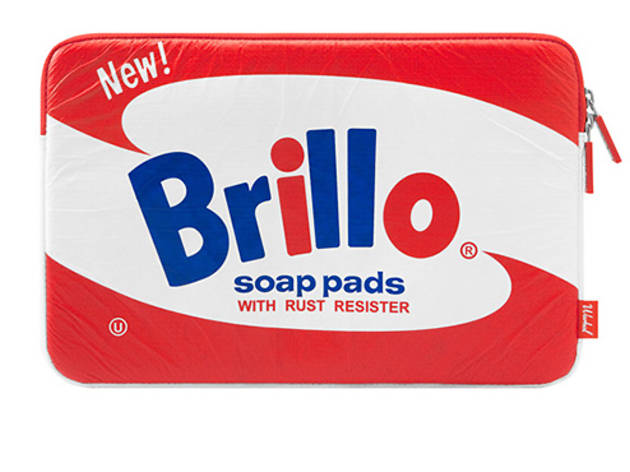 6/10
Holiday gift guide: Andy Warhol Brillo laptop caseComes in 11", 13", and 15" sizes, $59.95. Available online and at the MOCA gift shop. A pop of color for your Pop Art–loving pal's laptop. These Incase sleeves with weather-resistant coating feature one of Warhol's most beloved works.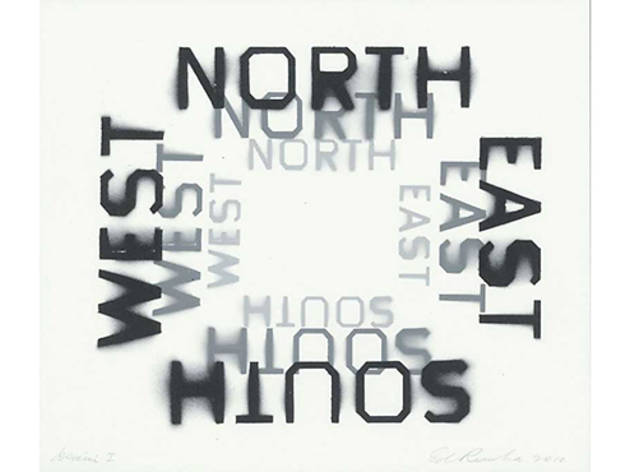 7/10
All Points Black State, 2010, by Ed Ruscha; Courtesy Gemini G.E.L.
Holiday gift guide: Limited edition prints from LA-based artists, like Ed RuschaAll Points Black State, 2010, by Ed Ruscha; 3-color lithograph, 12" x 14", edition of 25; $3,000. Available online and at Gemini G.E.L. We asked Bettina Korek, the brains behind ForYourArt—one of LA's most engaging and in-the-know arts & culture events sites—where she'd go to find a unique gift for a budding art collector. Korek, of course, pointed us toward Gemini G.E.L. on Melrose Ave. "It's a Los Angeles institution," she says. "The artists' workshop and print studio has been on the cutting edge of contemporary art for the last 40 years. They've worked with some of the world's most celebrated artists, like Vija Celmins, Roy Lichtenstein and Robert Rauschenberg. And though some of their limited edition works are extremely expensive, there are a few stunning pieces ranging from $2,000 to $5,000 that would make a particularly special gift—and by such modern masters as Frank Stella, John Baldessari, Ed Ruscha, and Larry Bell, no less!" A Ruscha for $3,000? That's more than a steal, it's an art caper your gift recipient will never forget.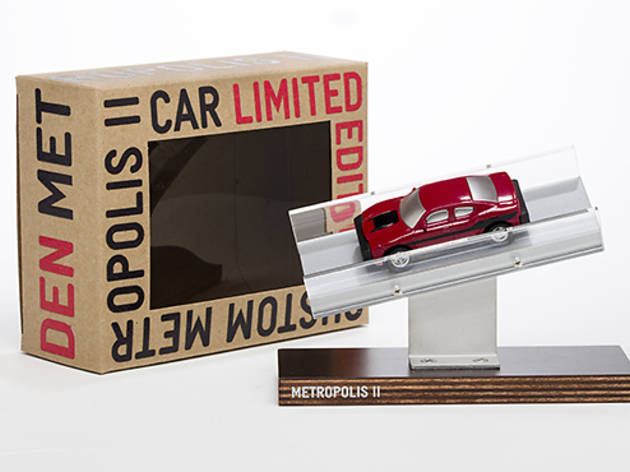 8/10
Holiday gift guide: Chris Burden Metropolis II limited edition carEdition of 1250; not suitable as a toy; $275. Available online and at the LACMA gift shop. These limited edition multiples, made by LA-based artist Burden and produced by LACMA, were originally created for his large scale sculpture Metropolis II—that whizzing wonder of a cityscape now on view on the first floor of BCAM. Each car has rubber bumpers on the front and rear ends, the artist's name and title of the work molded into the sidewalls of all four wheels and the bottom of the car, and a magnet embedded in the chassis that was intended to draw the car up the conveyer belts. The gift comes with a car stand made of plywood, aluminum and Plexiglas (the same materials used in the sculpture), and each stand is signed and numbered by the artist. Take note: Since there are so many different styles and colors of cars, the custom car you order for your gift recipient may differ from what you see here.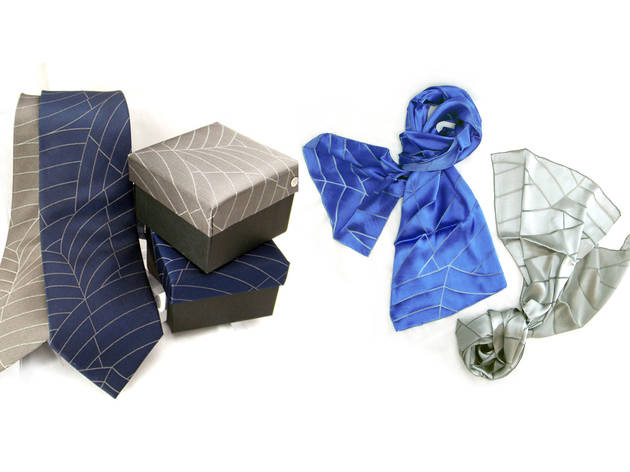 9/10
Holiday gift guide: His and hers ties and scarvesWalt Disney Concert Hall Architectural ties in grey and navy, $49.95; and LA Phil scarves in blue and silver, $60. Available online and at the LA Phil gift shop at Walt Disney Concert Hall. Impress the architecture addict in your life with these stylish ties and scarves. Patterned after the stainless steel panels covering Frank Gehry's masterpiece Walt Disney Concert Hall, the shimmering scarves—made of 80% silk, 20% rayon and designed exclusively for the LA Phil—reflect the colors of the hall's reflections (sans glare!). The 100% silk ties for him were inspired by the flowing patterns of the panels and come with a keepsake box embellished with the same fabric.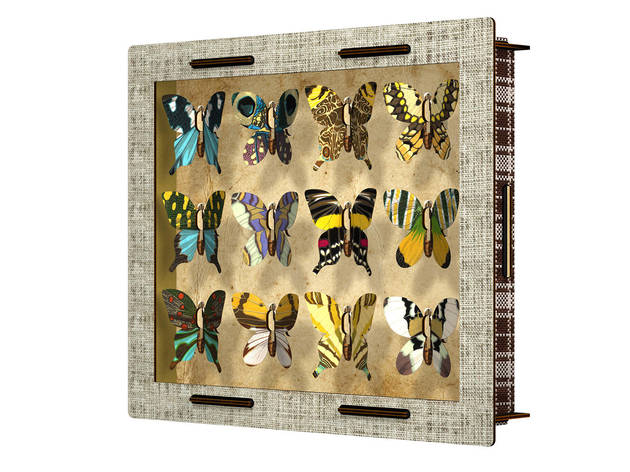 10/10
Holiday gift guide: Paper butterfly collection$58. Available online and at the Santa Monica Museum of Art gift shop Gracie. A dozen paper butterflies—captured, pinned and primped cruelty-free—is just the sort of thing your gift recipient will enjoy gazing at in the middle of a dreary workday.
Metropolis
' whizzing cars at
LACMA
to your stylish Pop Art–loving pal and
MOCA
devotee. And we've recruited
ForYourArt
's Bettina Korek to find us the coolest gift idea for budding collectors of local artists. (We promise, it's a gift that will impress without breaking the bank!) Plus, find inexpensive stocking stuffers that are as inspiring as they are stylish.
RECOMMENDED: Complete holiday gift guide