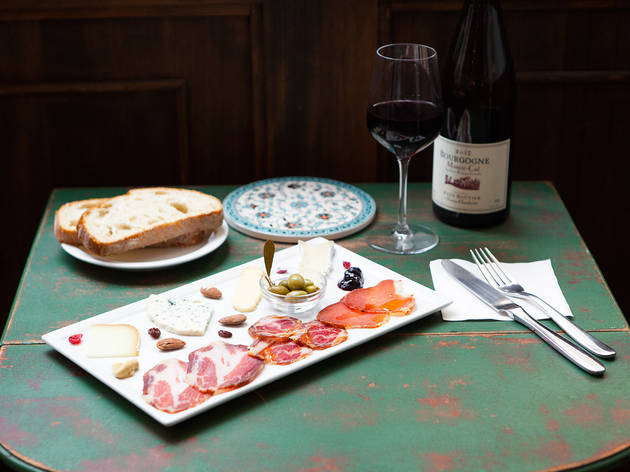 1/10
Photograph: Jakob N. Layman
Charcuterie and cheese board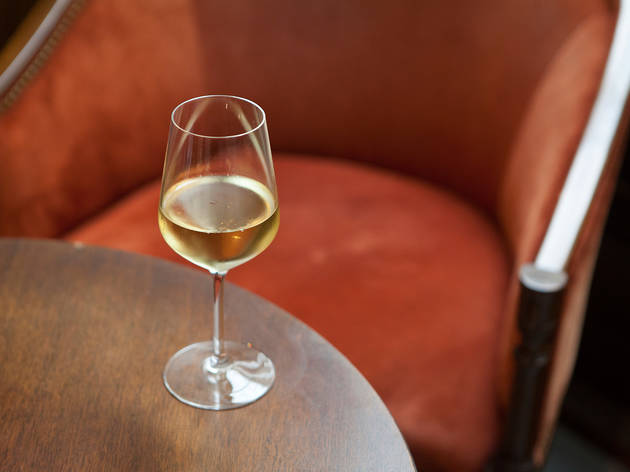 2/10
Photograph: Jakob N. Layman
2014 Domaine Saint Romain Jongieux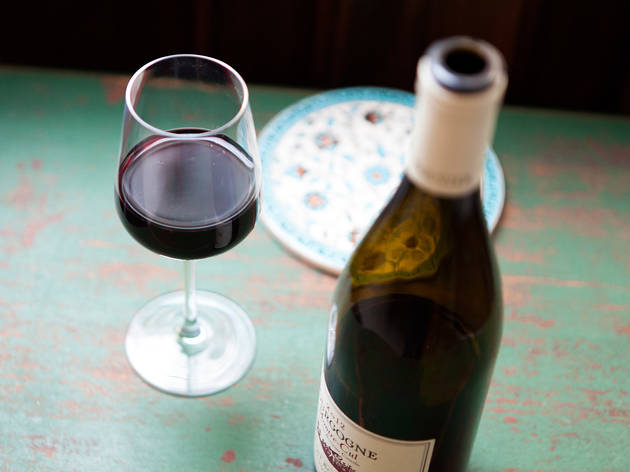 3/10
Photograph: Jakob N. Layman
2012 René Bouvier Bourgogne Montre Cul Pinot Noir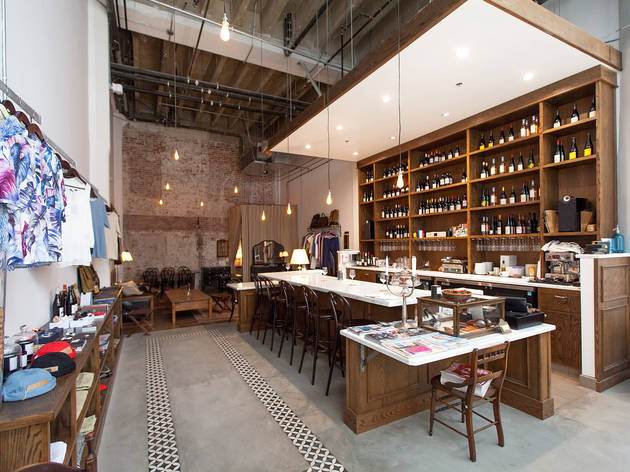 4/10
Photograph: Jakob N. Layman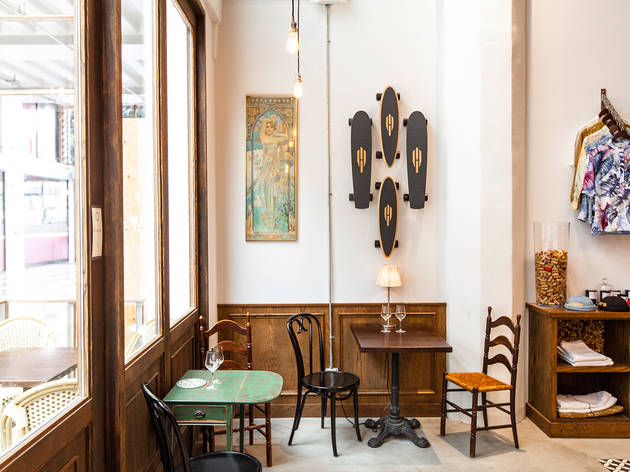 5/10
Photograph: Jakob N. Layman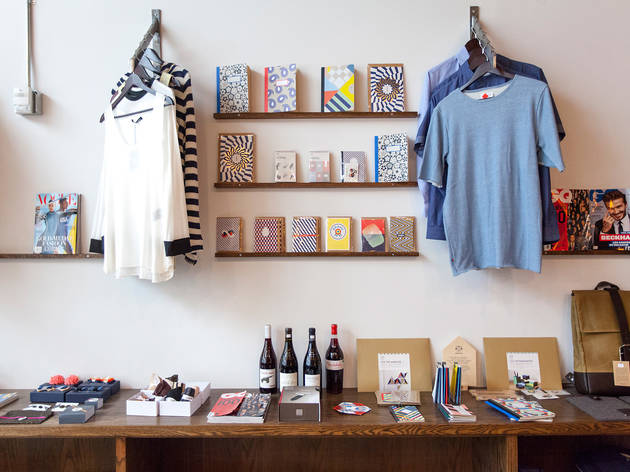 6/10
Photograph: Jakob N. Layman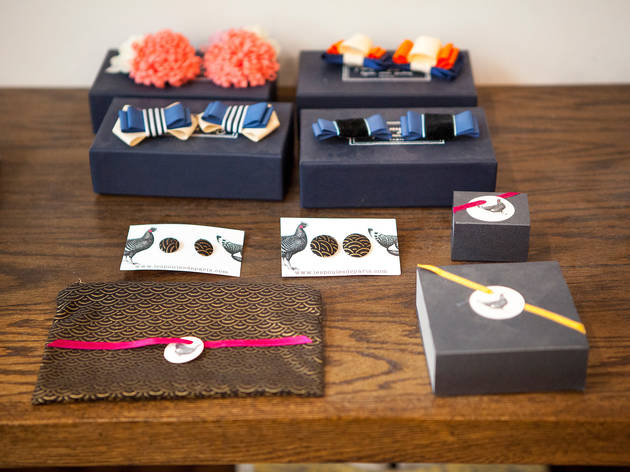 7/10
Photograph: Jakob N. Layman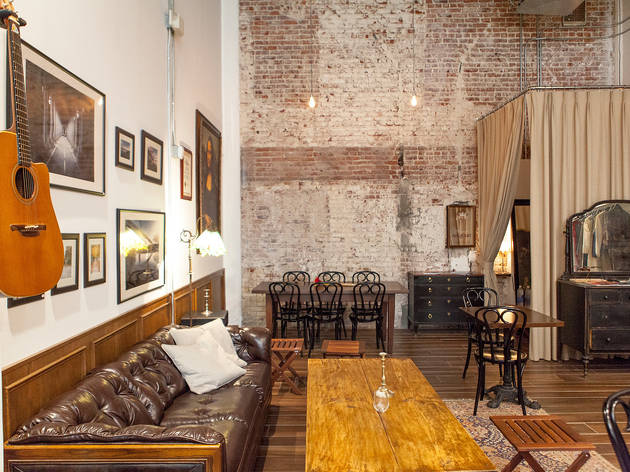 8/10
Photograph: Jakob N. Layman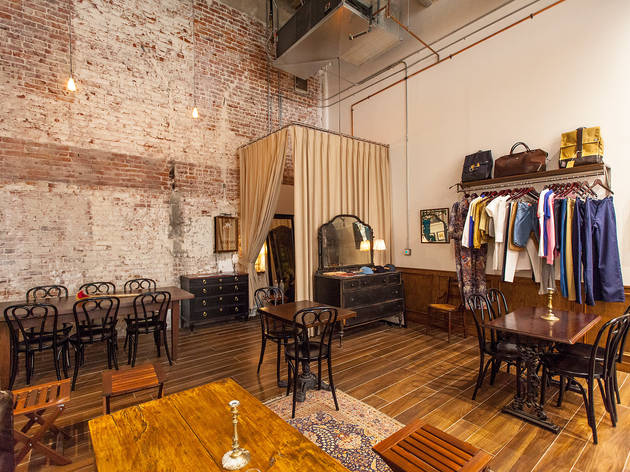 9/10
Photograph: Jakob N. Layman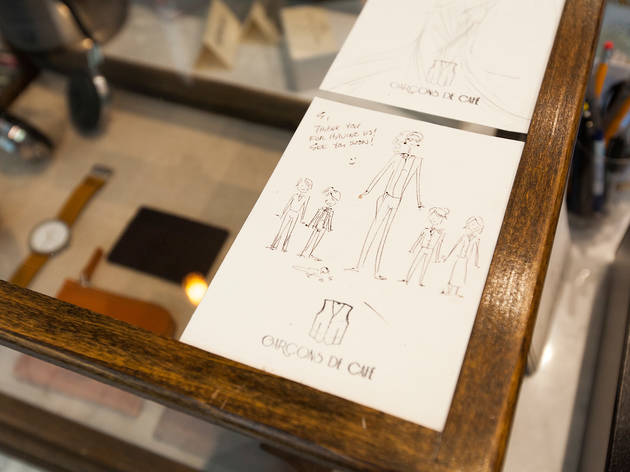 10/10
Photograph: Jakob N. Layman
Time Out says
Take a trip to France at this quaint Parisian wine bar in the heart of Downtown LA.
We'll get right to it: Garçons de Café is a Francophile haven. For those who often find themselves with the burning desire to drink French wine, converse with French natives and shop for French wares all at the same time, this wine bar-cum-boutique stowed away in the Historic Core's Spring Arcade Building ticks all of those boxes in one fell swoop. Garçons de Café—or "Boys Cafe" for us non-French speakers—is the brainchild of three expat Frenchmen, and it isn't the easiest place to find. You'll know you're close when you hear Édith Piaf's voice resonating through the glass-arched corridor (Crepes Sans Frontiers across the way plays the French legend on repeat). Bistro tables for two, topped with empty wine glasses, beckon passersbys to take a seat and stay for awhile. Inside, the worn-in decor, bare brick walls and hodgepodge of clothing items exude an Old World character right out of Paris' Latin Quarter. The focal point of the 950-square-feet shop is without question the shelves over 50 rotating organic wines from—you guessed it—France. Rhône varietals are a given here, with syrahs dominating the catalog of reds. Scan the whites though, and you may find surprising gems like a jacquère from Savoy or Rhône's more obscure piquepoul, both of which are a mere $8 a glass. Thankfully, Garçons de Café doesn't subscribe to the break-the-bank Parisian pricing model, so you're saving on a plane ticket.
Vitals
Good for: Sometimes you just want to kick back after a long day of work, sip wine and pretend you're in a Parisian cafe. Also, drunk shopping. Because at some point (perhaps after two very full glasses of whatever biodynamic wine you decide to try), you're going to get up and check out those oh-so French wares you've been eyeing across the room. With enough liquid courage, you may even feel so inclined to shell out around 80 bucks for one of those Miki beanie-caps everyone's been talking about. By everyone, we mean French people.
The scene: It's a mellow spot that rarely gets crowded, which is nice for those looking to unwind. The relaxed atmosphere and living room digs make for a great first date. And it doesn't get more romantic than sharing a charcuterie board and learning about small-production French wine, right? It's also the perfect spot to bide one's time drinking alone.
Drink this: The best deal has to be the 2014 Domaine Saint Romain Jongieux ($8 glass, $32 bottle), a white varietal from the French Alps. That in itself makes this a really interesting choice. In terms of flavor, Jongieux leans on the mineral side and seems to satisfy most palates. For those in need of something more robust, the 2012 René Bouvier Bourgogne Montre Cul Pinot Noir ($15, $56) is the way to go. It's darker and fuller than the average Bourgogne rouge, with dark cherry and tons of oak for an overall rich taste. Saving the best for last, if you've never tried a "pétillant naturel" or natural sparkling wine, NV Domaine Chahut et Prodiges "Nid de guêpes" ($12, $44) is an absolute must. The perfect marriage of chenin and sauvignon blanc, with notes of caramel, white flowers and honeydew, this wine—simply put—tastes like a Werther's Original.
Our tip: Don't miss the opportunity to take home the bottle of your favorite pour for 30 percent off. For example, that "Nid de guêpes" would come to just around $31, and that's pretty tough to pass up. We also learned that Garçons de Café will be offering a full menu soon with toasts, salads and desserts. Power lunch anyone?
Details
Address:
541 S Spring St
Los Angeles
90013

Contact:
Opening hours:
Tue-Sun 11am-1am
Do you own this business?
Best selling Time Out Offers