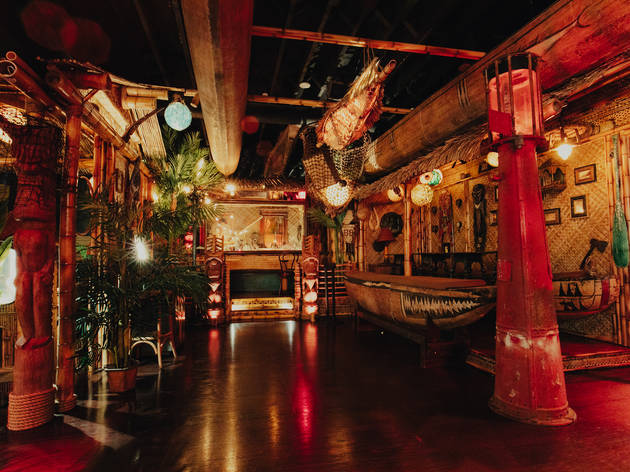 Meet Bamboo Ben, who probably designed your favorite tiki bar
We chatted with tiki bar designer and builder Bamboo Ben Bassham about the handiwork behind his tropical designs
If you've set foot in a tiki bar between Southern California and the Bay Area, there's a good chance Ben Bassham, better known as "Bamboo Ben," had a hand in its design.
By his count, Bassham has worked on more than 20 commercial tiki bars across the world since the late '90s, from NoHo hideout Tiki No to Downtown's Pacific Seas. He has a bar in the works that he describes as "more of a fantasy, weird pirate-y feel" while he's also converting the top floor of the Ruby's Diner on the Huntington Beach Pier into a full-on tiki bar.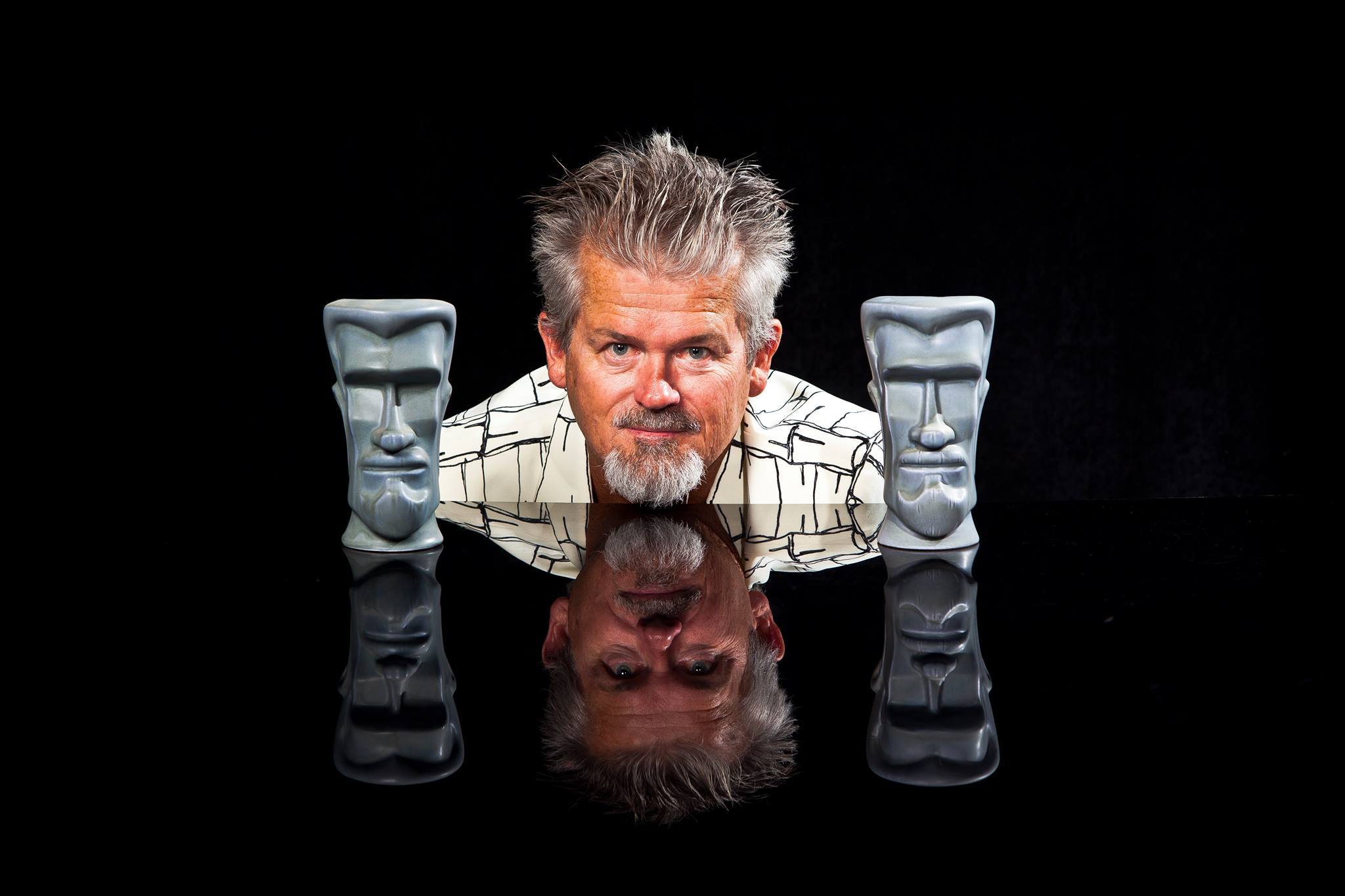 Photograph: Courtesy Jared Sislin
The SoCal native might not be the only person to work with thatch and bamboo, but Bassham has certainly made a name for himself—literally—as the go-to guy for all things tiki. He once designed a bar on Kauai called Tiki Iniki for Todd Rundgren, whose wife Michele called Bassham "the premiere tiki guy in the world" in an interview with Fast Company. Aside from working on actual tiki bars, he's rethemed a guest room for Pixar director Lee Unkrich and has worked on commissions for Walt Disney Animation Studios head John Lasseter.
Even before he started designing and building bars, tiki was a part of Bassham's life. His grandfather, Eli Hedley, lived in the Midwest during the Dust Bowl before moving West and singlehandedly hatched the "beachcomber" aesthetic that's come to permeate tiki culture. Bassham had the chance to step back into one of his grandfather's projects, Kon Tiki in Tuscon, Arizona, when he was called in to fix it up and redo the bars and lamps.
We had the chance to chat with Bassham about his handiwork and his thoughts on all things tiki, which we've highlighted below.
What makes something "tiki"?
It's escape and layers. I have a bumper sticker that says "no white walls." You can't have bright, you can't have white lights, you can't have anything like that.
What do you mean by "escape"?
I had a store for 10 years. I filled it with a lot of display work, this and that. And then retail kind of died in 2008 and my commercial work started picking up because everybody wanted to escape from all of the loans they took out. And that's what my whole theory is now—everybody wants to escape… They want tiki. That's the best thing to get away from it: fantasy. You don't want to go into a bar with a bunch of TVs and see what's going on in the world. You want to go into a bar and just disappear.
Photograph: Becky Reams
Tiki No.
Photograph: Becky Reams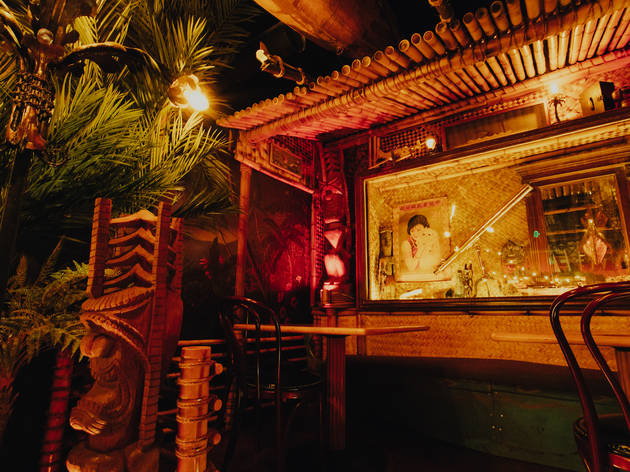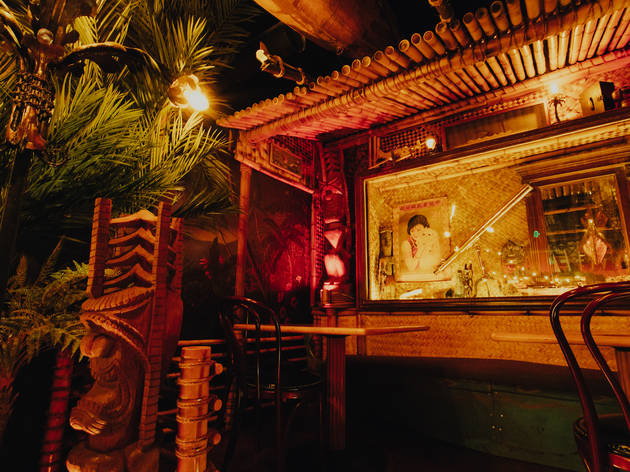 Photograph: Rozette Rago
Pacific Seas.
Photograph: Rozette Rago
How did you get into building bars?
I had a furniture company when I was in high school and I was making faux stone furniture—that was the big design phase back then. But I just got tired of dealing with all of the business terms. I just wanted to create something on my own.
I started building small tiki bars because I lived in Huntington Beach and we'd put them on our lawn and have parties. And then people would drive by and they'd say, "hey, is that bar for sale?" I'd sell them and then build another one, build a bigger one, and that would last all summer long.
So I got tired of the furniture business I was in, and just said, I'm going to start doing this. And then one thing led to another. I did a bar for some Hollywood producer in Malibu. A friend of mine was her personal assistant. I ended up going up there and building this giant bar in the backyard. And then she had a party and her friend saw it, and everybody else wanted one. I was doing a lot of backyards at the time, a lot of homes and stuff. Then I started doing commercial.
Which old tiki joint would you love to revive?
I would love to see Kelbo's get opened again because my grandfather actually did the original decoration there. The building was for lease, it used to be old strip joint, and now it's become a strip joint again. It'll never be Kelbo's again.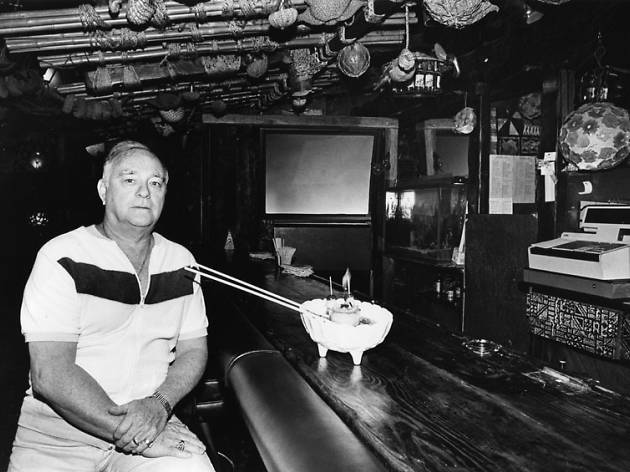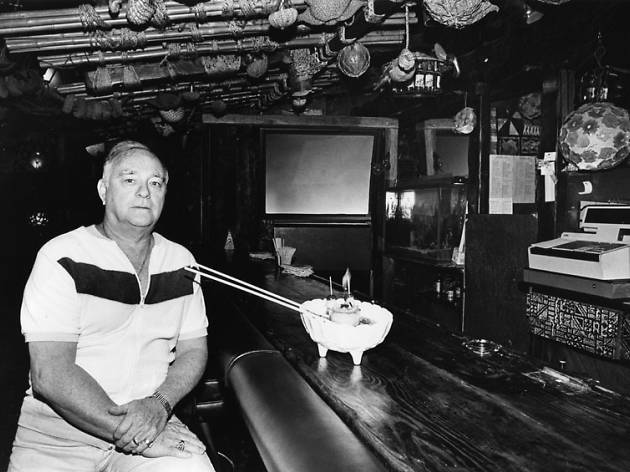 Photograph: Courtesy Paul Chinn/LAPL
Kelbo's with general manager Sonny Heideman in 1985.
Photograph: Courtesy Paul Chinn/LAPL
How has your aesthetic evolved?
Everything that I do, I try to do differently. I'm just constantly creating new techniques, new looks. There are so many different materials you can use. So many mattings; burn the wood, don't burn the wood, strip the wood, don't strip the wood. There are just a million options. In my lifetime, I don't even think I'll be able to get to everything that I've ever wanted to do.
Where do you drink when you don't want tiki drinks?
A sports bar. I just go local to the bar around my house. I'm about a block from the beach. It's a good escape from tiki for me.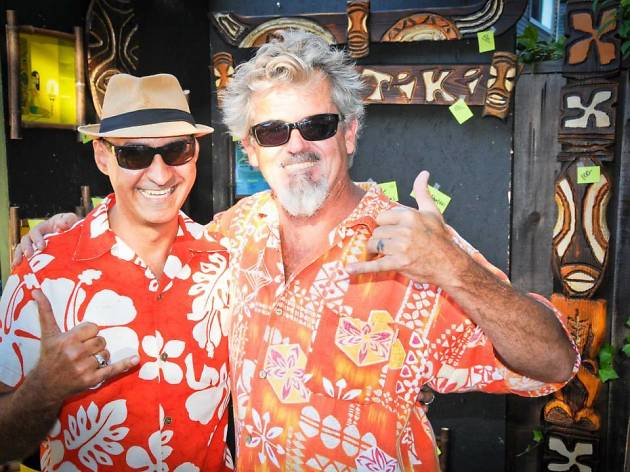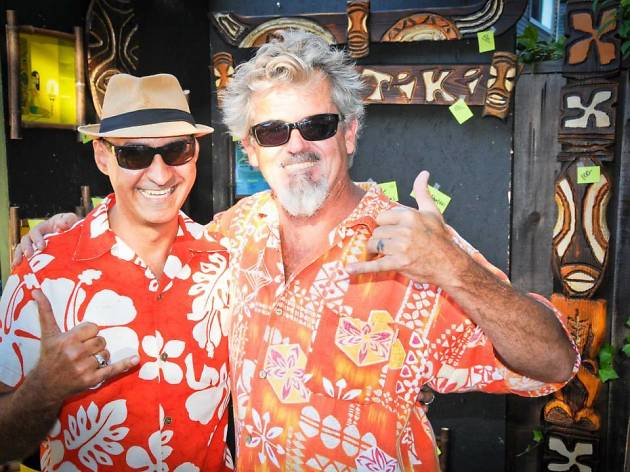 Photograph: Courtesy Forbidden Island
Bamboo Ben (right) in front of his buildout for Forbidden Island in Alameda, CA with owner Michael Thanos (left).
Photograph: Courtesy Forbidden Island
Looking to hole up in a tiki bar?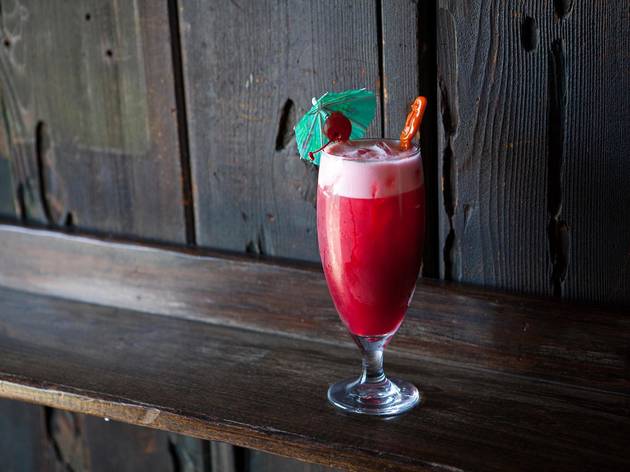 We've counted down the best tiki bars remaining in Los Angeles that will transport you to the South Pacific this summer—or any time of the year.