Dominique Ansel is not a man bothered by frequent cross-country flights, official titles or maintaining fame. He is not disheartened by rush-hour traffic, the years of work required to open a restaurant, or the hotel lifestyle he's had to live in 2017.
What preoccupies the pastry chef is creative restriction. It is, after all, why he's in L.A. today.
If you've glanced at the internet within the past five years, you're probably familiar with the Cronut, a croissant-doughnut mash-up that is perhaps, so far, Ansel's legacy. Whether you've simply rolled your eyes or had the good fortune to taste one, the creation spawned its own black market of resold pastries; TIME even heralded it as one of the top 25 inventions of 2013. But if you think that's all the classically trained French chef has up his sleeve, you've got another concept coming.
"I've never liked being put in a box," the James Beard Award winner says. "[In New York], if you're a French chef, you cook French food. If you're an Italian chef, you cook Italian food. There are some who do things that are a bit more modern, but in New York you mostly have to stay with your style."
And so every month or two—from spring through fall—the French-born Ansel flew to Los Angeles to visit the Grove, which houses the 10,000-square-foot site of his first West Coast Dominique Ansel Bakery, as well as his first-ever full-service restaurant, 189 by Dominique Ansel. The latter launched a dim-sum-style brunch service last weekend, and on Saturday, will open its doors for dinner service. But beforehand, on the ground floor, the bakery will open tomorrow morning at 9am, its pastry case full of Ansel's whimsical stalwarts and a handful of L.A.-only pastries. Ansel will be there to open the bakery door himself to what we can only imagine will be a throng of fans clogging the Grove's walkways.
This L.A. expansion happened, of course, while he also oversaw bakeries in London, Tokyo and New York, not to mention his NYC cafe, all while menu planning, hiring staff, studying daily for the U.S. citizenship test, finalizing both L.A. concepts' aesthetics, and, as the opening drew closer, finding an apartment in L.A. where he would live for half of the year.
"It's exciting to open a restaurant [in L.A.]," he says, "[because of] the cultural diversity, and because there are so many talented people cooking here. And the produce, of course." He's far from the only high-profile New York chef to succumb to the allure; David Chang, April Bloomfield, Daniel Humm have all signed on for new L.A. outposts, and Mario Batali's and Lidia Bastianich's L.A. Eataly just opened last weekend. Ansel attributes the surge not to conspiracy among celebrity chefs, but to coincidence, citing the amount of time each project has probably been in the works; it often takes years of planning before restaurants come to fruition. In the case of 189, it took three.
Ansel first found his home in the Grove when he baked for a pop-up there; as his line of fans grew, he took note of the luxury complex's courtesy extended to those waiting, bringing out a DJ and providing other entertainment. It echoed Ansel's own courtesy of giving out hot chocolate to those guests as they stood in the cold, and he pondered a more lasting partnership with the location.
Now, finally here, Dominique Ansel Bakery offers a full coffee bar and retail outpost, banquette seating, Wi-Fi, a communal table and a wide patio. Upstairs, the upscale-casual 189 by Dominique Ansel features a terrace and dining room that are breezy, white-bricked and brass-accented settings for a menu of shared plates, a small selection of entrées and the chef's first cocktail program. Crafted with executive chef Hyun Lee, formerly of the Bazaar by José Andrés, the menu is comfortable and familiar—and built on memories.
The rotisserie chicken with black-garlic rice, spicy scallion salad and a shot of jus is a nod to the fragrant bag of roasted chicken, potatoes and jus that Ansel and his mother would bring home from the neighborhood market, just as it is to Hyun's childhood Korean samgye-tang soup. A silky French-onion spin on cabbage soup recalls Saturday cabbage for dinner—a staple in Ansel's house, when his family could not afford more—and the soup they made from the leftovers on Sunday.
Ansel's love of sweets extends to the restaurant, where the dessert menu is created in homage to classic kitchen techniques: The Well, for instance, is inspired by the beginnings of making dough, which often requires forming a "well" of flour before adding eggs. Here, Ansel creates a milk granita with wildflower honey syrup, passionfruit gelee, fennel meringue and fennel spritz to recreate the appearance of an egg within flour.
At brunch, friendly servers mark each guest's menu card during the "weekend table" service, where each passed dish corresponds to an emoji. Would you like the maple spiral ham, falling to pieces in its own juices? That's one stamp atop the ham-on-bone emoji. The avocado salad with burrata and cucumber? That's one stamp atop the halved-avocado icon.
"I think the most important thing is to really try and recreate the emotional connection that we give with pastries," he says. "I'm not saying that everything has to be super unique. I'm just saying find the emotional connection with the food and translate it to people—food that you won't find again, food that has a story, food that you love."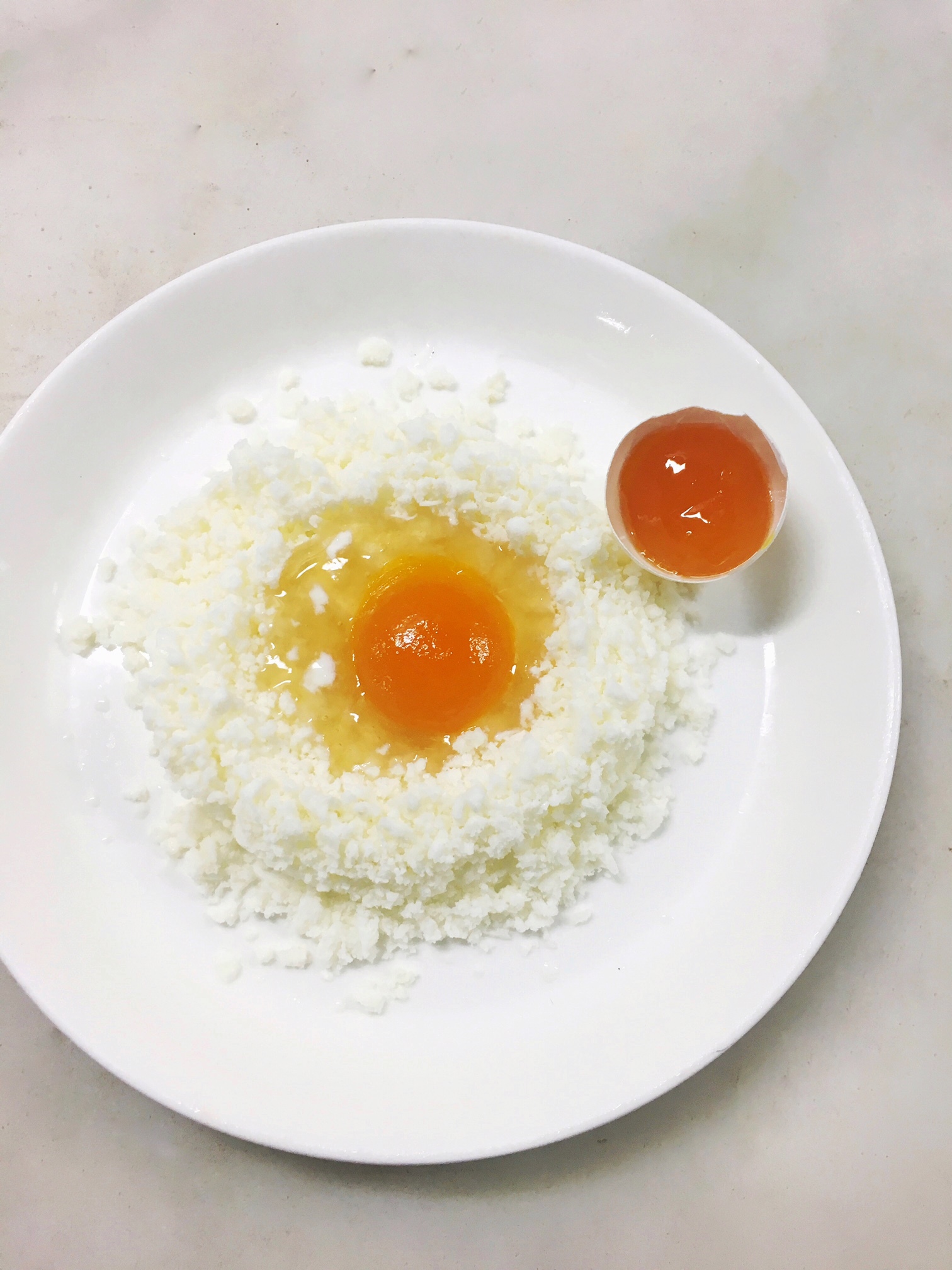 Given his international acclaim, it's plausible that Ansel's whimsy will resonate with L.A., be it in the form of chicken, Frozen S'mores or Cronuts—of which there will be many. In keeping with tradition, the newest bakery will receive its own monthly Cronut flavors never prepared before and never to be repeated—one way Ansel safeguards against the stifling of creativity. Yet another? Keeping his menus exclusive. Each location begins with NYC bakery signatures and expands to include more locally inspired treats; as time grows, so does that ratio. Here, expect creations that lean on stone fruit and other seasonal, locally sourced produce.
The dual concept is Ansel's most ambitious undertaking yet, in what he already knows is a fiercely competitive but uniquely supportive dining scene. He's been busy exploring it, shopping at farmers' markets and dining at multiple restaurants and bakeries—as many as two or three per meal on a given day. Favorites include Sqirl, Joan's on Third and Here's Looking at You. "I'd be lying to you if I said I am not nervous," he remarks. "But I love the energy. People are so happy, they're so calm and understanding. In New York if people don't get their coffee within like 35 seconds, they're not happy about it. But here? People are chill, and they're still very curious and excited about food. I think that L.A. already has a tremendous food scene and diversity, and I'm just excited to be here and learning more of it."
Both 189 by Dominique Ansel and Dominique Ansel Bakery are located at 189 the Grove Drive, in the Grove luxury retail complex. Dominique Ansel Bakery opens on Friday, November 10, serving from 9am to 9pm, daily. Above it, 189 by Dominique Ansel offers Saturday and Sunday brunch from 11am to 3pm; dinner service begins Saturday, November 11, and serves in the evenings from 5 to 10pm Monday to Thursday, from 5:30 to 11pm on Saturday and 5:30 to 10pm on Sunday.