UPDATED 8/31/16: The current iteration of the Tower of Tower will officially close on January 2, 2017. Until then, the resort will salute the ride with special merch, photo ops and food items. In addition, the park is promoting a "Late Check-Out" experience, which finds the ride plunged in complete darkness during Halloween time, from September 9 through October 31.
---
Say goodbye to lines of parkgoers chirping the classic Twilight Zone "doo do doo do" and hello to what we're sure will be a lot of "ooga chaka ooga chaka"—the Tower of Terror is getting a Guardians of the Galaxy makeover.
Guardians of the Galaxy – Mission: BREAKOUT! is slated to open at Disney California Adventure during summer 2017. Marvel president Kevin Feige announced the superhero-inspired attraction on Wednesday at Comic-Con.
The attraction will completely make over the existing Tower of Terror—one of our favorite Disneyland rides—with a more chaotic and comical sci-fi tone. The ride, which will still subject brave passengers to a series of drops, finds guests exploring a fortress-like gallery curated by the Collector—with Benicio del Toro reprising his role from the film. After guests become trapped in customized display cases, the plucky and furry Rocket Raccoon comes to the rescue to bust everyone out in a gantry lift—presumably taking place in what's now the elevator shaft section of the ride.
Disney Imagineer Joe Rohde suggested in a video announcement that Mission: BREAKOUT! would be the first in a whole new universe of superhero attractions in California Adventure (not counting character meet and greets, it marks the first Marvel attraction in one of Disneyland's dual parks). He also dropped some hints about the on-ride experience; the rise and fall of the elevator will change between multiple ride throughs to complement the music. Unfortunately, it seems like the music won't come directly from Guardians of the Galaxy's superb '70s AM radio soundtrack but rather "music inspired by the film's popular soundtrack."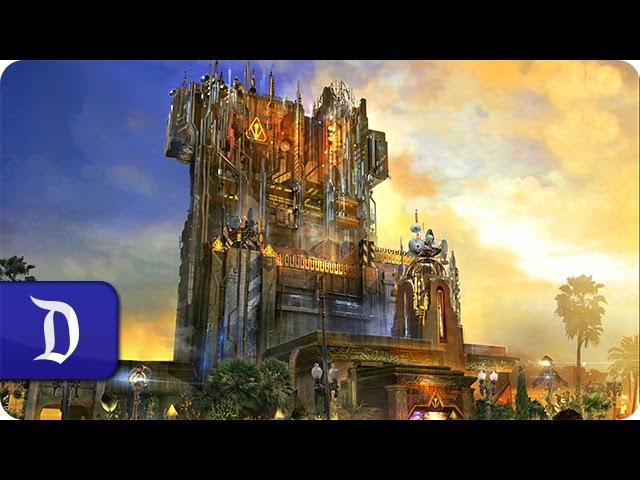 As for the existing Tower of Tower, the Twilight Zone-themed attraction as we know it will close sometime in early 2017—and you can almost guarantee the lines will be out of this dimension between now and then. Are you excited about the change? Upset? Let us know in the comments.