In case you missed it, here's a recap of a news stories from a star-studded Saturday at weekend one of Coachella 2016. Go forth and discuss.
Zedd welcomed Kesha
The wild swarm of teens at the Outdoor stage seemed enthralled already with the assault of lasers and pyrotechnics, but Zedd had a slew of surprise guests up his sleeve, including Sydney Sierota and Aloe Blacc. But the headline-grabbing moment came when Kesha performed the fiery "True Colors," her first appearance since the Dr. Luke harassment scandal; the impassioned performance practically had the teenage crowd in tears.
Ice Cube reunited with N.W.A (sort of)
The return of DJ Yella and MC Ren had been heavily rumored, but that didn't dull the the thrill when "the world's most dangerous group" kicked into "Straight Outta Compton." Notably absent? Dr. Dre, which became painfully obvious when Snoop Dogg came out for a Dre-less "Next Episode." O'Shea Jackson Jr., Cube's son and Straight Outta Compton stand-in, also popped up on stage, as did Common.
Lorde and Sam Smith sang with Disclosure
The British dance duo have made a career on remixes and "featuring..." tracks, so we're sure the likelihood of special guests helped pack in the field at the Coachella stage. Disclosure certainly delivered on that front, starting with AlunaGeorge on "White Noise," followed by Lorde making an appearance for "Magnets" and a mini set with Sam Smith, ending with "Latch."
Angus and Axl shared the stage
Axl Rose, as was announced late Saturday, is the new touring singer for AC/DC. To return the favor, Angus Young—with his signature blue shorts, ball cap and black Gibson SG—joined Axl, Slash and Duff to rip out two AC/DC songs, "Whole Lotta Rosie" and "Riff Raff," toward the end of Guns N' Roses' two-and-a-half-hour set. Axl was bummed that he couldn't run around stage due to a broken foot, so enlisted Young to do it for him.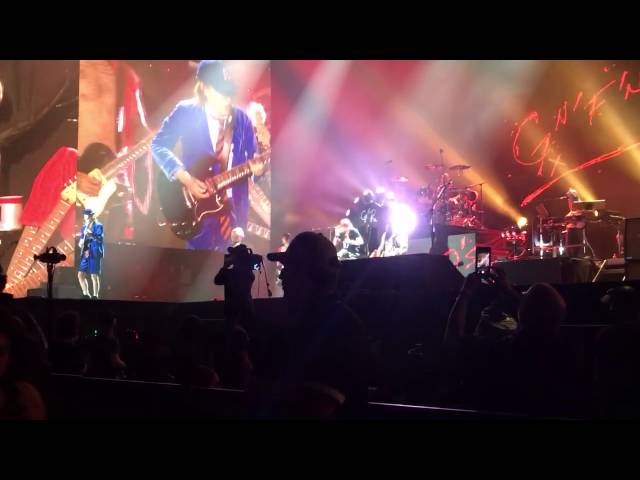 Bernie Sanders introduced Run the Jewels
Senator Bernie Sanders introduced his friends Run the Jewels in a prerecorded video shown before the duo's set. But the presidential candidate wasn't the afternoon's only surprise: Hip hop luminary Nas grabbed the mic to run through 2002's "Made You Look"; seminal instrumental producer DJ Shadow showed up on stage for his brutal RTJ collaboration, "Nobody Speak"; and Gary Clark Jr. lent some guitar licks to the set's close after badass lady rapper Gangsta Boo sexed up some verses during "Love Again."
The Arcs enlisted the help of rock and roll history
Black Keys singer Dan Auerbach's Spaghetti Western-inspired side project mixed things up midway through their set when the Eagles' Joe Walsh and former James Gang guitarist Glenn Schwartz jammed together—apparently the crunchy blues trio also joined forces at a secret show in Nashville in March.
Halsey hosted a mini Panic! At the Disco show
Donning a white leotard, pop artist Halsey played through a discography that included "Ghost," the song that put her on the map, and "New America," her latest radio hit. She went on to tease out her surprise guest by stating that "this band means everything to me; I wouldn't be here without them." Out stepped Panic! At the Disco frontman Brandon Urie, who performed "I Write Sins Not Tragedies," and teens (and former teens) everywhere had a collective heart attack.