If you missed out on advance reservations for this fall's "Yayoi Kusama: Infinity Mirrors" at the Broad, you weren't alone. Nearly 150,000 people logged onto the Broad's to try and buy an allotment of only 50,000 tickets—meaning most of us were out of luck. But the Broad has decided to give us all a second chance.
More tickets for will be released for the Kusama exhibition on Monday, October 2 at noon—put that in your calendar right now—through a virtual waiting room at thebroad.org. The Broad is keeping its doors open for an additional 14 hours each week just for the exhibition, as well as increasing the number of visitors it allows into the museum per hour. In turn, nearly 40,000 additional advance tickets will be made available.
If you still miss out on advance reservations, don't fret: A same-day standby line will allow guests to line up and purchase a limited number of tickets (about 15 to 20 per time slot) at the museum's opening.
Advanced tickets will cost $25 and include admission to the rest of the otherwise free museum. Standby tickets cost $30.
Organized by and premiered at the Smithsonian's Hirshhorn Museum and Sculpture Garden, "Yayoi Kusama: Infinity Mirrors" will include six of the artist's signature infinity rooms as well as more than 60 paintings, sculptures and works on paper from the 87-year-old artist. The museum's current "Infinity Mirrored Room" will remain on view for free through September 30; after that it will become part of the paid Kusama special exhibition. Once the exhibition is over, though, "Infinity Mirrored Room" will once again be included with free admission.
The roughly chronological exhibit will begin with Infinity Mirror Room — Phalli's Field, 1965/2016, a field full of hundreds of red-spotted phallic tubers in a mirror-lined room.
Yayoi Kusama, Infinity Mirror Room—Phalli's Field, 1965. Photograph: Courtesy Ota Fine Arts, Tokyo/Singapore; Victoria Miro, London; David Zwirner, N.Y.; © Yayoi Kusama
Moving onward, you'll encounter Infinity Mirror Room — Love Forever, 1966/1994, a hexagonal flashing chamber that viewers can peer into; Dots Obsession — Love Transformed into Dots, 2009, a domed mirror room with inflatables suspended from the ceiling; Aftermath of Obliteration of Eternity, 2009, a starfield-like installation similar to the Broad's current Kusama, albeit with hanging lanterns instead of LED lights; and All the Eternal Love I Have for the Pumpkins, 2016, which features dozens of her bright yellow, dotted pumpkins. The exhibition wraps up with the participatory installation The Obliteration Room, 2002, an all-white domestic setting that invites visitors to cover every surface with multicolored polka dot stickers.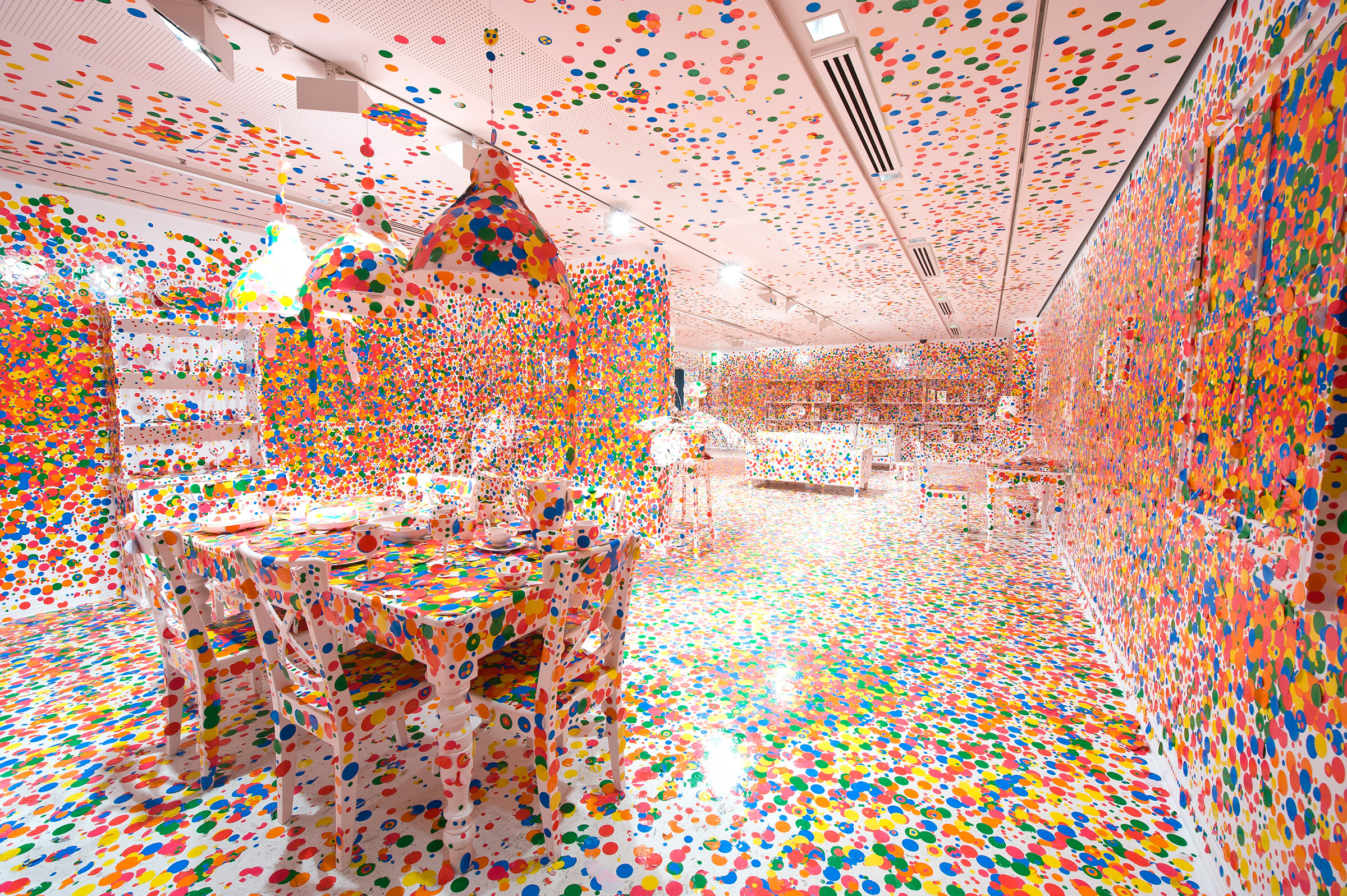 Yayoi Kusama, The Obliteration Room, 2002. Photograph: Courtesy QAGOMA, © Yayoi Kusama
"Yayoi Kusama: Infinity Mirrors" will be at the Broad from October 21 through January 1. After L.A., the exhibition will travel to the Art Gallery of Ontario (March-May 2018) and the Cleveland Museum of Art (July-Oct 2018).
Want more? Sign up here to stay in the know.