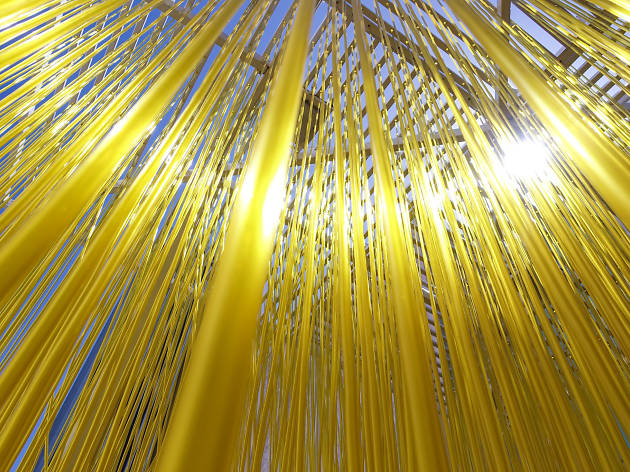 Say goodbye to LACMA's beloved yellow spaghetti installation
Posted: Wednesday January 4 2017, 3:34pm
While droves of visitors are busy posing in between the lamp posts of "Urban Light" or pretending to hold up the 340-ton "Levitated Mass" for a fun photo, LACMA regulars know that the Miracle Mile museum's most fun photogenic installation is a hands-on piece from 1990 that resides next to the entrance of the Ahmanson Building. But it turns out those swinging spaghetti strands won't be around for much longer.
Jesús Rafael Soto's "Penetrable," a thick curtain of yellow plastic hoses, will wrap up its stay at LACMA on February 12. The kinetic installation has invited visitors to get lost in its tangle of human-scale strands since 2011. We had grown so accustomed to the late Venezuelan artist's sculpture that we assumed LACMA owned the piece, but it was instead part of a long-term loan from the Colección Patricia Phelps de Cisneros, to which it'll return next month.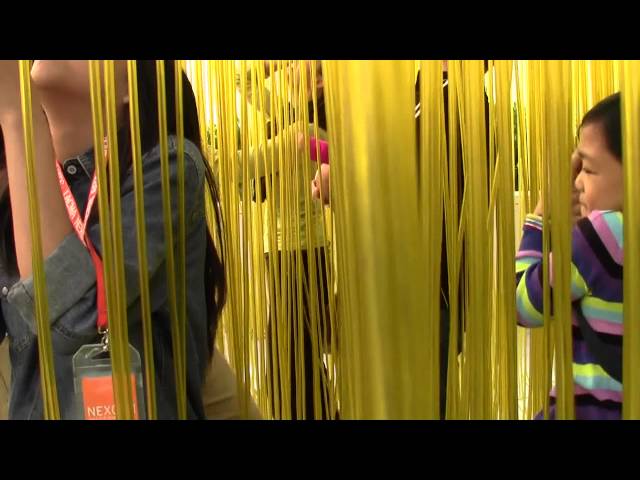 In a nod to its photogenic popularity, LACMA will host special photo sessions in front of the sculpture on January 8. A professional photographer will be stationed in front of "Penetrable" from noon to 4pm, with keepsake photos available on a first-come, first-served basis. The date also coincides with the final day of the museum's holiday hours (daily, including Wednesdays when the museum is typically closed, from 10am to 8pm).
While you're there, make sure to check out the specially ticketed "Picasso and Rivera: Conversations Across Time," a pairing of the two modernist masters' works with European and Central American antiquities, as well as exhibitions on German Renaissance art, John McLaughlin and Toba Khedoori. And if you happen to visit on the piece's final day in February, you'll be able to check out the opening of the sure-to-be-stunning "Moholy-Nagy: Future Present."
There are currently no plans to fill the empty space in the plaza it'll leave behind, though the area itself won't exist for much longer; construction is set to break ground in late 2018 to completely redesign the eastern half of LACMA's campus.
Want more? Sign up here to stay in the know.
Share the story