Heads up! We're working hard to be accurate – but these are unusual times, so please always check before heading out.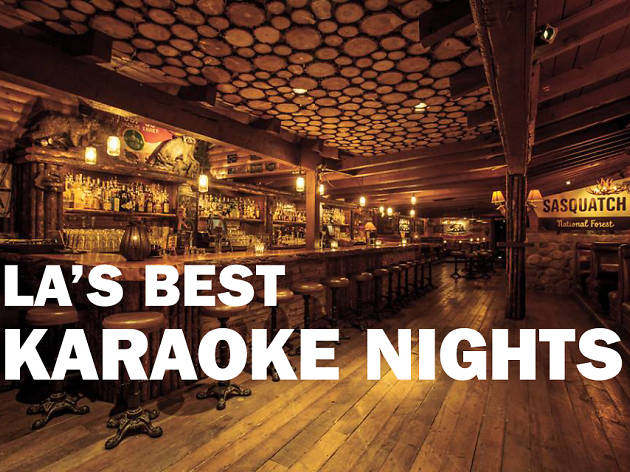 The best karaoke nights in Los Angeles
Sometimes the best karaoke happens just one night a week, at regular old (read: low-key, cheap, gimmick-less) bars.
We don't want to be dramatic, but some of the dedicated karaoke bars we've been to in LA make us wanna barf. Cover charges, drink minimums, investment wankers letting loose after work... it's a goddamned nightmare. A refreshing alternative, in our opinion, is to do karaoke at a fun bar that is just a bar. These places are usually way less stressful, and indeed great places to encounter consensual sex partners (ahem, dates) or heck, even friends. We've spent a lot of time hanging out and doing karaoke in bars that are not karaoke bars, because when it's fun, it's fun as hell. So here are the best karaoke nights at regular bars in LA on every night of the week. Some nights even have two options—there's just that much goddamned fun to be had.
RECOMMENDED: More karaoke in Los Angeles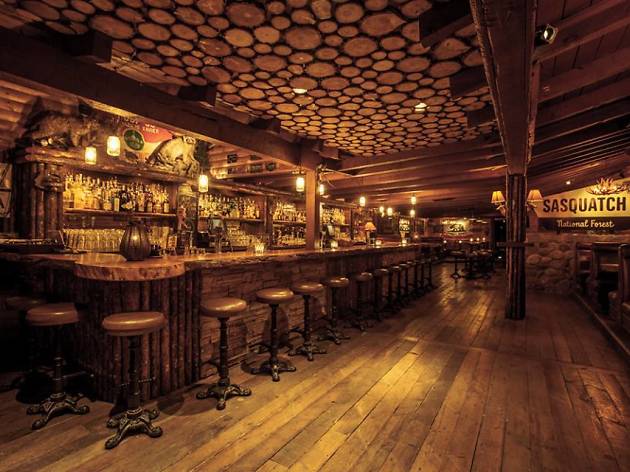 The Bigfoot Lodge has something that few other bars in Los Angeles do: the feeling of home. Whether you're from LA or one of the many transplants that just moved here, there is something comforting about getting drunk in a silly wooden cabin. The same goes for the bar's karaoke. Mickey the KJ and Bob the bartender play the parts of lovable curmudgeons, ready to sass or sing at a moment's notice. And if you're nervous or shy about performing, this is a great place to go: with the exception of a few drunk birthday parties, Mickey is able to rally the troops to support the underdog. On its best nights, the Bigfoot feels like a holiday party with your family and friends. Additionally, there are always fun, creative twists—for example, the first Monday of the month is "Blue Monday," sing a sad song and get a free "prozac" shot. Oh, and the regular drink specials aren't too shabby, either.
Thom Sigsby, of Hi Ho Karaoke, is the best karaoke guy in Los Angeles and probably the country, and we dare you to prove us wrong. His books are incredible, constantly updated, and his charm and warmth will make you feel like Freddie Mercury even if you actually sound like Freddy Krueger. Tuesday night at the Rustic is simply the most fun, best run night of karaoke in LA. Thom has cultivated a crowd of energetic, welcoming regulars, and always makes you feel like you belong. The only, literally the only drawback of this night is sometimes it gets too packed, so get there early for a table!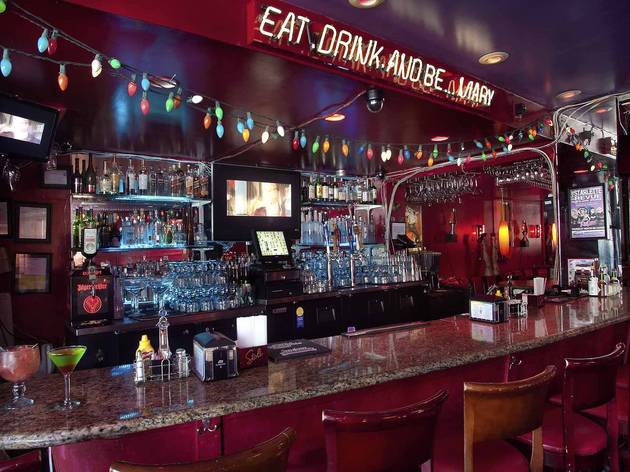 Hamburger Mary's has a delightful karaoke night with a super-low-stakes contest every week. The "best" singer, as voted by the audience, will get $50. Don't worry, though, you don't have to put yourself in the running if you don't feel like it. The vibe is goofy as hell, with Disney songs and sing-alongs dominating the mic. Plus, we've actually almost cried during one winner's acceptance speech—an elderly woman who declared that she'd return every Tuesday until she died, because she loved the gay community and felt like she belonged. She ended her speech by trying to play matchmaker for her son, in attendance, informing us that he can play guitar, build things and is "well equipped." It was a blast.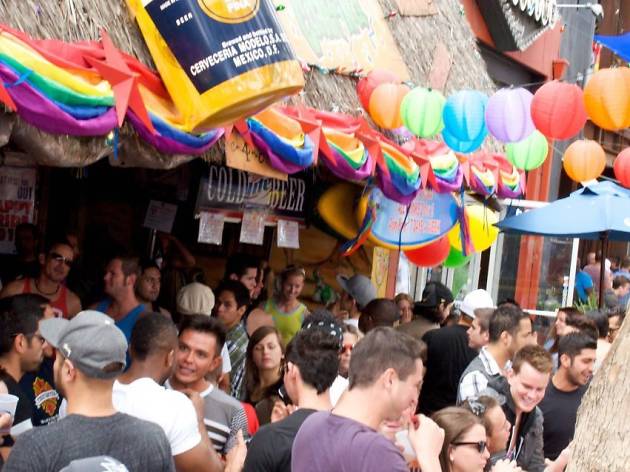 Hey, you wanna rock with some beefcake eye candy, catty reality stars and TMZ cameras? Fiesta Cantina is your place. This place is legit, and has some serious singers, so get there early to sign up. Sure, there's a long wait, but don't worry, they've got your back and you'll get your time to shine. There are two-for-one drinks from 10:30pm on and the food is decent, but the main event here is the show, so sit back, relax and observe. It might be the most entertaining karaoke night in town, regardless of whether or not you participate.
If you're in Hollywood looking for a lounge-y experience without stuffy douchebags or boring actors, your oasis is the Three Clubs. The place is a throwback, not trying too hard to be cool, or loud, or basically doing whatever it is that makes a bar super basic. The regulars are fun, the stage is nice and the drinks are okay-priced, especially for Hollywood. The KJ has fun and there are cute "truth or dare" challenges after each song that could net you a free drink.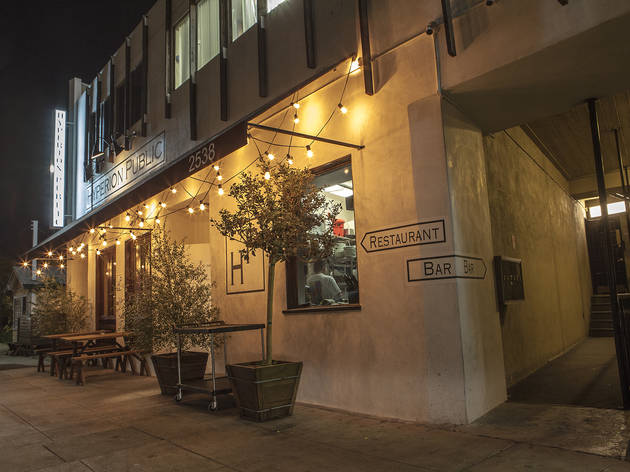 This place is nice, almost too nice. Sometimes it feels like we're the only ones in attendance who aren't dressed well enough to be in a hip beer commercial. But don't let how fucking gorgeous—seriously, maddeningly attractive—the clientele are distract you. This place pours a great drink, and Josh the KJ keeps the night moving and/or grooving (usually both). Also, take a look, his eyes are gorgeous. We've always been too afraid to tell him that. Plus, there are always celebrities there, weird ones. We once bumped into Laurence Fishburne while singing CCR. That doesn't happen most places.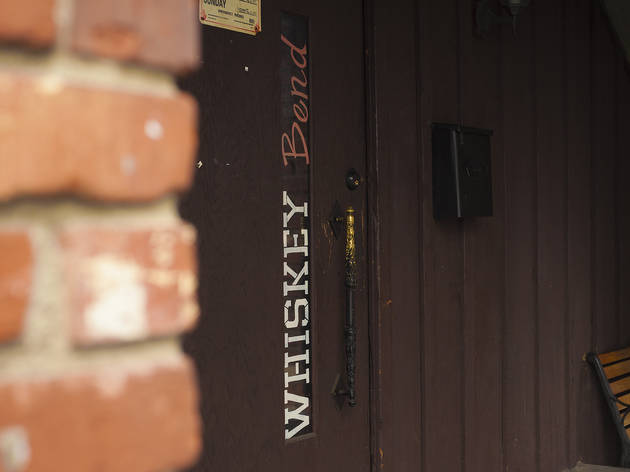 The Whiskey Bend can be a blast, despite being in Burbank. We'll be be honest with you, it's full of bikers. Which is awesome. They aren't mean, and they won't kill you—I mean it's still Burbank, y'know? The place has cheap-ass drinks, no-frills karaoke and really bad paintings of the Beatles everywhere. It's a great way to spend a Friday night away from the typical crowds of assistants and secretaries.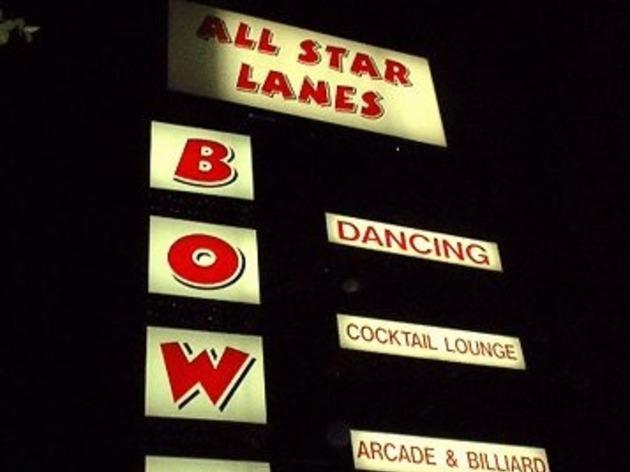 Eagle Rock is home to the best retro bowling alley with a surprisingly good Chinese food restaurant inside that we've ever been to. Okay, to be honest it's home to the only retro bowling alley with a surprisingly good Chinese food restaurant inside that we've ever been to. That aside, the karaoke night here is dumb and great. Wanna see a long-haired Vietnam vet mumble "Spirit In The Sky" right after a gaggle of Highland Park natives scream the Spice Girls? This is your place. It's dirty, fun and always weird. Plus if you bring enough people, you can usually take over the night, meaning it's a great place for birthday parties.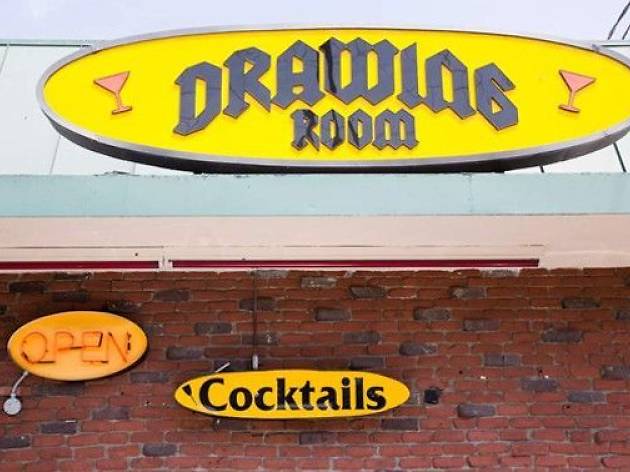 The Drawing Room is the best dive bar in Los Feliz and no other spot even comes close. Park next to the laundromat and enter the dimly lit hallway for the best pours on the Eastside and some fun-ass karaoke. What is there to say about The Drawing Room that one can't experience by showing up at 6am and seeing the regulars already firmly planted in their stools? It's a neighborhood bar in a city that struggles with community. Also, Mario the bartender will gong the absolute worst of the worst drunk singers, so there's a nice safety net against the belligerents. Be sure to get there early if you want a table, because there are, like, four tables.