LA comedy calendar: Upcoming stand-up and comedy shows in LA
Explore our LA comedy calendar to find out which of your favorite stand-up comedians as well as sketch and improv groups have upcoming shows in Los Angeles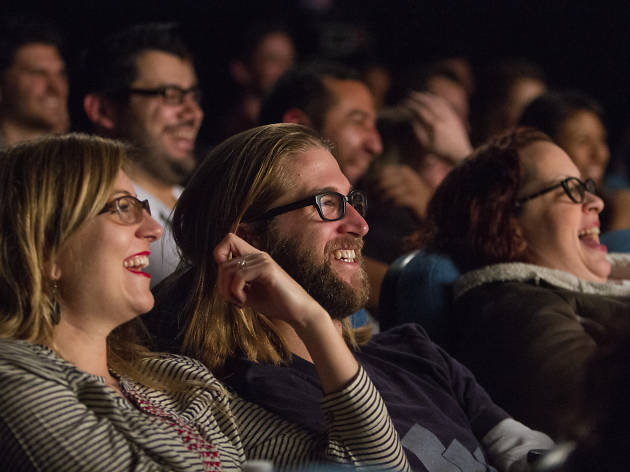 LA comedy calendar
Every Saturday and Sunday, the UCB franchise's longest-running, most beloved showcase starts when a base cast of the theater's current top-brass—including founding UCB members Matt Walsh, Matt Besser and Ian Roberts—takes the stage. Then they introduce the surprise celebrity alumnae and friends who will be joining them (think Horatio Sanz, Ben Schwartz, Adam Pally). And finally, another special guest takes the stage, a non-improviser (think Flea, Cat Power, Rebel Wilson, Lena Dunham) who opens the show with a personal story, that's deftly mined for laughs by the players. But you have to go to find out who's there—that's part of the fun. Looking for a cheap night out? Sunday shows are free, but seating is first-come, first-served, so be sure to arrive early.
Read more
This San Francisco export delivers comedy to Echo Park's Little Joy every Monday night. Hosts Chris Garcia, Sean Keane, Caitlin Gill and Anna Seregina put together a lineup of stand-ups each week, though past shows have included some quirkier storytelling additions, everything from a gourmet sandwich maker to a former bank robber.
Read more
Cameron Esposito mines both the stereotypes and realities of life as a lesbian in a tone best described as badass-adorable. See Esposito along with Rhea Butcher co-host stand-up showcase "Put Your Hands Together" every Tuesday at UCB Franklin.
Book now
Read more
Often, the phrase "Back by popular demand" amounts to nothing more than hype, but in the case of The Book of Mormon, it fits like magic underwear. Trey Parker, Matt Stone and Robert Lopez's nine-Tony-winning cultural phenomenon resurrects at the Pantages. Parker and Stone, of course, are best known for South Park and Lopez is a fairly newly minted EGOT (Emmy, Grammy, Oscar, Tony) winner. Mormon follows a group of idealistic missionaries as their beliefs run into the harsh realities of life for the African villagers they cheerfully hoped to convert. The tuneful megahit is not for kids, but if you happen to bring one, it's earmuffs time when they start singing "Hasa Diga Eebowai." And before that. And after that. Mormon is hilarious and offensive, and hilariously offensive, and the New York Times called it "the best musical of this century."   
Book now
Read more
Slur your way through tricky vocabulary words at this drunken spelling bee. Comedians Billy Parker and Mandy Levy host this boozed up competition; take a shot and attempt to spell out a word, and if you're successful you get a free shot and another word. The last person standing is crowned the winner and can claim half of the prize pot.
Read more
Say hello to the first weekly stand-up comedy show in Highland Park. Every Thursday night from 8pm-10pm, the Collective Arts Incubator will be home to Hi! Highland Park, a free show that will bring great comics from around the country such as Laurie Kilmartin and Allen Strickland from Conan, Ron Babcock from Adam DeVine's House Party, and Matt Ingebretson, one of Time Out L.A.'s comedians to watch in 2017. Hi! Highland Park is based on donations, which can be made here. The show is produced by Paloonis Productions and is hosted by Colin Hughes and special guests. Check the Facebook for more details on upcoming shows.
Read more
Long, long before Curb Your Enthusiasm, Mad About You and his many film appearances, Jeff Garlin was a touring stand-up. On the mike, he's got a bright, upbeat presence that's easy to connect with, as well as a keen eye that lends his jokes an extra snap. Catch Garlin at Largo for his regular conversation series and podcast, By the Way.
Book now
Read more
Kroll, recently seen on FX's The League, is a ridiculous and ridiculously funny character actor. If you've ever seen him as Bobby Bottleservice or on The Oh, Hello Show with John Mulaney, you know how his mind works when he's making comedy on his own terms. In 2013, he unveiled his acclaimed Comedy Central series, Kroll Show.
Book now
Read more
The actors (including Thomas Middleditch) speak in faux British accents, employ Elizabethan-era speech and play up any number of Shakespearean tropes, yet this hugely popular Chicago show is anything but gimmicky. Good improv rises above.
Book now
Read more
The best way to promote Kumail Nanjiani's lauded romantic comedy, The Big Sick? With an all-star stand-up show featuring the film's cast, including Nanjiani, Ray Romano and Kurt Bruanohler as well as producer Judd Apatow.
Book now
Read more
We Are Thomasse, the British-American duo that's been compared to both Monty Python and Key & Peele, serves up sharp wit and lightning-quick sketch comedy at its regular show.
Book now
Read more
See Tim Heidecker and Eric Wareheim celebrate a decade since the premiere of their former Adult Swim show, Tim and Eric Awesome Show, Great Job! Expect all sorts of absurdist riffs and songs to grace the stage.
Book now
Read more
Jim Gaffigan is a populist comic who proves, in his career and in his comedy, that you don't have to hate something just because it's popular. His material is both creative and accessible, winding into laudably weird places without ever losing the crowd.
Book now
Read more