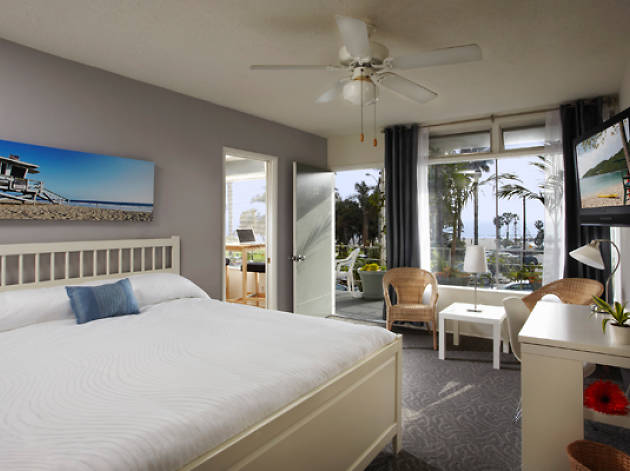 Time Out says
This homey Ocean Avenue hotel has the vibes of a '60s surf bum motel, pairing modern amenities with a laid-back atmosphere for couples and families looking to explore Venice and Santa Monica.
A low-slung white stucco building flanked by towering palms, the Bayside Hotel looks about as quintessentially SoCal as you can get. The coastal theme continues in the rooms, where a blue-and-white design scheme is complimented by beachy adornments like ceramic swimming fish wall hangings and photos of the boardwalk, plus pale wood detailing. The vibe is a bit retro, but each room also includes modern amenities like flat screen TVs and free wifi. Chief among the hotel's most appealing qualities is its location: nestled on the border between Santa Monica and Venice, the Bayside is adjacent to plenty of attractions. If you have a hard time whittling down your itinerary, the 24-hour front desk is happy to offer suggestions around-the- clock. Both the hotel and Santa Monica adhere to staunchly chill vibes, so this is the perfect place to spend a few days unwinding. For in-house R&R, Bayside's grassy terrace houses a fleet of reclining beach chairs for soaking up the rays and sipping cocktails after dark.
Location: Two blocks from the beach, the Bayside is in a prime location for both lounging in the sand and living it up at bars and restaurants dotting nearby Main Street and Abott Kinney. The relatively new MTA—which has a station in Santa Monica—makes the entire city more accessible than ever before, though you'll find plenty to do if you forgo heading east, too.
Nearby:
Abbot Kinney: A few blocks from Main Street you'll find Abbot Kinney, a posh boulevard of designer shopping and buzzy new restaurants. If your stay falls on the first Friday of the month, Abbot Kinney turns into a mile-long block party complete with art, music and some of L.A.'s finest food trucks.
The Del Monte Speakeasy: This historic Main Street watering hole was established in 1915 and operated as a speakeasy throughout the prohibition era. While its updated its cocktail menu, the Del Monte's events calendar is a nod to its past: with jazz, vaudeville and crooners nightly.
Venice Canals: Venice is naturally named for the famed aquatic Italian city, and visitors may be surprised to discover that the neighborhood has its own set of canals. On an afternoon stroll, you'll take in rows of ducklings, lush foliage and well-appointed beach cottages.
Venice Beach Boardwalk: Head to the beach for prime people-watching among Venice's famously bohemian crowd. Rent skates, grab a corndog, or pick up souvenirs in this kitschy beachside marketplace that seems delightfully stuck in the early '90s.
Good for: The Bayside Hotel's easy, breeze atmosphere and proximity to attractions make the hotel especially appealing to families, though anyone looking to explore Venice in comfort would be wise to book a room.
Amenities: Pool, free wifi, minibar, concierge, pet friendly
Time Out tip: Ask for a room with a view of the ocean—trust us, watching the sunset from bed is better than anything on TV.
Details