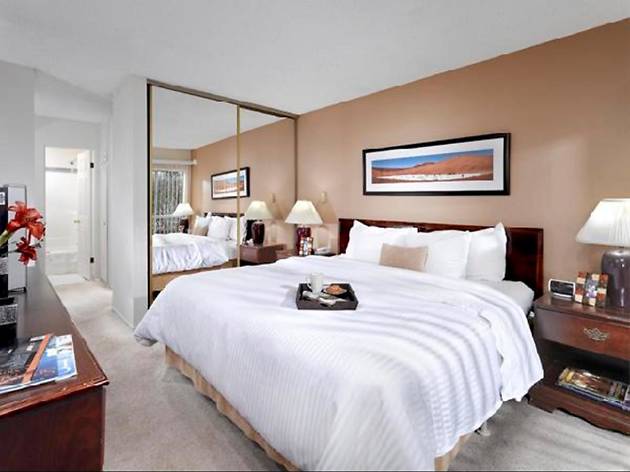 If you're booking an extended vacation or just looking for a homey experience, Marina del Rey's Oakwood apartments are offer the best of both the hotel and home worlds with full-sized kitchens, self-service laundry, and extensive business amenities.
Two blocks from Venice Beach, the Oakwood offers a true residential experience without sacrificing its proximity to sun, sand and nightlife. The residential hotel offers apartment-style lodging for short- and long-term stays; studio, 1- and 2-bedroom accommodations are complete with homey amenities like full-sized kitchens and onsite laundry. (If you're less of a homesteader, you can take advantage of the Oakwood's housekeeping, available weekly, bi-weekly or monthly.) The complex itself is quiet and unfussy, making it a peaceful spot for those temporarily relocating for work. Business amenities like free wifi and meeting rooms add to the appeal for professionals, while visiting families can take advantage of the on-site playground. Of course, in addition to the comforts of home, the Oakwood also comes with some resort-inspired perks—the hotel boasts a pool, hot tub, tennis and basketball courts, a billiards room and a fitness center, ensuring that long stays never get boring.
Location: Marina del Rey is a balance of residential homes and quirky beachside businesses. The vibe is a little more buttoned-up than the nearby boardwalk, but you're still as likely to run into crystal healers as you are tech industry professionals. Exploring the rest of L.A. is easy: Ultra-hip Venice is within walking distance, and Santa Monica and Culver City are a short bus ride or Uber away.
Nearby:
Venice Beach Boardwalk: Head to the beach for prime people-watching among Venice's famously bohemian crowd. Rent skates, grab a corndog or pick up souvenirs in this kitschy beachside marketplace that seems delightfully stuck in the early '90s.
Sirnian Massage: Don't judge this diamond-in- the-rough massage parlor by its no-frills exterior. If your travels have left you weary, we highly recommend you indulge in a budget-friendly, totally blissful Thai massage in this clean, professional setting.
Cafe Collage: This long-standing Windward Avenue cafe offers smoothie and lunch fare in addition to coffee and tea, but it's standout attribute is its location. Tucked just off the boardwalk, the cafe is a haven from the crowds, while its many window seats still provide unparalleled people watching.
Venice Canals: Venice is naturally named for the famed aquatic Italian city, and visitors may be surprised to discover that the neighborhood has its own set of canals. On an afternoon stroll, you'll take in rows of ducklings, lush foliage and well-appointed beach cottages.
Good for: Because of its apartment-like setup, the Oakwood is ideal for extended vacations and travelers who want a place that really feels like home. While older vacationers might best vibe with the hotel's resort-like amenities, families and business travelers who want to make the most of their time off the clock will also enjoy the Venice-adjacent location.
Amenities: Pool, hot tub, free wifi, gym, laundry service (self service)
Time Out tip: On warm days (of which there are many in L.A.), be sure to request patio furniture—eating will be delivered to your door, so you can soak up the sun in the privacy of your own abode.
Venue name:
Oakwood Marina del Rey
Contact:
Address:
4111 Via Marina
Los Angeles


Do you own this business?